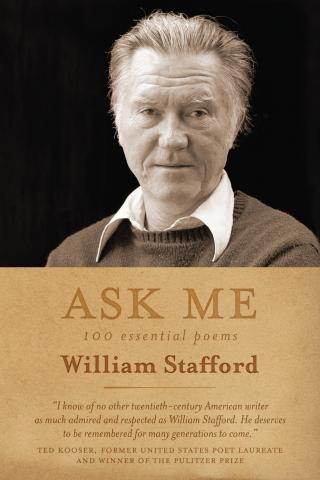 Miles of yellow wheat bend; their leaves / rustle away and wait for the sun and wind.
—From "A Farewell, Age Ten"
We wondered what our walk should mean, / taking that un-march quietly; / the sun stared at our signs—"Thou shalt not kill."
—From "Peace Walk"
WILLIAM STAFFORD was a poet of the land and a conscience that fanned out over the land. Born in Hutchinson, Kan., 100 years ago—on Jan. 17, 1914—it was perhaps his early intimacy with space and sky that opened him to the mystery of human frailty.
At age 6, he saw two black students at his school being taunted by whites. He stood with them.
Another mystery: He who personifies the term national poet is largely unknown in his nation. Four new books (in his 79 years, Stafford published more than 50 books) published to coincide with his centennial might help redress this situation. Ask Me (Graywolf Press), from which the above excerpts are taken, brings to readers 100 "essential" Stafford poems dealing with his pacifism, his family, Native Americans, and the landscapes of his native Kansas and his adopted Oregon, where many centenary events are scheduled to take place.
Sound of the Ax: Aphorisms and Poems by William Stafford, edited by Vincent Wixon and Paul Merchant (Pitt Poetry Series, University of Pittsburgh Press), reveals the Gandhian quality of the poet's thinking: "Even if you are blind, there is still light ... The grace we need to find will not be found by the graceful only."
The final two books, The Osage Orange Tree (Trinity University Press) and We Belong in History: Writing with William Stafford (Ooligan Press), go in different directions. Osage, a rare Stafford work of fiction, is a teenage love story set during the Great Depression. History, more unusual still, explores, among other things, Stafford's influence on seventh- to twelfth-graders in Oregon and their poems he inspired.
We lack the tradition of poet as path. Stafford's own path led him to serve as a conscientious objector (CO) in the 1940s. When FDR declared war, the poet declared his refusal to kill. He spent World War II in Civilian Public Service camps. In McNeil, Ark., Stafford was almost lynched as a "spy" by enraged locals as he sat reading Leaves of Grass. Years later, he wrote that being a CO taught him what it feels like to be "in but not of this nation."
It was as a CO that Stafford first encountered members of the Church of the Brethren (the Brethren, Quakers, and Mennonites acted on behalf of the COs in the camps), which he later joined.
While there is little in his poetry that links his pacifism with the teachings of Jesus, Kim Stafford tells the story of his father standing before the members of his draft board and saying to one of them, "You were the minister of the church I attended when I was young. You taught me that it's not okay to kill." But when asked once why he became a conscientious objector, he answered, "Strangely, I didn't become one; I always was one."
The solitude that is the seed and fruit of Stafford's writing gives it its spiritual quality. He began work every morning at 3, a monastic word-cutter.
Listen to these slow, metered lines, with their half rhymes, the first from his poems "Quo Vadis": Is there a way to be gone and still / belong? Travel that takes you home? And this from "In Camp": In camps like that, if I should go again, / I'd still study the gospel and play the accordion.
Robert Hirschfield is a New York City-based freelance writer.