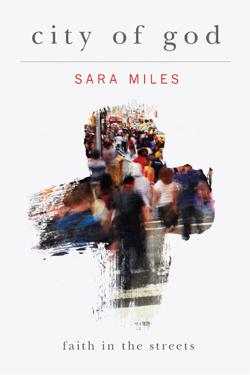 IN HER LATEST book, Sara Miles—author of the spiritual memoirs Take This Bread and Jesus Freak—goes where traditional and liturgical churches don't regularly go: into the streets to push the boundaries of public worship. City of God chronicles a day in the life in San Francisco's Mission District, on one Ash Wednesday when Miles and others from St. Gregory of Nyssa Episcopal Church offer "Ashes to Go," a growing national movement within the Episcopal Church to perform the imposition of ashes outside the church walls on the first day of Lent.
Ash Wednesday works on the street because it has a broad ability to speak to people with "different beliefs about God and very different relationships to the church." Even so, carrying the observance away from the altar has generated critics. Some liturgists have wondered if, without a proper church context, "the ashes become a meaningless affirmation of our earthly life," or whether regular folks on the street can really appreciate the profundity of the human condition and mortality without the church to explain it to them. Trusting that people on the street will "get it," Miles embarked on a day of crossing the traditional borders of worship space to smudge foreheads in McDonald's, taquerias, hair salons, and botanicas.
Miles finds that traditional observance of liturgies such as Ash Wednesday helps reclaim the public language of sin and repentance in a progressive way. This kind of re-evaluation of sin in common life led her to realize how she's also fallen short of the call to solidarity and deep communion with the city. "I aspired to be the kind of neighbor who knew everyone," she writes, "I yearned to be in real relationship." But her admittedly self-satisfied sense of fellowship didn't match up to her interactions. She hadn't even bothered to learn the last name of a young Latino activist on her block and confesses, "I prayed for my neighbors, but not so much with them, and it made me uncomfortable."
Her experience also leads her to caution other congregations thinking of engaging in worship beyond the walls to be honest about their motives. Is street worship hiding a desire to re-enlist fallen-away members? Is it an effort to provide another convenience amidst the busyness around us? Is it "religious sport" or a way to make a statement of one's innovation credentials?
It is reassuring to know that even an urban liturgy veteran such as Miles was apprehensive about being on display in public in full "church drag" and having to explain her actions. Even for the most experimental ministers, street liturgy makes us vulnerable. Quoting Benjamin Stewarts' 2012 article "Worship without Walls," Miles asserts that vulnerability and exposure is all part of the plan. Like the cross itself, foolishness and weakness are meant to be a strange sign exposed to a wide public. The strangeness of enacting worship in the street serves to invite others into theological imagination and points to a hidden world to which the church bears witness.
Experiencing public processions or prayers is all it takes to see the author's point—we aren't really "bringing church to the streets," but instead witnessing to the reality that church was already there.
Moreover, living into the promise and perils of street liturgy requires being intentionally present to location. Rather than a gimmick, authentic street liturgy for Miles is part of what flows out of solidarity with community. Just living in an urban neighborhood can be its own spiritual practice; she writes, "it does what I am too cowardly to do on my own. It allows God to be in charge of whatever happens when I walk out my door." The gifts of presence in public space help us understand more of God by opening ourselves up to those unlike us, and it's an experience that Miles credits with painfully reshaping her Christianity.
Girded by the imagery of Revelation, in which there is no temple in the holy city because God is the temple, Miles makes a convincing case for taking worship outside and provokes the churched reader to join her on the asphalt, because "there is no way to be a Christian at home by yourself."
Melanie Mullen (@MissionRVA) is the downtown missioner of St. Paul's Episcopal Church in Richmond, Va.