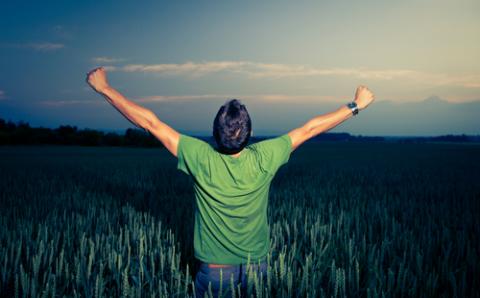 "THIS IS THE LORD'S DOING; it is marvelous in our eyes. On this day the Lord has acted; we will rejoice in and be glad in it." We will be singing these words from Psalm 118 on Easter Sunday, and they pinpoint a critical issue in our religious witness. Do we have the courage to have God be the subject of sentences, or is God usually the object of our reflections? There is a difference. Do we make ourselves really the subject of our sentences, so that religion is about our doings and ideas and needs? The scriptures insistently talk about what God did and is doing and will do in Christ, the crucified and risen one. Our role is to rejoice in the way God acts upon us, with us, around us, behind us, above us, ahead of us, through us.
Praise is the litmus test. If God is experienced as the one who is acting, the impulse to praise is inevitable. This may help us understand the importance of the psalms in our lectionary. They aren't mere supplementary devotions. As supreme words of praise, they test the authenticity of our reactions to the good news. They test and they can train. The psalter is the church's manual to help practice the "scales of rejoicing," to borrow a phrase from W.H. Auden's "Christmas Oratorio." A phrase on Auden's tombstone comes back to me: "In the prison of his days / Teach the free man how to praise." The psalms come to life only where this teaching is taken seriously.
Martin L. Smith, an Episcopal priest, is an author, preacher, and retreat leader. His newest book is Go in Peace: The Art of Hearing Confessions, with Julia Gatta.
[ March 3 ]
Singled Out for God's Punishment
Isaiah 55:1-9; Psalm 63:1-8; 1 Corinthians 10:1-13; Luke 13:1-9
This fall I made a reservation with a foreign airline just after Hurricane Sandy had wreaked havoc on the East Coast of the U.S. When the agent learned I was clergy, she asked whether I thought there was a "religious aspect" to the disaster. I guess she remembered instances when American clerics pronounced such-and-such a disaster to have been God's punishment on particular populations. In Luke 13 Jesus shows his keen awareness of this inveterate tendency to see the victims of natural disasters and atrocities as persons singled out by God for punishment. "Those eighteen who were killed when the tower of Siloam fell on them—do you think that they were worse offenders than all the others living in Jerusalem?" (13:4). No! Jesus flatly denies that God is responsible for such miseries and insists that people turn their attention toward impending catastrophes for which human beings, not God, bear total responsibility. "No, I tell you; but unless you repent, you will all perish as they did" (verse 5). Some nationalist Jewish leaders, who refused to bow to Roman rule, were pursuing policies that seemed patriotic but were in fact suicidal, certain to bring on a confrontation with Rome that would spell total ruin. In Jesus they were getting a final chance to change course, an intervention he likens to a gardener getting one last chance to manure a fruitless tree.
In Lent, Christ recruits us for this work of insisting on a collective repentance for policies and plans, and failures to plan, that are threatening entire systems on which human well-being depends.
[ March 10 ]
Deep, Acidic Resentment
Joshua 5:9-12; Psalm 32; 2 Corinthians 5:16-21; Luke 15:1-3, 11b-32
Is "the parable of the prodigal son" a misnomer? Jesus' story is disturbingly open-ended. The forgiveness of the younger son is certain. What is left in the air is whether the resentful elder son will let go of his corrosive resentment and enter into the joy of reconciliation. Will the religious authorities surrender their burning resentment of the amnesty that Jesus was promiscuously offering in the name of God to a mongrel crew of those who had never kept the law? These readings provide a great opportunity to explore the way radical forgiveness and amnesty—the offer of new beginnings—provokes resentment.
Luke's scripture recalls words from a playbill a friend of mine once wrote for a performance of "King Lear": "Watch in Lear how resentment—deep, acidic resentment—formed in the presence of chaos, drives the dramatic events in the play. Those who are somehow able to escape being captured by resentment, and instead maintain a vision fed by compassion and imagination, somehow acquire the vision to see mystically. ... Lear, at the last, acquired that vision and thus was filled with joy." Resentment is at the core of that complex of stereotypical attitudes that Paul calls in 2 Corinthians "after the flesh" (5:16; often too-tamely translated as "a human point of view"). Our social and political life is riddled with resentment in the face of newness and change. But God is in the business of the unprecedented. "If anyone is in Christ, there is a new creation" (verse 17).
[ March 17 ]
Scratch and Sniff
Isaiah 43:16-21; Psalm 126; Philippians 3:4b-14; John 12:1-8
Many of the great spiritual teachers insist we bring all our senses into play if we want to respond deeply to scripture. This week we should inhale the readings! John tells us that Lazarus' house was filled with the aroma of the perfume that Mary poured over Jesus' feet. This rare Indian cosmetic was a luxury people might only experience as a faint whiff when a woman dabbed on a drop before a special occasion. But an entire flask, drenching the master's feet, enveloping everything in a heady cloud of loveliness! This act of mad extravagance was never forgotten as a symbol of Christ's self-giving, even to death on the cross. John will take up the theme again when he tells us that Jesus' body was smothered in 100 pounds of spices before burial—staggering excess!
In contrast, when we sniff the reading from Philippians we find something disgusting. Paul, in talking about his stripping away of all the religious and ethnic advantages he used to claim as a learned Pharisee, writes that for Christ's "sake I have suffered the loss of all things, and I regard them as rubbish, in order that I may gain Christ and be found in him" (3:8-9). In the Greek, the word primly translated as "rubbish" means something foul like dog poop. In the light of the cross, all talk of qualifications stinks! We must be rid of them, as we focus only on our identification with the self-giving Jesus, and a life lived under the authority of the future in God.
[ March 24 ]
Who is the One on the Cross?
Isaiah 50:4-9a; Psalm 31:9-16; Philippians 2:5-11; Luke 23:1-49
Palm Sunday tends to overwhelm us. The grandeur and pathos of Luke's narrative of Christ's torture and execution may seem to demand all the attentiveness we can muster, after we have also celebrated his entry into Jerusalem on a colt. So we are likely to skip over the passage from Paul's letter to the Philippians in which he is probably quoting a hymn, one that extols the self-emptying of the one who was in the form of God and yet did not exploit that mysterious identity but took the form of a servant, submitting not only to the human condition and the inevitability of death, but to a particular kind of death—execution as an accursed outlaw on the cross.
Long before a gospel was ever written, Christians wrestled with the key question: Who is the one on the cross? It would take some doing to make the theme of incarnation central to Palm Sunday. But it would be a radical act of fidelity to scripture if we were to explore quite explicitly the difference between a moving story about a great teacher and prophet being martyred, and an utterly subversive story that breaks down the distinction between divine and human experience and talks of a God who, in the person of the suffering servant Jesus, has sunk to the rock bottom of our alienation to rescue us from the predicament of our own self-destructiveness.
[ March 31 ]
An Idle Tale?
Acts 10:34-43; Psalm 118:1-2, 14-24; 1 Corinthians 15:19-26; Luke 24:1-12
A worldly Easter, to use an old-fashioned adjective, is a travesty, serving up a happy ending to sweep away the brief gloom of Golgotha and filling us with the inevitable joys of spring. Luke is right to bring us up short, insisting that the apostles rejected the first report of the resurrection as grotesque and absurd. The women "told this to the apostles. But these words seemed to them an idle tale, and they did not believe them" (24:10-11). "This" is the message given by the angels: "Remember how he told you, while he was still in Galilee, that the Chosen One must be handed over to sinners, and be crucified, and on the third day rise again" (24:6-7).
The sting is that the disciples had reacted to Jesus' prediction of his betrayal and crucifixion with the same incomprehension and denial. They thought the whole deal was equally incredible—the idea that the Messiah should suffer and die and now, impossibly, that the resurrection of the dead, instead of referring to a hope for the end of time, should have happened already here and now for the dead victim. In Acts (part two of his great work), Luke will depict, as in today's reading, the stunning effect of Jesus' actual appearances in his risen state. Peter proclaims the resurrection as a unique act of God, designating the crucified One as the judge of the living and the dead, and revealing him as the source and center of an all-embracing reconciliation.
"Preaching the Word," Sojourners' online resource for sermon preparation and Bible study, is available at sojo.net/ptw.
Image: Young man rejoicing, l i g h t p o e t / Shutterstock.com