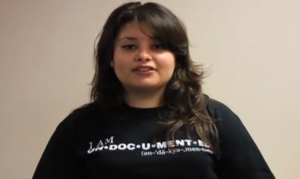 ONE EVENING LAST July, I walked up to the Port Everglades U.S. border checkpoint in Fort Lauderdale, Fla., to intentionally turn myself in to U.S. Customs and Border Protection. My mission: to get into Broward Transitional Center, a privately run U.S. Immigration and Customs Enforcement (ICE) detention facility, to expose the stories of those held there. It's categorized by ICE as a model facility. But as I witnessed firsthand, it is nothing short of a prison where, as in the other 250 immigration prisons across the U.S., immigrants are arbitrarily held and exposed to all kinds of human rights abuses.
The total number of undocumented immigrants detained in the U.S. each year is sky-high—ICE detained 429,247 people in 2011 alone. In August 2011, the administration announced that it would focus its deportation efforts on people with criminal records. "Obama is only deporting gangbangers and felons," established immigrant advocacy organizations said. "He's our guy for immigration reform!"
But that is far from true. In my work with the National Immigrant Youth Alliance (NIYA), I keep hearing the real stories of immigrant prisoners and the loved ones from whom they're torn.
Getting detained was part of a strategy of civil disobedience that fellow activists and I have been pursuing since 2010: In order to pressure ICE and the government, we have to put ourselves on the line. I was one of two Youth Alliance activists who sought to infiltrate the Broward Center to find out the inside story. We also set up a telephone hotline, funded by donations from the community, to take calls from people detained in the center.
What we've found are prisoners who could be my mother and father. They are single mothers, working multiple jobs to provide for their children, who came to this country seeking protection from an abusive partner. They are fathers who were pulled over on their way to work one morning. They are sisters and brothers with dreams of making it to college. They are grandmothers who have been diagnosed with diabetes and are not receiving adequate treatment. They are grandfathers who have toiled in the fields of the U.S. for more than 30 years.
These are the "gangbangers" the Obama administration is deporting. Every prisoner represents a family that is suffering financially, emotionally, even physically because of their loved one's absence.
ICE decided to release me from the center after two weeks—allegedly because they had reviewed my case, although I'm sure it's because I had been talking to the media. The Youth Alliance hotline continues to operate; we have received more than 400 prisoner calls to date, found close to 200 cases that required follow-up, and helped many of them through public pressure and other means. Since my release, we have set up 140 online petitions for Broward detainees and filed close to a dozen medical complaints on behalf of detainees who were denied treatment while imprisoned.
Last June, President Obama announced that certain undocumented youth would be granted "deferred action"—temporary protection from deportation. Many were thrilled by the news. But deferred action for me and my peers does not make up for the unjust detention and deportation of the rest of my community. More immigrants have been deported under President Obama's administration than under any other in history.
I turned myself in to expose the truth. Others are preparing to likewise infiltrate, as we seek to hold the administration accountable. We reach out to elected officials, and anyone willing to work with us, in our efforts toward solid solutions to our broken immigration system.
Viridiana Martínez is an undocumented activist with the National Immigrant Youth Alliance. She lives in North Carolina.