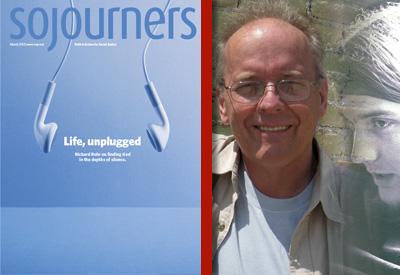 JIM BALMER, president of an addiction-recovery center called Dawn Farm in Ypsilanti, Michigan, has been an antiwar activist since the Vietnam days. His engagement with nonviolence has taken him to some unexpected places, from the antiabortion group Operation Rescue to working with addicts. Sojourners associate editor Elizabeth Palmberg interviewed Balmer early last year at the Consistent Life conference in Washington, D.C.

Elizabeth Palmberg: What was your work for peace during the Vietnam war?
Jim Balmer: I had been part of Detroit-area draft resistance. I went through almost all the conscientious objector status [process]. And it was 1970—what can I tell you? I was under the influence of substances one night, and I wrote the draft board in Pontiac, Michigan, and told them off; I just said, "come and get me." They never did. I suspect that, as the '70s progressed, they got more and more tired of putting us in jail.
The Detroit-Ann Arbor area was a hub for political activism. Students for a Democratic Society was founded there. YPFJ—Youth for Peace, Freedom, and Justice—there were all sorts of organizations. We would protest. The first time I got actually picked up was at a George Wallace rally—Wallace was a terrible, racist candidate from Alabama.
I started being interested in nonviolence. I was reading Mohandas Gandhi and Martin Luther King Jr., and I took King's nonviolence pledge when I was in high school.
How has King's pledge affected your life? I found myself in a couple of situations where I had the opportunity to practice nonviolence, to be assaulted and not return force. In a protest, during the Vietnam War, I got assaulted by a couple of guys.
I don't know about anybody else, but one of the things that contributed to my looking at nonviolence is that I am very conscious of my capacity for violence. I remember getting in a fight with a kid when I was 9 or 10 years old. He made me so mad that I hit him over the head with a piece of concrete—I put him in the hospital. I've never forgotten it. I really don't want to go to war—not because I don't think I could fire a gun at another person, but because as a rational person, I get to choose. I wouldn't have a gun in my home; I wouldn't put myself in a position where I had a weapon in my hand. Only God gets to kill people. And I'm not remotely smart enough to know what God wants me to do in that kind of situation.
I still have King's pledge of nonviolence on the wall above my desk. I actually think that Martin Luther King had a consistent-life ethic; abortion was only legalized after he died, but certainly a lot of people who've read him extensively think that King would be pro-life if he were still alive.
How did you get involved in Operation Rescue? Well, I had gotten involved in drugs and alcohol, and got pretty seriously impaired, and then got sober in 1971. That led to my having a spiritual journey, and ultimately becoming a Christian. And it all made sense: My historic pacifism met Jesus, the ultimate nonviolent [person]. It just spoke to me in my heart.
Somebody in Operation Rescue knew I didn't believe in killing anybody, so when the first rescues were planned, it seemed obvious to get involved.
Did you find strategies carried over from your antiwar work? Yeah. I was comfortable getting arrested, and was comfortable being in conflict situations.
Actually, it's a funny thing; I have a dear friend right now who was one of the police who arrested me at my very first abortion-clinic protest. He happens to be pro-life; he and I became good friends after that. But our first real encounter on the subject was him slapping the cuffs on me. That day there were maybe 80 or 90 of us who got arrested in front of this clinic—we had a succession of "rescues." At one point there were folks connecting themselves with Kryptonite locks. That makes them very difficult to move—if they don't want to move, you pretty much can't move them.
Eventually some of us found Operation Rescue a little too strident, particularly in the growing feel of demonizing anyone on the other side. A number of us, including most of the Quakers I knew, stopped getting arrested.
Why? I felt like we needed to operate with a greater degree of respect—as a way of modeling peace in the words we used. I don't like terms like "anti-choice" or "pro-abortion." Most people come to their positions on the subject of abortion thoughtfully—in many cases, carefully and painfully. I believe I can disagree, and attempt to influence someone to the cause of life, without abusing them or calling them names. Speech matters. Speech is the beginning of creating peace.
I've seen people convert. I've seen people come from strident pro-war positions whose hearts get softened if you talk with them respectfully, if you help them get their head around it.
The elimination of violence isn't going to happen through the justice system or the political system—I actually think Christians depend way too much on legislation and courts. What needs to change is people's hearts.
My heart needs to continue to change. My heart continues to need to be broken. How many people have been killed in Afghanistan and Iraq? Do you know? I could probably ballpark it, because I'm more interested than some people, but I don't know. It becomes a part of the noise. That's part of what's wrong with violence—it becomes just more numbers, and we're so distant from it. Another person got shot in the street. We flip the channel. I can confess, there are times I'm confronted with these things and I just don't care. And the fact that I don't care is horrific—it's sin.
How does your spiritual walk interact with your consistent life ethic? I go through an intercession process regularly. As I pray for people, I get a little moment where I get a sense of what God's thinking about these people I love. It's just a fraction—but that's what this is about. My other intercessions—when Pope Benedict was installed, there were a lot of us in the peace movement that were surprised that he chose the name Benedict, the peace pope. My prayer is that he will ultimately reject the just war theory. He's come close. Before he was pope, he spoke out on the eve of the Iraq war and said, with modern warfare, there's no such thing as a just war. Imagine if Pope Benedict called upon Catholics of good conscience to reject war. It would be the most dramatic thing the Catholic Church's done in 100 years.
The only pithy quote I've ever created, that I'm pretty sure is mine, is "Never make decisions based on fear." And that's true, I think, of most violence. Most violence is based on fear. It is actually the only thing I've said that I think has any real wisdom. You can quote me.
Do you find your commitment to nonviolence permeating your work? Yeah. I treat a difficult population—people who are addicts and alcoholics, who are in a terrible, terrible space in their lives. There's a saying on our website: You want to meet people where they're at, but not leave them where they're at.
How did you get started in addiction-recovery work with Dawn Farm? I got sober in 1971, and I started as a therapist in '73. However, I actually spent the first years of my career not working with addicts—for which I've always been grateful. One of the problems of recovering people is, just working with recovery issues, you never know if you have any other strengths. I came to the farm in '83 as the clinical director, and then became the president about a year and a half later.
When Dawn Farm began, it was this tiny little nonprofit out in the middle of nowhere. Then there was an explosion of treatment in the '70s and '80s. Then managed care hit and a lot of the field started to disappear; public funding started to decline, and more of the field began to disappear. Today, addiction treatment in the United States is pretty sparse. I've never seen the field this troubled.
When I came to the farm in '83, we had an annual budget of $200,000. Last year, we exceeded $4 million. So, comparatively, we're gigantic. We treated thousands and thousands of people last year.
Dawn Farm doesn't turn anyone away for lack of money or insurance. How does that work? In our detox facility—which is our most-used service, treating about 1,500 people a year—we take people without any money. We basically fund it using a combination of residential private pay clients and charitable gifts. We also have 159 transitional housing beds where you don't need any money to move in.
Now, in residential treatment, we have donation-funded scholarship beds, but unfortunately there's a longer wait. If somebody needs residential, we'll offer other kinds of services, but a scholarship bed that would have taken three weeks to get into, 15 years ago, now takes three months.
There used to be five hospital-based treatment centers in our county. Now we're the only one left. And we're one of the very few long-term residential treatment centers in the United States; the typical person spends 90 days in residential and then goes into transitional housing, where they spend a minimum of six months.
We've done okay. We've kept our costs down. We're bigger, but we're still mission-driven; we're kind of grassroots; we're still the least expensive residential program—we're a hundred bucks a day, compared to a typical hospital that's nine or 10 times that.
It's absolutely inspiring to work here. We have a lot of fun. I have a great staff, of people who are, in many respects, true believers. 2011 was the third year we won in the local "best workplace" contest—even though, in the first two years, we had a pay freeze. I think people feel good about what they're doing; they feel we make our decisions based on our values, not on money.
What about your work has most surprised you? The capacity for people to heal. People's experience of addiction is certainly terrible, but I have seen people be completely transformed by recovery, people who had just burned their lives to the ground. I am of the opinion that nobody is beyond the capacity to get better.
That must really make you think about your relationship with a higher power. Oh yeah! I'm a big believer in the power of God's mercy. I see it all the time.