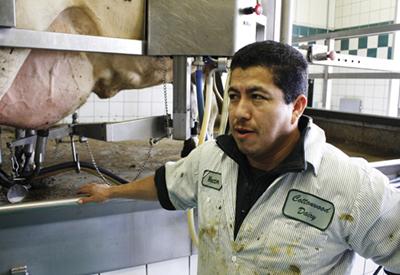 IMMIGRANTS FOUNDED the U.S. In western Wisconsin, where I live, people came in the 19th and the early part of the 20th centuries from Germany, Switzerland, and Norway, lured by the pull of free land to homestead and pushed out of their home countries by adverse economic conditions. Many of these immigrants settled close to each other for protection and comfort. They first began their dairy farms, then started building churches, schools, and businesses. The local newspaper was printed in German until World War I. We still have areas known as Norwegian Valley, or Tell (named for the Swiss).
The dairy industry's story, which began to be written by these first-wave immigrants, continues to be written by today's immigrants.
During the first half of the 20th century, a farm of 40 to 100 cows became the landmark of this area, because it was the size one family could operate. The hours were long, the work hard, but one could provide for a family comfortably.
Fast forward to the 1980s. Many factors made it harder for dairy farmers to make a comfortable living with this number of cows. The family farm was disappearing. If people wanted to stay in business, farms needed to grow. That meant hiring employees—but from where? Young people were leaving the area, migrating to the cities to be educated and to find jobs that matched their skills. Increasingly, dairy producers have had a harder time finding local people to do the honest, but not glamorous, work.
Enter immigrants once again, this time from rural Mexico, Guatemala, and Honduras. Many found jobs on the dairy farms, living in houses provided by their employers. They're part of a larger trend; the foreign-born share of Wisconsin's population grew from 2.5 percent in 1990 to 4.4 percent in 2008.
Like earlier Swiss and German immigrants to this area, the more recent arrivals are lured by the pull factor of jobs and pushed out by adverse economics. I have worked as an interpreter and cultural consultant on many of these dairy farms for 10 years, and almost all the immigrants I have worked with tell me that there aren't jobs in their home villages, and few opportunities.
Ericka, for example, had resolved early in life to migrate. In elementary school, she had to borrow a pair of nice shoes to wear to a contest; her thrill at winning was killed when she realized she'd ruined her cousin's shoes walking to the event seven miles from home. She promised herself that she would come to the U.S. so her children would always have shoes.
Roberto worked for years milking cows in Wisconsin, building up capital so that he could return to Mexico, become an entrepreneur, and help his rural community: "I now have a business producing tomatoes in greenhouses, and I employ several people here," he wrote me. "I have also helped to get our [local] road graveled, so we can get back and forth in cars."
BEING PAID WHAT local people in Wisconsin are paid was huge for these immigrants—10 times what they may have made in Mexico, if they had been lucky enough to have steady work.
Much to the delight of dairy producers, these folks became a integral part of the dairy industry, which had been struggling to find workers. A Buffalo County dairy producer told me about his previous difficulties working for 90 hours a week because he'd been unable to find people to hire. "I would go to the Fleet Farm Store and ask people if they would want to come and work for me. I would offer to pay more, and they didn't want to. I hired a retired policeman. He worked for two weeks, and called me one day: 'I can't do this work; it is too stressful.'" Today, 40 percent of the dairy industry's hired labor is from the immigrant population.
Many immigrants tell me that life here is good, mostly. But many are undocumented, and they say that they would like to not have to live in the shadows. Such a life means either not driving or driving without a license—worrying, every time they get in their car, whether this is the time they'll be pulled over. It means knowing that if you go to the doctor, you, unlike many Anglos, will be singled out and told to pay a deposit up front. One lady I know was told she wasn't welcome to shop at a garage sale she visited.
For many dairy farmers, who often start out very culturally "monolingual," hiring immigrants means becoming involved with them on a personal basis. With an average of eight to 10 employees, working side by side, family members and employees coexist at dairies in Wisconsin and Minnesota. In that relationship, they truly begin to care about each other; co-workers become real people, breaking through preconceptions.
One farmer, Chris, told me he'd been exposed to biased images of Mexicans "way back to my youth, watching television with my family on Saturday nights; the stereotype of a person south of Texas was lazy and maybe not responsible." But after working with employees from Mexico, he says, "They are so much like our Midwestern heritage of strong religious families. The dairy industry is finding that out. The frustrating part is our government still has the mindset of their youth and is not willing to grant proper working status for the people that come across the border looking to provide a better life financially for their families."
In my work, I do whatever I can to facilitate understanding between the farmers and their Latino employees. I take dairy producers to Mexico to meet the families of their employees. This is life-changing for them: To see something so different from our lives now, yet so similar to their grandparents', helps them to understand why their employees feel pushed out of Mexico and pulled to the U.S. Chris went for the first time in 2001, and has gone several times since.
When I go to Mexico, I always take things from the fathers and husbands working in the Midwest. When I deliver these clothes and stuffed animals in Mexico, I feel like I'm Santa Claus. And then I am always asked to take some things back to Wisconsin from the children, mothers, and wives—local medicines to take care of illnesses, beans, coffee, photos, all wrapped up in handmade tortilla towels—things that bring a feeling of home to their loved ones far away. I am doubly blessed to be the bearer.
WITH TIME, SOME of these immigrants to the upper Midwest are opening businesses, adding to the local economy. Our counties enjoy at least two restaurants, a dance hall, and grocery stores owned by Latinos. Javier, an immigrant, and his wife Kelly, daughter of immigrants, drove the "tortilla truck" for several years before starting a local grocery store and a restaurant famous for its authentic Mexican food. Both have been a big success. In this same small city, the local Hmong farmers market has invigorated the area; the locale of the market is now an event center, drawing people from throughout the area for evening concerts.
Schools have always been a central focus for any rural community. With dwindling native-born populations, there is always the fear of the school closing or consolidating. Immigrants' children are now keeping the schools populated. I remember Erick's graduation—the first immigrant child to graduate from Durand High School, and the first from his family in Mexico to do so. I don't know who was prouder—his family or the Durand teachers and student body. He participated in band, baseball, football, and wrestling, and was liked by all.
Churches, also, are building new relationships. In the Lutheran church in the small Wisconsin town of Eleva, a dairy employee asked, as did immigrants of an earlier time, "Why can't we have worship in our own language?" Faith communities such as Eleva Lutheran are beginning to respond. Baptisms, weddings, and occasionally other worship services are conducted in Spanish, sometimes followed by festive gatherings in church fellowship halls. Sanctuaries that once had the unmistakable aroma of lutefisk wafting up from dinners being cooked below now have worshippers smelling tortillas. Many people are realizing that churches need to look ahead to a future that includes the recent immigrant population—and these are people who want to belong.
Recently, a Pepin County Catholic church saw its first procession honoring Our Lady of Guadalupe. On Dec. 11, people from the Mexican-American and Anglo communities ran together from one church to another to venerate the patron saint of the Americas.
With the help of First Lutheran Church in Eau Claire, Jorge Cevera, a minister in training and himself an immigrant, is growing a grassroots ministry in Eleva and neighboring communities. Having once been undocumented himself, he understands many of the local immigrants and can relate: "What makes this ministry unique is that these folks come with traditions and faith; they look to the church to find someone who will give them welcome. 'How wonderful that you have welcomed us and trust in us'—both Latinos and 'gringos' say this."
I WORK WITH more than 40 dairy farms in Minnesota, Wisconsin, and Iowa, and each one agrees strongly that if it weren't for the Latino employees, they would not be in business. If the dairy goes out of business, then what happens to the feed supplier, mechanics, technicians, and veterinarians? What about the implement dealer and the creamery to which the milk is taken? What about the price everyone would pay for dairy products if there were many fewer dairies? These are just a few of the relationships and connections that are crucial to a dairy and to the communities in which they are located.
The hand that wields the hammer, that picks the strawberry, or that milks the cow is the hand that helps to build our community. Whether workers come from Mexico or Minnesota, their labor keeps dairyland communities alive—and also helps ensure an inexpensive food supply nationwide. These new community members who don't speak English pay taxes just like everyone else. They pay cash when they go to the doctor. They buy gas, groceries, and clothes in local stores.
In a culture where we always want to "get down to business," we can learn that the person with whom you have business is far more important than the actual business. It's a gift simply to greet people, be invited to their homes, and enjoy their hospitality and food. It enables us to learn not merely to accept our differences, but to appreciate our differences, embrace them, and give thanks for them. On farms and in factories, in churches and schools, and among new friends visiting outside small-town stores and around kitchen tables, these new immigrants are adding a vital dimension to the fabric of the Wisconsin countryside.
Shaun Duvall is the founder of Puentes/Bridges (www.puentesbridgessjd.org) and owner of SJD Language & Culture Services, LLC.