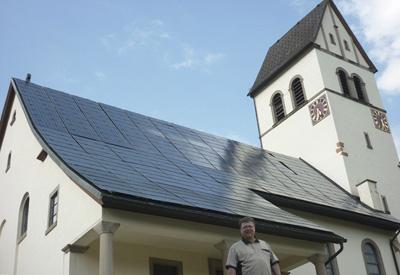 Imagine a church that not only views taking care of the earth as a fundamental Christian value, but whose green consciousness is at the heart of its gospel; a church that not only talks about responsible stewardship, but has photovoltaic systems mounted on its rooftops; a church that not only feeds solar power into the local grid, but inspires and supports other congregations to follow suit.
A Lutheran congregation and its intrepid pastor in the small Black Forest town of Schönau (population 2,382) are at the forefront of the solar revolution in Germany. With 431 solar modules on its rooftops, Schönau's Bergkirche (Mountain Church) generates more than 40,000 kilowatt-hours of electricity each year, enough for eight churches of its size. Dubbed "Creation Windows," the installation feeds what Pastor Peter Hasenbrink calls "heavenly energy" into the local grid that's run by one of Germany's largest cooperative clean energy companies.
The Creation Windows didn't happen overnight. The seed was first sown when a handful of concerned parents, alarmed by the dangers of nuclear power after the Chernobyl disaster in 1986, turned to their church for support. Ursula Sladek, a mother of five and 2011 Goldman Environmental Prize recipient, recalls telling her husband, Michael, a doctor who was a member of Bergkirche's council at the time, "This is also the church's concern, because we're dealing with God's creation here. We can't just destroy it like that!"
As the Sladeks and their friends went on to educate themselves about safer alternatives to nuclear power, they found a natural ally in Rev. Hasenbrink. "God has put a lot of love into this creation," Hasenbrink says, explaining what he considers the natural affinity between faith and environmental stewardship. "When you look around, you can only be in awe of how well-conceived everything is, and we humans are called upon to not only be beneficiaries but to intelligently and responsibly sustain this creation."
While they couldn't yet afford a photovoltaic installation in the early 1990s, Bergkirche made another important contribution to the cause: a space to assemble. As more and more of the group's meetings took place at the church's community center, the relationship between the concerned residents and the congregation naturally deepened. Casual gatherings turned into electricity seminars that were then adopted into Hasenbrink's services.
In his sermons, Hasenbrink would point to the importance of combining inner and outer work, citing St. Paul's letters in Romans 8—"For the creation is eagerly awaiting the revelation of God's children"—as a call to action for us caretakers to relieve the strain on the earth, to signal our participation, and to move toward salvation. "Not that we humans can or should salvage the world—Christ himself must do this—but we are God's collaborators in sustaining this work of creation." Hasenbrink says. "For me, and for the Christian community, this is the task of our time."
At first, these communal efforts at conserving and bringing more renewable energy to Schönau faced stiff opposition. Most notably, KWR, the power company that was operating the local power grid at the time, would have none of it. The response the Sladeks got when they first asked company officials if they'd be willing to add a few energy-saving measures was, "Conserve energy? Have you lost your mind? We want to sell energy, not save it!"
As shocking as KWR's attitude was to the concerned community, it forced all the stakeholders to take a stand. The Sladeks and their friends decided that if the power company wasn't going to be accountable to their customers and there was no alternative choice, the customers would have to start their own power company. Thus began a six- year campaign, including two hard-fought referendums to challenge KWR's monopoly, that would pit proponents of a people-run renewable power grid against more cautious residents who thought it was a naive pipe dream and would only lead to blackouts.
Caught in the middle of this conflict, the church's position was to give the underdogs an opportunity to prove themselves. "Even if you weren't 100 percent convinced that it could be done," Hasenbrink remembers thinking, "they should at least get a chance to try."
In the heat of this fierce battle for the town's energy future, Hasenbrink had an epiphany.
"THERE WERE A lot of hurt feelings on both sides," Hasenbrink recalls. "For our part, we wanted to be conciliatory, so we said we need a symbol not against, but for something." Recognizing the sun as a universally positive symbol, Hasenbrink thought that by launching a communal church project with the sun at its center, Bergkirche would be able to foster reconciliation among the different factions in town and help everyone to learn and grow from the experience.
The name "Creation Windows" was a cinch. "We thought, wouldn't it be a great metaphor of what a church should be doing anyway, transforming the power of God into energy for our daily life? Just as electricity is a symbol of light and power, faith is a symbol of the power that God gives us to have hope and trust in humanity, to help each other and to co-create." The first unexpected encouragement came when Hasenbrink went to the venerable Lutheran state council and received its blessing. The council's enthusiastic response—"Finally, someone with a good idea who stands for something!"—was a clear sign to Hasenbrink that they were on the right path.
The biggest obstacle standing in the way of Hasenbrink's solar vision proved to be red tape from the office of landmark preservation, which balked at the idea of altering the church roof. It was an ironic development, considering that Hasenbrink had turned to the landmark office in the first place to make sure the panels would fit into the historic landscape to alleviate some of his more traditionalist congregants' concerns about the physical look of the church building. However, the landmark office maintained that glass should not be put on a church and refused to grant a permit. Case closed.
As more people became involved and realized that the church would actually look more beautiful than before in addition to generating surplus electricity, the excitement about working toward this common goal reached a critical mass. With the 150-year anniversary of their state's 1848 revolution imminent, Hasenbrink and Sladek came up with the idea to mark the occasion by staging their own solar revolution to commemorate their ancestors' struggle for unity, justice, and freedom. In what Hasenbrink calls prophetic pre-emption of permission, about 200 defiant Schönauers marched on Bergkirche and mounted nine unauthorized solar panels to the roof—producing the church's first kilowatt of electricity.
Hasenbrink likes to point out the amiable, tongue-in-cheek nature of their revolt, which included dressing up in costume and rewriting an old revolution song into a quirky environmental parody. He wisecracks about how Schönau's 1848 mayor was hiding out while his 1998 counterpart was giving a revolutionary speech advocating for solar energy. And he emphasizes the many diplomatic efforts—his visits to many Lutheran and Catholic bodies and local city and town councils and his lobbying of politicians from all parties, explaining to them what his church was trying to do.
Yet the stakes were high, and Hasenbrink knew that he was putting his job and his reputation on the line. "In the lead-up to the 'revolution,' I had quite a few second thoughts," he admits, adding that he prayed for guidance from God. "I believe that God showed us the way, and together our community decided to not give up and to raise public awareness about this important issue."
Proving that not even the staunchest bureaucrats can withstand the will of an engaged and determined people, the landmark office gave the green light for the photovoltaic installation that same afternoon. The timing couldn't have been better. The Sladeks and their allies, after two victories at the polls and a national fundraising campaign, had just bought out KWR, gone online with their nonprofit power company EWS, and were looking for local energy providers. The European Union had just mandated the decentralization of its electricity markets, enabling smaller power companies to better compete. The Lutheran church council decided to make the Creation Windows into a pilot project, providing money for the installation. In June 1999, the state bishop himself attended the christening of the Creation Windows. "Letting the bishop flip the switch that launched the generators made him so happy," Hasenbrink recalls with a smile, "because he could say he was a bishop with a heart for the environment and creation."
The Creation Windows started to pay dividends right away, thanks to new German laws subsidizing solar energy. "All of a sudden we started to make really good money," says Hasenbrink, "so we said, let's invest the money not only in upgrades like a new organ or energy-saving light fixtures, but in good causes aligned with the purpose of the church." One of the biggest successes of this creative communal brainstorming is "Sunny Youth," a program that installs solar panels on school roofs, with profits from the surplus energy going to at-risk youth.
Emphasizing ecumenical dialogue, Hasenbrink also began to travel across the country, giving advice to other churches, both Lutheran and Catholic, poised to follow Bergkirche's lead. "There are so many churches that are copying us now, or moving in the same direction, often with our support," he says. Even some Catholic churches' refusal to put solar panels on their sanctuaries because they think that a holy building shouldn't be used for secular purposes was only a minor hiccup. Despite his own belief that human faith has always been reflected in church architecture, Hasenbrink ultimately doesn't have a problem with Catholics putting their photovoltaic installations on the parish hall or church house. "It's all about creating common ground," he says, adding with a wink, "We were a little more generous with them."
With Germany's recent decision to phase out nuclear energy by 2022 and switch to 100 percent renewables by 2050, the small church community suddenly finds itself at the cutting edge of a new energy age. Together with EWS, the Schönau energy rebels' cooperative, which today employs more than 50 people, provides renewable power to 115,000 homes and businesses throughout Germany, and earned Sladek the Goldman Prize. They are leading the way in a shift of both policy and consciousness that few could have imagined just a decade ago. "If we wait until powerful leaders start to do good, the train will long have left the station," Hasenbrink says. "You have to start wherever you're at, but if it's many of us, then one drop will turn into a big lake. And that's what happened here."
Sven Eberlein (@ecomuse), a freelance writer based in San Francisco, blogs at A World of Words.