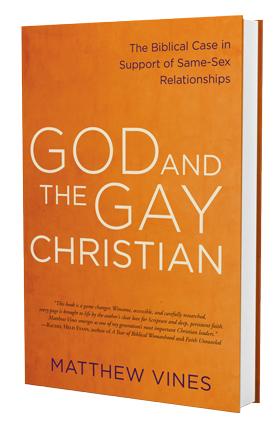 OURS IS A CHRISTIAN FAMILY STORY. It is also a loving, loyal, confused church story. There's nothing all that unusual about it, really. But precisely because similar stories are unfolding in countless families and churches today, I want to share it.
I want you to see how sexual orientation and deeply held beliefs are at odds in ways that injure those we love. This debate is not simply about beliefs and rights; it's about people who are created in God's image. Those people may be like you or entirely unlike you. They may be your roommate or neighbor, your best friend or a colleague. They may be your son or daughter.
My dad would later tell me the day I came out to him was the worst day of his life. His sister had passed away the year before; his father years earlier. But the day I said "Dad, I'm gay" was the worst day of his life. To his credit, though, he didn't tell me that at the time. He hugged me and listened as I nervously stumbled over my words for an hour and a half. Then he told me he loved me.
My mom, too, responded with open arms, but the news was hard for her to hear. She could barely eat for several days afterward, and she spent much of the next year deeply dispirited. Still, I was grateful for my parents' unfailing compassion and love.
What that love would ultimately look like, though, was unclear.
Six passages in the Bible—Genesis 19:5; Leviticus 18:22; Leviticus 20:13; Romans 1:26-27; 1 Corinthians 6:9; and 1 Timothy 1:10—have stood in the way of countless gay people who long for acceptance from their Christian parents, friends, and churches. I was blessed by my parents' continued love, but absent a significant change for my dad in particular, we were likely to end up stuck in the same place: compassion, but no support for a future romantic relationship.
I shared my parent's concerns about the importance and authority of scripture. Since childhood, I've made discerning God's will through prayerful study of scripture a priority.
We all needed more time for study, prayer, and discussion with others. So instead of returning to Harvard for the coming spring semester, I decided to stay home. There, I set about finding as many resources as I could to better understand the Bible and homosexuality. 
From God and the Gay Christian: The Biblical Case in Support of Same-Sex Relationships, by Matthew Vines, copyright 2014. Excerpted by permission of Convergent Books, a division of Penguin Random House, Inc. All rights reserved. No part of this excerpt may be reproduced or reprinted without permission in writing from the publisher.