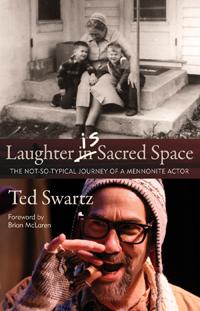 LAUGHTER IS Sacred Space: The Not-So-Typical Journey of a Mennonite Actor has the narrative arc of a classic Greek tragedy: Boy from religious sect grows up, becomes a butcher, goes to seminary, then finds acting acclaim as part of a duo (Ted & Lee), only to have his comedic partner die by suicide, after which the show must go on and does.

Ted Swartz's story is a bittersweet tale, with emphasis on the sweet. It is told in the structure of a five-act play. What originally drew me was the fact that Swartz's late acting partner, Lee Eshleman, was a classmate of mine at Eastern Mennonite University, where we were art majors to-gether. Eshleman was easily the most talented among us. (His line drawings illustrate the book.) He was also smart, funny, and regal.

After I left EMU, unmarried and pregnant, I would sometimes see Eshleman's name on the masthead of the alumni magazine and think, "I wish I had it as together as Lee does." It was a shock to hear that, like my own son, Eshleman too had died by suicide.

His death and its impact on Swartz take up a good deal of space in this memoir. The duo worked together for 20 years, and Swartz is honest about the ups and downs of their friendship. He does a great job of communicating that Eshleman was much more than his suicide or his bipolar disorder. He was that extraordinary person I remember.

As important as the message is of surviving a loved one's suicide, there's much more to Swartz's book. It is the candid journey of an artist, one that affirms both the calling and challenges of being an artist in a religious context.

"A life in the arts is not quite a humanitarian's life," Swartz writes. "It's not really a life of service, in the way we think about mission work, social work, or teaching. It is, however, an intriguing and continually fascinating balance of selfishness and selflessness, constantly thinking and observing how an action, a vision can fit into what we write, paint, sculpt, or create." But artists, he says, "should be looking outward, using the raw material at hand—themselves—to express something larger than themselves."

The journey begins with Swartz's struggle to get through seminary at EMU. He is granted permission to take an acting class at nearby James Madison University. There, as part of the class, he kisses the first woman he's ever kissed, besides his wife.

"Was this okay—to kiss another woman? Should I write to the board back home at the church in Pennsylvania, who was supporting us? Ask the congregation here in Harrisonburg, where I was serving quarter time on the pastoral team? Perhaps I should bring it up in ethics class at the seminary," Swartz writes, inviting readers to join him on a pursuit for answers that winds back into his Mennonite upbringing, through the past and into the present.

I read this book in a day, in part because of my personal interest in the story. But, there are plenty of books about compelling topics that are difficult to get through. This isn't one of them. It's a rollicking tale in which some of Ted & Lee's most famous characters speak. The duo created six full-length theatrical or comedy shows in which they explored "life and sacred texts with an eye toward what was askew, peculiar, and above all—where was the funny?"

I never saw Ted & Lee perform together live, but through Swartz's memoir I caught a glimpse of their show and the deep theology from which it emerged. In the final act, Swartz writes, "I don't truly know how healing works. I don't know if I can truly claim healing. I do know that without writing and acting, without continuing to work by sheer, naïve persistence—I can't envision any type of healing." To which I say, amen.

Christine A. Scheller is a widely published journalist and essayist. She lives with her husband at the Jersey shore.