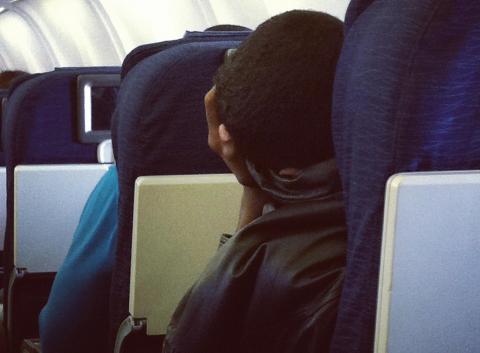 OUR PLANE SITS at the gate in Brussels well past our departure time. Slowly, the empty seats fill with Somali refugees whose flight a day earlier had been cancelled. After a night in the airport, they slide wearily into scattered seats.

Ten years together in a refugee camp in Uganda has melded the group into a close-knit family. What do they feel now, I wonder, knowing that on the other end of this flight they will scatter, not to empty seats but to unknown cities throughout the U.S.? From Syracuse to San Francisco, they will look upon a world they have never imagined. "When will I see my friend?" one little girl asks, not realizing she and her friend will live half a continent apart.

I watch a man a few rows ahead of me. I learn from his friend that he suffers from headaches. I know enough about refugees to realize headaches will likely be the least of his challenges. He and his family will face a confusing culture, strange language, unfamiliar religious practices, unknown yet required skills, and new technology—from flush toilets to garage door openers, from light switches to iPads. Then they'll have to sort out schools and jobs and health care. They'll be starting over, basically, with nothing.

Almost nothing. One suitcase per person contains the bit of their past they carry into their future. These slim and elegant humans are traveling very light. Unless, of course, you count the weighty baggage of war and displacement.

I talk with the striking Parisian who facilitates their travel. "They are so grateful the plane waited for them," she says quietly. Grateful. After fleeing their homeland in desperation. After 10 years in a "temporary" camp. After hunger and disease. After leaving everything that's familiar. After cancelled flights and cots in airport corridors. Grateful.

I think of my impatience the night before when my flight from Tel Aviv was delayed. And later, when I faced the boredom of what I considered an unreasonably long layover in Brussels. I recall the snarky under-my-breath response to a presumptuous man who pushed ahead of me in line (as if I had any reason to rush through that five-hour layover). Most regretfully, I recall my first thought when I realized additional passengers were boarding our Chicago-bound flight: "Shoot, there goes the empty seat beside me."

How small my world gets when I'm not paying attention. At such times I need a good shake.

Thank you, God, for using a father with a headache to shake my world and pull me outside of myself. Thank you for using a pink-dressed girl with a million tiny braids to shake my heart and remind me that had our plane not waited, I would have missed her fragile laughter. Thank you for telling me through the gentleness of a purple-scarfed mother soothing her cranky baby that even when I'm not at my best (cranky, indeed), you claim me as your child and trust that I'll behave better tomorrow.

Yes, I needed a good shaking—and it continues as I reflect on the thousands of refugees who, in the weeks and months to come, will walk quietly down jetways into worlds they've never imagined (even while the U.S. is accepting 6,000 fewer refugees this year than last).

In the Chicago area, Christian organizations World Relief and Exodus World Service resettle hundreds of refugees each year; a Google search will likely reveal refugee services in your community as well. Offering our financial support and volunteer time to these organizations can help assure that at the end of each of those jetways a refugee will find a welcoming embrace.

Lynne Hybels, co-founder of Willow Creek Community Church in Illinois, is author of Nice Girls Don't Change the World.