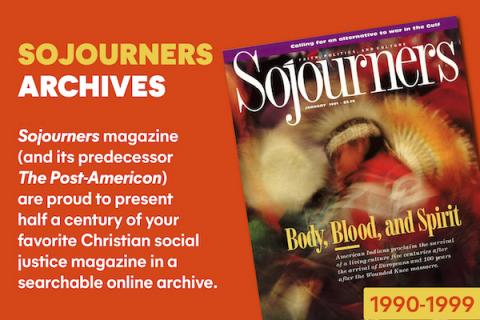 The charitable choice provision of the 1996 federal welfare reform law makes Christian ministries and other faith-based organizations eligible for government funds to provide welfare services, without requiring them to form separate corporations or remove religious content from the services they offer. We asked two experts on charitable choice to explore the issues of church-state relations raised by the provision.—The Editors
Cooperation between government and religious organizations to serve the needy is not new. But previous federal rules for such cooperation were often so restrictive, uncertain, or arbitrary that many Christian ministries rejected federal dollars for fear of losing their spiritual mission. The charitable choice rules for federal welfare funds are designed specifically to address this fear by protecting the religious integrity of participating faith-based organizations.
Charitable choice is built on four principles. It
encourages state and local governments to use contracts or voucher arrangements to obtain services for welfare families from non-governmental organizations;
requires the governments not to exclude faith-based organizations from competing for funds because they are religious or too religious;
obligates the governments to respect the religious integrity of organizations that accept government funds to provide welfare services;
protects the right of the needy to receive help without religious coercion.
The charitable choice provision is a set of conditions on how the federal welfare block grant that each state receives can be used, not a separate fund designated for churches.
Under charitable choice, explicitly religious ministries and even churches without separate 501(c)(3) structures are eligible to compete for welfare contracts or to redeem vouchers to provide welfare services. Spiritual principles and language may be used in working with clients. Ministries may keep their religious standards for hiring and disciplining staff. Bibles and religious symbols need not be hidden. Fiscal audits can be limited by keeping a separate account to receive and disburse the welfare funds.
When services are funded by government contract, then the money may not be used for worship, doctrinal instruction, or evangelism, making it clear that the government is not taking the side of any particular faith. By contrast, if a client brings a voucher to pay for a service, there is no similar religious restriction because it is the client who chooses the provider.
Charitable choice further protects clients by requiring ministries to serve them without discrimination and to allow them to sit out any religious activities that offend them. Most important, a client who objects to a religious provider has the right to be served by a different agency.
For these rules to make a difference, state and local governments need to focus on how well faith-based organizations serve the needy, instead of seeking to make government-funded services as religion-less as possible. They need to seek new partners and make it clear to their own officials and to the public that the ground rules for cooperation have changed. They also must actively protect often vulnerable clients by informing them of their rights and by ensuring that they have easy access to alternative services.
Christian ministries ought to be no less concerned about client rights. Religious coercion is not a gospel principle! They should tell clients up front what kind of program they are walking into and their right to go elsewhere. Ministries need not hide their love of God and neighbor, but their services must provide concrete help. The purpose of the funds is not expanding a church's membership, winning converts, or propagating a doctrinal system. Although charitable choice doesn't demand it, a church would do well to establish a separate—but thoroughly faith-based—organization to provide services, both because of other legal consequences and to make it clear to all that the program exists to serve the public, not to build up the congregation.
Charitable choice reinforces a crucial principle for church-state relations: what the Constitution requires of government is equal treatment, not favoritism for secularism or faith. Similar rules have been working well for needy families and for faith-based organizations in federally funded refugee resettlement, low-income child care, and overseas relief and development.
SHOULD CHRISTIAN MINISTRIES accept this invitation into the center of the public effort to assist the poor? Charitable choice creates a positive legal framework for fruitful cooperation—which is vital, but is not the whole story. The details of how states and localities respond to the provision are critical. Beyond that, Christian ministries themselves have to take the right steps.
The rules cannot protect a ministry's spiritual core if the organization has no clear idea what it stands for and why and how those principles should be embodied in the services it offers. Ministries shouldn't start programs they aren't expert in just because that's where the dollars are, or become dependent on one source of income. A ministry should honor the Lord by providing top-quality services; by holding itself accountable to government, its clients, and its supporting constituency; and by upholding the cause of the needy when public policy falls short. And it must be aware that, while charitable choice protects its religious integrity, government funds are accompanied by a wide variety of requirements.
In the final analysis, each ministry has to weigh the obligations that accompany government funds against the benefits. The opportunity for expanded service may counterbalance the red tape and restrictions, or it may not. Charitable choice is only an opportunity, not an obligation. Churches can cooperate with public welfare officials without becoming a vendor of services, particularly through volunteer mentoring programs and by joining referral networks that connect needy families with a community's diverse resources.
Charitable choice makes government funds more accessible to Christian ministries. Perhaps even more important, it validates the key idea that churches and parachurch ministries should be allies with government in service of needy families and neighborhoods.
STANLEY W. CARLSON-THIES is director of social policy studies at the Center for Public Justice in Annapolis, Maryland. A Guide to Charitable Choice can be ordered for $5 from the Center, (410) 571-6300, or accessed through the Center's homepage, http://cpjustice.org. A free brochure, "Christian Ministries Cooperating With Public Welfare: The Charitable Choice Opportunity," is available from the Center.