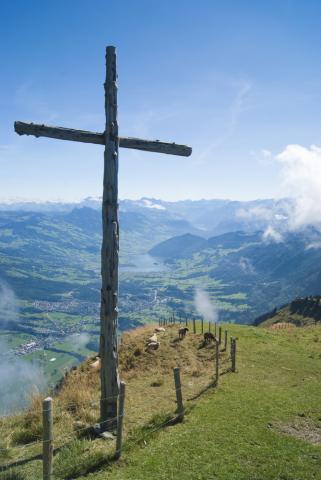 AS THE SEAONS after Pentecost unfolds, we might think that summer calls for a kind of "church lite" in which we shouldn't expect much to happen. With the dramatic commemorations behind us, the scriptures seem miscellaneous. But this season has its own purpose of soaking in the Word. Just let go of dependence on drama.
Our month's reading opens in 2 Kings 5 with the healing of Naaman, the distinguished Aramean general, told with a dry humor that Jesus appreciated, since he specifically mentions it (Luke 4:27) in his teaching about faith found outside the bounds of Israel. At first Naaman's dignity is offended by Elisha not bothering even to meet him in person. His pride receives a further blow in the ludicrous banality of the prescription that Elisha's assistant passes on: "Go, and wash in the Jordan seven times" (verse 10). Naaman's fuming about the short shrift he got, and the humiliation of being prescribed a business of splashing in a local stream, are quite comic. Paddling in the Jordan indeed—a ditch in comparison to the storied rivers of Damascus! Smiling, we recognize the storyteller's shrewd knowledge of psychology. The tale has a good ending. Finally getting off his high horse, Naaman allows his aide to persuade him to try the simple bathing routine. Over time his skin is healed and rejuvenated.

The church behaves like that shrewd aide when it invites us to trust in the power of hearing the scriptures again and again, however overfamiliar some of them seem, and others obscure.

Martin L. Smith, an Episcopal priest, is an author, preacher, and retreat leader.
[ July 7 ]
We Can Get the Accuser Fired
2 Kings 5:1-14; Psalm 66:1-9; Galatians 6:1-16; Luke 10:1-11, 16-20
LUKE'S STORY OF Jesus sending 70 pairs of disciples to the villages he planned to visit, with the mandate to announce the onset of the reign of God and heal the sick, is intriguing. Observe how Jesus responds when they return and recount their experience with joy and astonishment. Their own experiments with the ministry of deliverance were just as effective as those of Jesus (verse 17): "Lord, in your name, even the demons submit to us!" His reaction is fascinating. He doesn't congratulate them on their personal ministry skills. Instead, he elevates the meaning of their achievements by putting them into the grandest context, invoking the spectacular apocalyptic theme of the ejection of Satan from heaven. Now the reign of God has started to take hold. The heavenly prosecutor, whose role was to put human beings to tests that might expose their guilty weakness, is out of a job.
Every time Jesus' assistants touch a human life with grace and forgiveness, the accusing Satan is unceremoniously fired! Jesus has been praying for his friends, an invisible partner in their travels as they carry healing and pardon from one homestead to another, and he has had a vision of the epic shift that is happening (verse 18): "I watched Satan fall from heaven like a flash of lightning!"
Of course, not all attempts to bring healing are successful. Jesus had warned them that they will be rebuffed. They are to move on, shaking the dust off their feet. If their sense of calling depends on being constantly successful, they will crumble under the stress of failure. Jesus warns them not to identify their place in God's heart in terms of successful results. They must find their joy in the unchanging security of God's promise. They are enrolled indelibly in the great register of God's intimates. "Nevertheless, do not rejoice at this, that the spirits submit to you, but rejoice that your names are written in heaven" (verse 20).
[ July 14 ]
Rescued from Darkness
Amos 7:7-17; Psalm 25:1-10; Colossians 1:1-14; Luke 10:25-37
I CAN NEVER read today's gospel without recalling the magisterial comments of the philosopher Charles Hartshorne on a parallel passage in Mark. "'Thou shalt love the Lord thy God with all thy heart, and with all thy soul, and with all thy mind, and with all thy strength.' There can be few more emphatic utterances in the world's literature. Four times over in one short sentence, the phrase 'with all thy' is reiterated. Nothing of ourselves is to be withheld: We are to have no devotion, no appreciation, concern, or interest that is not directed to the divine." As for the command to love our neighbor as ourselves, "this must not be taken to mean that some part of us not expressed in the love of God is to manifest itself in self-love or neighborly love. All our being is to be expressed in the relation to deity, hence any love of neighbor must already be embraced in this relation, and the second commandment constitutes not an addition to the first, but only an explication of part of its meaning. Every legitimate love, interest, or valuation is to be embraced in that valuation whose object is not a mere totality of good things, but is one being and one good."
Being "rescued from the power of darkness and transferred ... into the kingdom of God's beloved Son" (Colossians 1:13) means embracing this shattering insight: All things are bound up in the one being of the one God. This "rescue" exposes our inveterate tendencies to push others beyond the reach of love, to split off persons and communities deemed beyond the pale, and to rationalize our habits of exclusion with pious fictions. The light streaming through the Good Samaritan story also plays through the reading from Amos, spotlighting the way religious authorities let politicians co-opt their institutions. If not cynical, then how pathetic is the priest Amaziah's frank admission that the shrine at Bethel now exists only to legitimize force: "Never again prophesy at Bethel, for it is the king's sanctuary, and it is a temple of the kingdom" (Amos 7:13).
[ July 21 ]
Church, Learn from the Boatbuilder
Amos 8:1-12; Psalm 15; Colossians 1:15-28; Luke 10:38-42
A RIDDLE: WHAT does the proclamation of the gospel have in common with the art of boatbuilding? Just this: A ship's hull cannot be launched in a partial state. Any holes or gaps and it will sink like a stone. It can't be a work in progress; it has to be whole from the beginning. In the same way, the early church, whose pioneers included so many fishermen and frequent voyagers such as Paul, knew that the gospel would disappear without a trace unless it was essentially complete at launching. Its message already included every aspect of human experience. The gospel was either robustly all-encompassing in scope or it was a leaky tub doomed to be swamped by the next wave of religious novelty.
So scriptures such as today's reading from Colossians insist in every possible way that the message of the cross and resurrection spell out the full involvement of God in God's entire creation to heal, repair, reunite, and glorify. Jesus Christ cannot be preached as a cult leader of a select few, but only as the focal person in whom are concentrated all God's creative energies and all God's ultimate purposes. "All things have been created through him and for him. He himself is before all things, and in him all things hold together. ... For in him all the fullness of God was pleased to dwell, and through him God was pleased to reconcile to himself all things, whether on earth or in heaven, by making peace through the blood of his cross" (1:16-17, 19-20).
Those caught up in this vision of inclusion read all scriptures in its light. Today's story about Mary playing truant from Martha's frenetic kitchen in order to study and learn at Jesus' feet can be read in the light of Jesus' own impetus towards completeness. The messengers of the reign of God must include women as empowered equals, or its thrust and its embrace will be inadequate! And what do prophets such as Amos warn, if not that God will ruthlessly scuttle any vessel that hypocritically flies the colors of the covenant of justice and mercy, while refusing in practice to bring on board the poor, the vulnerable, and the deprived?
[ July 28 ]
Disarmed by the Cross
Hosea 1:2-10; Psalm 138; Colossians 2:6-19; Luke 11:1-13
THOSE WHO ARE passionate about the political import of the new covenant will find this week's reading from Colossians powerfully stimulating. However high its valuation of Christ seems to soar—"for in him the whole fullness of deity dwells bodily, and you have come to fullness in him, who is the head of every ruler and authority" (2:9-10)—it never deserts the concrete for the abstract: It is faithful to that word "bodily." It talks about Christ's physical circumcision to deploy images of conversion in our real lives. It speaks of human alienation in terms of bodily death. The body of Christ on the cross is ground zero for the irruption into history of God's subversive, liberating spirit.
The writer conjures up two vivid pictures: The brutalized victim on the cross and a magnificent triumphal procession that emperors awarded to victorious generals, which prominently featured gangs of prisoners destined for the slave markets. With incomparable daring, the writer asserts that the picture of Christ's execution is actually a scene of superb victory—the victory of suffering love over the toxic forces of coercion and deceit that have society in their grip. For those with eyes to see, there nailed to the cross is our Emancipation Proclamation! Here is God, "erasing the record that stood against us with its legal demands" (verse 14). The disgraced Messiah on the cross is in the act of stripping power from the collective forces that repress and distort our lives in defiance of the Creator's will and promise! "Having disarmed principalities and powers, he made a public spectacle of them, triumphing over them in it" (verse 15, NKJV).
Galvanized by the blazing irony of scriptures like this, we are less likely to confuse Christian social witness with those bland recommendations for reform that are typically felt to "go as far as we can in the circumstances." The gospel asserts God's intention to gain complete victory through nonviolence and love over the forces that are determined to entrench hate even further into the culture of our (we should say God's) planet.
Preaching the Word, Sojurners' onine resource for sermon preparation and Bible study, is available at sojo.net/ptw.
Image: Wooden cross, James Ketley / Shutterstock.com