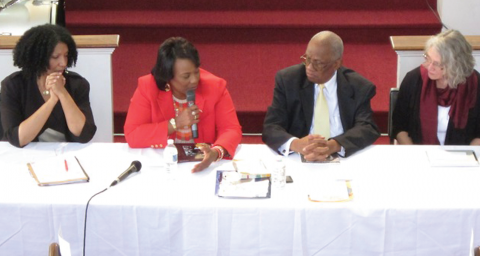 BERNICE KING watched as, one by one, the heads of denominations from across the nation bent down to sign the Christian Churches Together in the U.S.A. "Response to Dr. Martin Luther King Jr.'s 'Letter from Birmingham Jail.'" Transfixed, King—Martin King's daughter—sat in the first row of a church one block from Kelly Ingram Park, where 50 years before children had run scared, ravaged by German shepherds and fire hoses.
As they signed, the presidents of CCT's five church "families" stepped to the podium. Each read his or her church family's confession of complicity with the demons of racism and injustice during and since the civil rights era.
Fifty years ago, Martin Luther King Jr. sat behind bars in the Birmingham city jail and responded to criticism from eight local white clergy's "Call for Unity" against outside agitators. King penned prophetic words in the margins of the newspaper that carried the white clergy's call for "law and order and common sense."
"Injustice anywhere is a threat to justice everywhere," King explained. He recounted the failed attempts to negotiate with city officials hell-bent on living a "monologue rather than dialogue." He clarified: "The purpose of our direct-action program is to create a situation so crisis-packed that it will inevitably open the door to negotiation."
King's letter was a response to the protests of eight white clergy, but in an existential sense it was to the whole U.S. church.
Fifty years later, on April 15, 2013, after every denomination had added its "amen" and every confession had been read aloud, Martin Luther King Jr.'s daughter walked forward to receive a signed copy of the Christian Churches Together's response to her father's letter. It was a heavy and a beautiful moment. A baton was passed.
When Bernice King spoke, it seemed as if time stood still. She spoke of the fact that she was born early—19 days before the Birmingham march. If she had been born on time, then her daddy would not have been able to join the protest and his letter might never have been written. And she spoke of the clergy's particular calling to face down the demons of racism and injustice in our world and within the church.
Over the course of the next two weeks, I sat in sanctuaries and lecture halls of Christian colleges and evangelical conferences. Again and again I saw it: The next generation is beginning to lay hold of the baton. They are stepping up to confront racism and injustice as it manifests today. Today it is not Bull Connor or the segregated bus systems of the South. Now it is the centuries-old cry for "states' rights" to craft public policies that block black people from voting; to defund the Environmental Protection Agency, slashing its capacity to regulate energy emissions; to make life so hard for undocumented immigrants that they "self-deport." And, it is the dastardly reality that evangelical conferences—the primary spaces for instruction in evangelical Christian discipleship—are among the most segregated and male-dominated spaces on earth.
For two weeks I spoke with Gen-Xers and Millennials who held batons in their hands. They spoke on panels about the need to confront racism and racialization within the church. They listened as I spoke about the call to stop climate change as an act of justice for the poor. They wept as they realized the "back of the bus" is no longer on a bus; ethnic minorities now live in the back of the lived environment. And they cheered "Keep going!" as I went overtime on a lecture on faith, race, and politics.
Bernice King closed her remarks at the Christian Churches Together symposium by referencing John's gospel, saying of the CCT response to her father's letter from Birmingham jail: "May these words become flesh and live among us." Amen.

Lisa Sharon Harper is director of mobilizing at Sojourners.