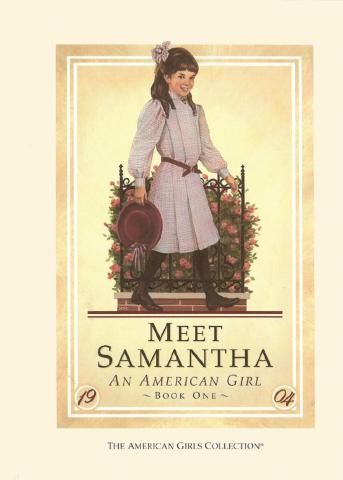 WHEN MY DAUGHTER, Jessica, was 7 years old, some of her best friends had American Girl dolls, so of course she desperately needed one as well. We asked three or four family members to chip in—these were expensive dolls—and got her one for Christmas.
Her doll, "Addy," came with a story, as did each in the American Girl line. Addy and her mother had escaped from slavery in the American South, and they "followed the drinking gourd" north to Philadelphia, where they were eventually reunited with the rest of Addy's family. It was a gripping story, especially for a 7-year-old. And the fact that Addy was about my daughter's age made it all the easier for her to connect.
"It wasn't so much that I learned 'facts'" about slavery and race from the Addy stories, Jessica, now 27, told me recently, "but they made it all more personal. Addy was young, like me—I could relate to it."
Other women who grew up with the dolls echoed that sense of connection with the various American Girl stories. Janelle Tupper, campaigns assistant at Sojourners, was around 7 when she received the "Kirsten" doll, a Swedish immigrant to the U.S. "My most distinct memory from the stories was that, on the boat, her best friend dies of cholera," Tupper said. "Reading that passage was pretty devastating to me as a kid." Other books in the American Girl series addressed issues of the day, from child labor to women's suffrage. And while Tupper said she wasn't aware as a child of the social justice themes in the stories—"I was just imagining life in the different time periods through the eyes of a character I identified with"—she now sees the series as addressing "societal change in terms that an 8- year-old can understand, often told through the characters' friendships and family stories."
A former teacher named Pleasant Rowland created the American Girl line in 1986, inspired by a visit to Colonial Williamsburg where, she said, she was struck by "what a poor job schools do of teaching history. ... Was there some way I could bring history alive for them, the way Williamsburg had for me?" Rowland sold the company to Mattel in 1998 (for $700 million), and since then the educational aspects have declined in importance. An Atlantic article this spring proclaimed that "American Girls Aren't Radical Anymore." The article points out that three of the original historical dolls have been "archived"—that is, discontinued—to be replaced by "blander avatars" that focus "only on issues that affect their own backyards and school days." As Richard Gottlieb of Global Toy Experts put it, "Rather than taking on slavery, characters take on challenges like saving the school's art program by having a bake sale. Pretty tame stuff compared to a doll whose character addresses child labor."
Even at their best, toys like the American Girls send a mixed message. Take the "Gwen" doll that came out in 2009. Gwen, whose father left and whose mother was laid off, ended up homeless, living with her mother in their car. Gwen's story delivered a powerful message about American capitalism—as long as you could afford the doll's $95 sticker price.
But such ironies are lost on all those little girls (and some boys) who saved up their allowances for months or years to get the escaped slave doll who looked like them, or the young social activist to whom they could relate.
Historical fiction from the underside—which is what the American Girl stories are, at their best—can help us develop an empathetic connection with people on society's margins. But you don't need an expensive toy for that—the library down the street has many provocative, engaging books, fiction and nonfiction, just waiting to provide that spark of empathy and imagination for the child in each of us.
Jim Rice is editor of Sojourners.