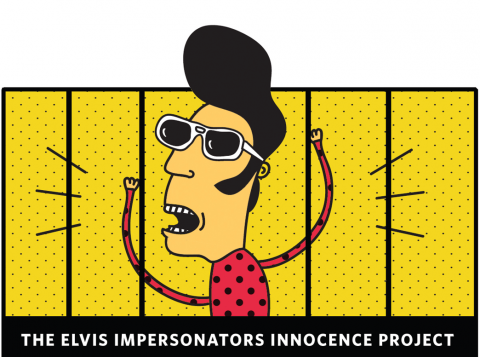 WITH SO MANY of our sacred institutions collapsing from within, it was a relief to hear that all charges have been dropped against an Elvis impersonator from Mississippi, thus sparing his worthy avocation from disrepute. Paul Kevin Curtis had been accused of sending poisoned letters to officials in Washington, D.C., but FBI officials soon came to their senses and realized that anyone who spends time impersonating a celebrity who's definitely left the building probably couldn't make a salad dressing with vinegar and oil, much less extract lethal chemicals from exotic plants.
Ricin was the poison in question, and seems to be the current compound of choice for disgruntled letter terrorists. Before that it was anthrax, an easy-to-produce material which, as it turns out, is what happens when you make salad dressing and get the ingredients wrong. A little too much balsamic, a couple nosy neighbors, and pretty soon the FBI wants to chat.
Fortunately, this man was absolved of all wrongdoing, guilty of nothing except the single act that sets him apart as a hallowed foundation of our society, the one institution that has consistently contributed to Americans' self-esteem. Because as long as there are Elvis impersonators around, the rest of us will always feel happy and fulfilled. All of our important life decisions—some made in haste, others made in desperation, and each one now regretted—seem steadfast and well-considered, because they have kept us from going down the path of a celebrity impersonator.
Not to say they aren't amusing—these men dressed like Liberace at a rodeo on the Fourth of July—and worthy of a moment's nod of recognition. But then we turn and walk away, shuddering reflexively, happy that our lives of suffocating tedium are still better than a guy who regularly accuses people of being "nothing but a hound dog," and then, in a display of unnecessary gratitude, chants "thangyou, thangyouverymush."
We deeply appreciate an Elvis impersonator specifically because we are not one, and that is an important service to any society.
THIS IS IN marked contrast to the U.S. Senate, formerly one of our most deliberative bodies, which no longer provides any service to Americans, other than protecting the Second Amendment rights of criminals, terrorists, and the mentally ill to form a well-regulated militia. (And as with any group, they can enjoy significant savings by purchasing their guns in bulk.) But that's okay, because we're protected from the Second Amendment by the First Amendment, which gives us the freedom of speech to shout "Gun!" in a crowded theater. (Still can't shout "Fire," though. Somebody could get hurt.)
Pro-gun senators defended their positions by saying they don't want the government to set up a national gun registry. On this we agree. I don't want a registry; I want all gun owners to be on Facebook:
What's on your mind? Guns.
Status: Currently cleaning my gun. Oops ... I'll fix that window later. (Second time this week. Dag.)
Likes: Guns. Also bullets.
Photos: "Here's me with one of my guns." "And here's one with my dog, Winchester." ("That's me behind him, holding a gun.")
AND SPEAKING OF scary, have you looked lately at the Facebook page of a U.S. senator? Although Facebook was created as a means of social connection, it allows us to stare directly into the souls of its users, which is a bad thing when you're talking about members of Congress. The official photographs alone are indicting, with the perfect suits and perfect smiles suggesting that their transgressions run deep. (My own Facebook page shows an aging doofus whose transgressions include allowing himself to be photographed in pajamas. This is a clear sign of someone who has nothing to hide, but should try anyway.)
Trust us, the politicians' photos declare, their faces shining patriotically from the screen, usually with an American flag in the background. But their eyes are speaking clearly to unseen donors, "Thangyou, thang-youverymush."

Ed Spivey Jr. is art director of Sojourners.