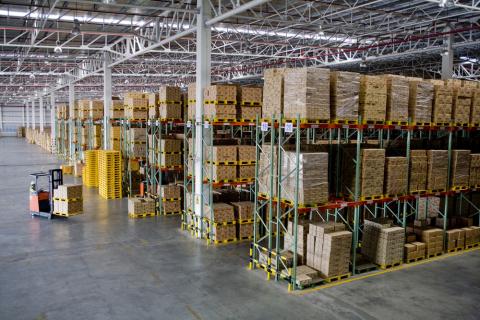 EVERY TIME I fly into Ontario, Calif., I see neat blocks of gleaming, low-rise warehouses surrounded by well-manicured trees and shrubbery. I now know that what goes on inside those buildings is not nearly so pretty.

As a board member of People of Faith United for Worker Justice, a local faith-rooted worker justice organization, I have seen the dismal working conditions inside several of these warehouses and have heard the testimonies of workers who have been seriously injured on the job. Eighty-five percent of the warehouse workers in Southern California earn minimum wage and receive no health benefits, even though their jobs entail unloading and reloading heavy boxes.

Since many of these workers are hired through temp agencies, which are often located inside the warehouses, workers' rights are routinely abused. When someone is injured, instead of being cared for, he or she is simply not called back to work the next day. When workers complain about poor working conditions—such as a lack of breaks, access to bathrooms, or having to lift heavy boxes into freight trucks in 108-degree temperatures—the managers tell them it's not their responsibility because the workers are employed by the temp agency. The temp agencies in turn claim they are not responsible for conditions in the warehouses because the agencies are separate companies.

These warehouses are a critical link in a global supply chain that begins in Chinese, Cambodian, and Bangladeshi sweatshops. The goods are shipped to the Port of Los Angeles, unloaded, and hauled out to these warehouses where they are repackaged, loaded onto trucks and trains, and shipped off to Walmarts, Targets, and Home Depots across the U.S. From there, the merchandise ends up in our households.

Since many warehouse workers are immigrants, their employers assume they can be easily intimidated into remaining silent about the working conditions. Yet over the last two decades, the Los Angeles region has become a center for union organizing, with most of it taking place among vulnerable immigrant workers. Despite their tenuous status, immigrant workers have taken tremendous risks in order to gain improved working conditions and better wages. In addition to the newly formed Warehouse Workers United, these workers are receiving active support from chapters of Clergy and Laity United for Economic Justice around the state.

Two years ago, in the early stages of working with the warehouse workers, I served on an accountability commission that received testimony from both male and female workers who had been injured. We heard testimony about broken fork lifts and loading dock ramps, a complete lack of safety equipment, and women being exposed to unknown hazardous chemicals. The California Occupational Health and Safety Administration investigated the complaints and handed out fines of more than $200,000 to several warehouses. Then, earlier this year, the California labor commissioner ordered another local warehouse to pay $1 million in back wages to its workers. The company is currently appealing that decision.

As the U.S. Congress debates immigration reform in the next few months, it is important that any legislation includes protections of immigrant workers' right to organize. The workers, as well as the goods they are handling, are part of a global production economy that increasingly operates beyond the oversight of any nation-state. Yet the workers involved in this work are demanding dignity and recognition of their humanity that must ultimately be guaranteed by the nation-states in which they are located. As people of faith, we are also border-crossers, whose identities should never be too tightly bound with any country. Instead, we must speak out loudly for the dignity of all humanity as God's precious creation.
Helene Slessarev-Jamir, a political scientist, is the Mildred M. Hutchinson Professor of Urban Studies at Claremont School of Theology and professor of religion, ethics, and society at Claremont Lincoln University.
Image: Forklift driver at warehouse, Champiofoto / Shutterstock.com