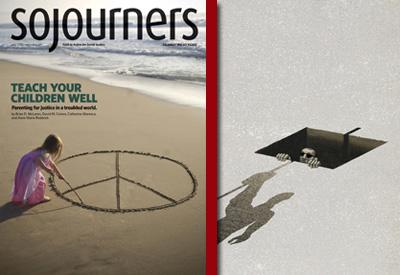 On Jan. 25, 2011, Jacob Flowers left work early to get to a meeting. The organization where Flowers serves as executive director, Mid-South Peace and Justice Center, has been involved in community organizing since 1982. Although not officially affiliated with any religious body, the Center works closely with the faith community and is housed in a large building owned by First Congregational Church, a United Church of Christ community in Memphis.
While a snowstorm swirled outside, Mid-South's organizing director, Brad Watkins, presided over an afternoon workshop in which anyone who was interested could come in and complete Freedom of Information Act requests about FBI surveillance. Activists decided that a FOIA-themed workshop would be a good way to stand in solidarity with anti-war and pro-Palestinian activists in the Midwest whose homes had been raided by the FBI the year before. Since the workshop attracted only a modest crowd of peace activists, nothing could have been more alarming than the arrival of three unexpected guests—black-clad agents from the FBI's Joint Terrorism Task Force.
"We suspected that they found a way to get into the building," Flowers recalled in an interview, "because normally the building is locked up pretty tight." The FBI agents explained that they were there to warn the owners of the property of an impending protest. Watkins informed them that it was a workshop, not a protest, and that they were currently looking at the people responsible for organizing it. As soon as Watkins began asking if they were trying to harass citizens concerned about FBI repression, the agents quickly left.
Flowers returned to Mid-South's offices around 3 p.m. to discover nearly a dozen police vehicles on the block surrounding the church and patrolling First Congregational's parking lot. He also noticed that a black SUV with tinted windows was idling across the street from the church—one of five such vehicles on the scene. Phone calls to the Memphis Police Department (MPD) determined that the department had learned of a planned protest and had sent officers to "keep the peace." Someone at the local FBI office told Flowers that the only FBI agents on the scene that day had been the three who entered the offices.
Two weeks later, MPD's deputy chief Dave Martello wrote a memo saying that the department never gave instructions for officers to conduct surveillance on the Mid-South Peace and Justice Center. The police presence was simply a routine response to events like protests and marches. The fact that so many SWAT units were sent, Martello maintained, was simply due to a "communication breakdown."
But Flowers, a Memphis native whose activist parents were among the many Mid-South activists under FBI surveillance in the 1980s, doesn't buy it. "I've been involved in a lot of direct action in this city," said Flowers, who has been working at Mid-South since 2004, "and this is the first time we've ever seen this kind of police presence anywhere."
In the weeks following the incident, Flowers and his group requested and received documents from the MPD that showed that the Tennessee Bureau of Investigation Fusion Center (a local, state, and federal joint taskforce "for the timely receipt, analysis, and dissemination of terrorism information and criminal activity relating to Tennessee," according to its website) had gotten wind of Mid-South's FOIA workshop. Fusion Center agents placed a call to MPD headquarters on the morning of Jan. 25 to make police aware of the impending "protest"; their concerns about Mid-South were mentioned in the morning command briefing.
Although Flowers allows that the whole incident could have been the result of a misunderstanding, part of him thinks that it was related to Mid-South's commitment to standing up for victims of police brutality. While the Center has had positive relations with the police in the past, Flowers mentions having a tense relationship with former director of police services Larry Godwin.
"We've had a lot of run-ins with Godwin over the years in cases of police brutality that we've taken on. So, in some ways this could be a little personal." (Godwin is currently deputy commissioner for Tennessee's Department of Safety and Homeland Security, which oversees the Tennessee Highway Patrol. The THP came under fire last November when it was revealed that troopers had gone undercover to infiltrate Occupy Nashville protests.)
While Flowers says he has no reason to expect more trouble from the Memphis police, what happened to Mid-South seems to be just the most recent example of nonviolent activists—many motivated by deep religious convictions—treated as threats to public order.
n From 2002 until 2005, agents from the FBI's Pittsburgh office conducted surveillance on the Thomas Merton Center, a coalition-building organization dedicated to nonviolence and social justice. FBI agents filed reports on the group's anti-war demonstrations under the heading "International Terrorism Matters."
n In 2005, NBC and other news outlets reported that the Department of Defense had included anti-war protests in its Threat and Local Observation Notices (TALON) database. Documents show that among the 13,000 records in the database (which was shut down in 2008) was information on a Catholic Worker house in New York City and on Quakers protesting military recruitment in Ohio and Illinois.
n In 2006, the ACLU of Maryland secured the release of documents showing that agents working with the Maryland State Police (MSP) logged nearly 300 hours infiltrating nonviolent protest groups across the state. Additionally, two Catholic sisters from the Dominican order, who are active in the anti-nuclear Plowshares movement, were entered into an MSP criminal database as "terrorists."
n In 2011, New York City Police Department's surveillance of Occupy Wall Street protests reached the pews of city churches. Following the ban on overnight sleeping in Zuccotti Park, several Upper West Side churches opened their doors to protesters. On at least two occasions last fall, officers from the NYPD's intelligence division entered the United Methodist Church of St. Paul and St. Andrew on West 86th Street, asking about protesters and counting the number of protesters sleeping on pews.
People of faith seem to have been targeted for repression just as much in years past as they are today. Beginning in the 1940s, an alphabet soup of government agencies—including the FBI, CIA, and IRS—tried to expose the American Friends Service Committee (AFSC) as a "communist front."
During the Vietnam War, unknown assailants went much further when they firebombed the Quaker House in Fayetteville, North Carolina, and the AFSC office in Miami. In 1973-74, a string of burglaries in Washington, D.C., saw AFSC-related files rifled and stolen, while valuables went untouched.
From October 1969 to February 1970, during the investigation of a progressive United Church of Christ-affiliated community coalition, Chicago police deployed 31 agents to report on 235 clergy and 161 churches. The city's "red squad" also recruited parishioners to serve as spies, a tactic they used to investigate the Methodist Federation for Social Action's alleged ties to "communist front" groups.
During the 1980s, many churches and other opponents of U.S. policies in Central America were subjected to government surveillance. Then-Boston Globe journalist Ross Gelbspan documented nearly 200 cases from that period in which churches and activists became targets for burglaries, harassment, and intimidation.
While one can trace some common threads linking the surveillance strategies of earlier years to those of today, there are signs that security agencies are engaging in new tactics.
In 2009, the whistle-blower website WikiLeaks published an intelligence manual from the U.S. Army's Military Police School. WikiLeaks's analysis of the document reveals that "the U.S. Army is using structuring tricks to work around intelligence oversight rules that would normally prevent domestic spying."
Parts of the manual suggest that the Army developed these loopholes based on a little-known Washington state case involving John Towery.
In 2007, Towery, a civilian working for the U.S. Army's Fort Lewis Force Protection Division near Olympia, Washington, went undercover, posing as an anarchist, to infiltrate an anti-war group. Recruited by a detective working for the Pierce County Sheriff, Towery was officially doing his spy work "off-hours" and not on behalf of the Army. However, records released to The Olympian newspaper show that both the Army and local law enforcement were kept constantly apprised of Towery's activities.
Drew Hendricks, an activist whose name turns up frequently in the intelligence reports, told me in an email that he believes those "structuring tricks" had a unique purpose. "We think the relationship Towery had with Pierce County was essentially a conspiracy to try to skirt the Posse Comitatus Act," a federal law that forbids the military from carrying out domestic law enforcement activities against U.S. citizens.
Going by the spy name "John Jacobs," Towery successfully infiltrated Olympia Port Militarization Resistance (OlyPMR), a group that used nonviolent direct action to block the shipment of military cargo to Iraq. Hendricks describes Towery as having been an active and ambitious member of the group, even serving as one of the group's email moderators from 2007 to 2009. But Towery's persistent lobbying for leadership roles may have been motivated by a desire to disrupt the group's activities. "He took on meeting coordination in the Tacoma area," Hendricks relates, "and never once set a meeting place or location there. Accepted the work, then non-performed."
Shortly after Towery's true identity was revealed in 2009, members of OlyPMR filed a federal lawsuit against him and his handlers, alleging that the Army violated their civil rights. The case is ongoing.
DID FATHER DANIEL Berrigan have it right when he chalked up the counter-intelligence dragnet of the 1960s to "a way of ensuring that the death game goes on, and that those who resist it be known and punished"? Why do government security agencies spy on citizens engaged in nonviolent protest?
For answers I turned to Matthew Hidek, an Army veteran and former geospatial intelligence planner who worked with the Department of Homeland Security and Department of Defense. "The domestic security network has been set up to intentionally bend or break the rules," said Hidek, who left his government work in 2004 and now teaches at Cazenovia College in upstate New York. "So what we see is a form of mission creep. As a result, the system itself is empowering those who view the constitutional rights of free speech and assembly as a threat to national security."
Given that a large proportion of those involved with anti-war and social justice work come from the faith community, it is not surprising that many of them end up in today's terrorism databases. Within the Pentagon's TALON database, there were 186 entries dealing with "anti-military protests," including counter-recruitment activities carried out by Quakers working for the AFSC.
Tracking activists of faith is driven by a perverse logic, according to Christopher Pyle, an Army intelligence whistleblower in the 1970s and currently professor of constitutional law at Mount Holyoke College in Massachusetts. "Military intelligence can't seem to understand that Quakers are notoriously nonviolent," Pyle said in an interview. "Their protests against military recruitment are no more threatening than a burning draft card, which is precisely why the military won't stop spying on them."
If there is a silver lining to stories of harassment and surveillance by police and FBI agents, it is that such tactics sometimes end up energizing rather than repressing activists. Pat Elder, a Maryland organizer whose lobbying against military recruitment in schools eventually led to the passage of a landmark state law in 2010, viewed his inclusion in the Maryland State Police database as "a badge of honor." In Memphis, the Mid-South Peace and Justice Center used video footage of their run-in with the police to push the MPD to undergo an internal audit. However, more often than not, such repressive tactics thwart a far greater number of citizens from raising their voices in the public arena.
Seth Kershner is a freelance writer and researcher based in Western Massachusetts. He is the co-author (with Scott Harding) of "'Just Say No': Organizing Against Militarism in Public Schools," which appeared last summer in the Journal of Sociology and Social Welfare. He and Harding are currently at work on a book-length study of the counter-recruitment movement.