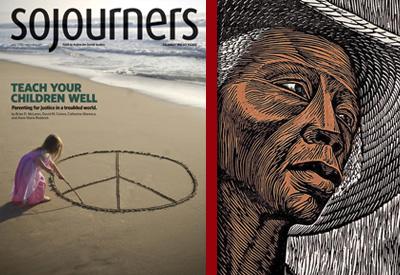 WHENEVER I entered a museum gallery and saw sculptures by Elizabeth Catlett, I wanted to touch them. The figures were often smooth, glistening, and engaging. They spoke to me in the same manner as the poetry of Langston Hughes and the musical compositions of Duke Ellington.
When Catlett died in April, I was reminded again that she created artwork for celebration and spiritual nourishment. She mastered the ability to bring beauty out of wood and stone.
In many ways Catlett was ahead of her times. During the 1940s she had explored the black woman's body as a theme for sculpture and paintings. The images she created upheld the strength and dignity of women. The black woman presented as mother could be seen nurturing a child. In work such as "Homage to My Young Black Sisters," the black woman figure strikes a posture of resistance with a fist raised. The buttocks of the cedar sculpture reflect strength as well as sensuality. One is quickly reminded of young Student Nonviolent Coordinating Committee workers, members of the Black Panther Party, and even activist Angela Davis. "Homage to My Young Black Sisters" was created in 1968, the same year the Summer Olympics in Mexico City saw track stars John Carlos and Tommie Smith raise their fists on the awards stand in a black power salute.
The art of Elizabeth Catlett ignored borders. Although she resided in Mexico, her work reflected the changing consciousness of African Americans in the 1960s and 1970s. The civil rights and black power movements renewed interest in African-American history. The black art movement introduced a desire to define a black aesthetic. Catlett's work as an elder provided younger artists with a model and a teacher to emulate. In 1969, she created the print "Malcolm X Speaks for Us." In it we see how she links Malcolm's face to that of other black faces. The result is a powerful sense of community.
ELIZABETH CATLETT WAS born in Washington, D.C., in 1915 and graduated with honors from Howard University in 1935. Her early life was one that was affected by issues of race. After completing high school, she was prevented from enrolling at the Carnegie Institute of Technology in Pittsburgh because she was African American. Several years later she would complete her graduate work at the University of Iowa, studying under important American artists, such as Grant Wood. During the 1940s she was politically active, demonstrating against segregation and for human rights. In 1941 she married Charles White, a fellow artist from Chicago. After White was awarded a Rosenwald Fellowship, the couple traveled throughout the South gathering material for a mural project for Hampton Institute. This experience made Catlett more aware of her racial roots. She would eventually teach at Dillard University in Louisiana and Prairie View College in Texas.
Elizabeth Catlett was committed to making large public works—art that would have special meaning to black people, making them aware of their human potential. I was introduced to Catlett's art in the 1970s, and I came to associate her with Mexico. She made her first trip there in 1946 with Charles White. She would come in contact with many of the famous Mexican muralists, and her work would be influenced by her adopted country as much as by the black experience.
After her divorce from White, she married the Mexican artist Francisco Mora. They lived in Mexico City. Here Catlett was inspired by how activists used art to make political statements. In 1958, she became the first female sculpture professor at Mexico's National School of Fine Arts, a position she held until her retirement in 1976.
Elizabeth Catlett often spoke of how her art had to be something people needed. I think this desire was reflective of her progressive politics. One comes away from the work of Catlett with a sense of being liberated.
Her 1952 print "Sharecropper" is an amazing tribute to rural workers. Catlett presents a woman whose face and hat are nothing but extensions of her surroundings. Poverty is conveyed by a simple safety pin holding a garment together. The woman's nose, cheekbones, and neck are directly connected to the earth by color and muscular tones.
This is what hard work does to flesh. Catlett presents an image that has been chiseled by time. The woman's eyes seem to be staring not just off into the distance but perhaps at other workers in the field. Catlett produced this print at the Taller de Grafica Popular to represent the Mexican people. Yet in many ways this woman looks as if she is working in Mississippi or Louisiana. The female sharecropper is presented as a woman of the earth, and this connects her to people everywhere.
Catlett's recent death made me think of other African-American women visual artists who became image pioneers, women who in their own field and discipline were as heroic and courageous as Harriett Tubman and Rosa Parks. The names Lois Mailou Jones and Alma Thomas come to mind. What obstacles did these women have to overcome? What sacrifices did they have to make? What do we learn from their lives?
Catlett eventually gave up her American citizenship. She was even declared an "undesirable alien" by the State Department. According to her New York Times obituary, Catlett had to obtain a special visa in 1971 to attend the opening of her one-woman show at the Studio Museum in Harlem.
Let us place this woman's name next to W.E.B. Du Bois, Paul Robeson, and Martin Luther King Jr. May future generations look at her images and be renewed.
E. Ethelbert Miller is editor of Poet Lore magazine, director of the African American Resource Center at Howard University, and author, most recently, of The Fifth Inning.