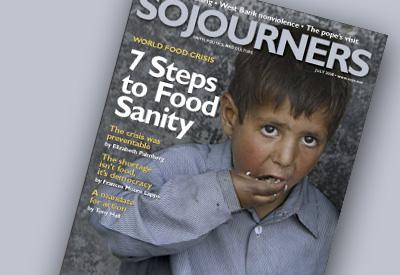 News broadcasts report a horrific "world food crisis." But there is no food shortage. In fact, there's more than enough food to make us all chubby—even counting only the "leftovers," what remains after turning more than a third of the world's grain and fish catch into feed.
The forecast for world cereal production in 2008 stands at a record 2,164 million metric tons, says the U.N.'s Food and Agriculture Organization. That's an increase of 2.6 percent over last year, the previous global high.
Again: The shortage is not of food. It is one of democracy. At its heart, democracy means power distributed so that citizens' interests—our values and our common sense—show up in policies.
Yet, can you imagine citizens anywhere setting things up so that just one company, controlling a huge share of the entire world's grain trade, could enjoy a 65 percent profit surge last year, while at the same time food price hikes are pushing 100 million more people into poverty and hunger? (The most recent quarterly Archer Daniels Midland profit surge came largely from the company's financial division that makes money on price volatility via commodity futures trading.)
Or think about this: In a world where even before this historic price climb almost a billion people couldn't afford enough to eat, what citizen would say, "Why don't we start shifting prime farmland into agrofuel production and push prices still higher!?"
Neither could happen if citizens had real power. Each violates our common sense and our hardwired human need for fairness.
So this crisis makes me ask: Why are we playing Monopoly when we could be living democracy? In today's deadly global Monopoly game, the biggest money players get ever bigger while most others get progressively knocked out of the game. We've seen it in the housing market and now we're seeing it in the food market. In this game, what does growth mean? The 1990s saw considerable economic expansion, but for every $100 in growth only 60 cents went toward ending poverty. In Monopoly, after many long hours the game finally ends, and all but one player goes to bed "broke." Everybody's had fun. But in real life, it's not fun. The outcome is premature death for millions of our fellow humans.
FOR 40 YEARS I've been asking why it is so hard for humans to see the needless misery we're generating. Gradually I came to see that in large measure the answer is the power of ideas. One very dangerous idea perpetuating our global democracy crisis is this: We humans are so flawed that we have to turn over our fate to an infallible, almost mystical force: The Market. The danger is that this idea leaves us feeling powerless. We're blind to the obvious fact that left to its own devices, unguided by democracy, a market inexorably concentrates wealth and power so tightly that it infects political decision-making. So we end up with, in effect, "privately held" government.
The result? Hunger-generating policies that no assemblage of real citizens would dream up.
For several decades, for example, countries in the Global South were encouraged by international lending, aid, and trade agencies to let go of the goal of food independence. While in the North many extol the goal of oil independence, comparable food independence was somehow deemed a bad idea. Aid was often proffered on conditions that undermined local producers. In 1986 John Block, Ronald Reagan's agriculture secretary, called the idea of poor countries feeding themselves an "anachronism of a bygone era."
Within a generation, countries in the Global South that had been food exporters became massive food importers. And today, as food prices jumped by almost half in nine months, poor people are living—or, more accurately, dying—from the consequences of this disastrous policy.
Peeling away the layers to grasp the roots of needless hunger, we find them in people's lack of power—the lack of capacity to act on our values and in our interests. If hunger results from extreme power imbalances in human relationships, the questions before us are:
How do we empower more and more people, starting with ourselves?
How do we reshape relationships so everyone has the power to live in dignity and to meet their needs?
Through this new lens, removing the influence of money in political decision-making is not a separate political matter; it is essential to ending hunger on this abundant planet. In the past decade, for example, U.S. agribusiness spent almost $1 billion lobbying our government for policies, including massive farm subsidies, that are in many cases undermining poor people's capacities to feed themselves. Such subsidies, for example, undermine smallholders, from corn growers in Mexico to cotton growers in Mali.
Many Americans have given up on reclaiming democracy from moneyed interests. They should not. It can be done; it is being done. We must crack open the best-kept secret in America: that public financing of elections is working statewide in three states. We can take that success national. (Visit www.just6dollars.org.) Simulta­ne­ously, we can get behind candidates in this election year who commit to shifting support to family-scale sustainable farmers in all aid and trade legislation, domestic as well as in foreign, and who are willing to halt the deadly agrofuel program. (One third of U.S. corn production will go to ethanol this year.)
Through the lens of remaking power relationships, we also see food as a right of citizenship, one now inscribed—either for all citizens or for children—in 22 national constitutions. We know how to make this right real. And we can build on the proven anti-hunger policies of progressive taxation, a legal minimum wage that is a living wage, anti-monopoly enforcement, and protection of the rights of trade unions. In the same vein, we can back policies that encourage producer and consumer cooperatives, the kind that already create more jobs worldwide than do multinational corporations.
To prevent future crises, we can embrace the goal of food independence, as much as possible, at both the local and national levels. For how can any people feel free if they remain at the mercy of international market vagaries and mani­pulation?
Today's food price rises are predictable outcomes of policies flowing from decades of anti-democratic decision-making. Each of us can explain to our friends, neighbors, co-workers, and legislators that our crisis is human-made. Food scarcity is a myth; the deeper scarcity is of democracy. And we can spread the good news, too, that we each have the power to be part of creating real, living democracy.
Frances Moore Lappé, cofounder of the Small Planet Institute, is the author of 16 books, including, most recently, Getting a Grip: Clarity, Creativity, & Courage in a World Gone Mad.