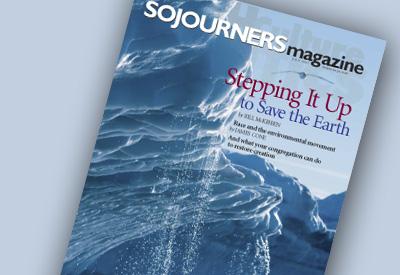 The church is the largest grassroots organization in the country. If people of faith are to contribute significantly to environmental sustainability, then care for creation needs to be brought to the center of congregational life and mission. For Christians, the deep and enduring passion for creation comes from two sources: our original calling as human beings "to serve and to preserve" the Earth, and our redemption in Christ as "new creations."
Christian commitment to environmental restoration is inseparable from the quest for human justice. Only a holistic vision of "ecological justice" will adequately inform the identity and mission of our churches. Here are some ideas for greening your congregation.
Worship. Make creation care an integral part of services—liturgies, hymns, confessions, prayers, sermons, blessings, green worship space. Adopt a four-week "Season of Creation" in the church year (www.seasonofcreation.com). Celebrate Earth Sunday (www.nccecojustice.org). Have a Blessing of the Animals. As worship restores an intimate connection with God and other humans, so worship should restore an intimate connection with the Earth. We will save that which we deeply love.
Learn. Become informed about the ecological state of the planet and what we can do about it. Read Plan B by Lester Brown, consult the Internet, invite speakers, sponsor a showing of An Inconvenient Truth. Draw on creation-care resources from Bible study, theology, ethics, and spirituality. Study the social statements on the environment from your tradition. Discuss the Earth Charter (www.earthcharter.org). Offer courses from the Northwest Earth Institute (www.nwei.org), and Earth Ministry (www.earthministry.org). Teach children, and let them teach you.
Make a model of buildings and grounds. Lower energy use, get off nonrenewable energy, use green cleaning products and lawn processes, limit water use, use earth-safe practices at coffee hour and meals, offer locally grown foods and fair trade products, use post-consumer paper products, coordinate earth-friendly transportation, limit trash, reuse/recycle (see Environmental Guide for Congregations, Their Buildings and Grounds at www.webofcreation.org). Develop your congregation as an "environmental flagship."
Discipleship. Homes are directly connected to every environmental problem. So daily choices about lights, heating, transportation, food, garbage, lawn care, cleaning products, water use, paper use, recycling, and driving habits can become a spiritual discipline to walk lightly on the earth (for example, every CFL light bulb saves the burning of 500 pounds of coal). Enjoin members to become Earth-keepers by making a personal "Covenant with Creation" (www.webofcreation.org). Green your workplace.
Cooperate/advocate. Cluster with other faith communities in your area. Call a summit of local environmental organizations. Rally your city or county to "go green." Sponsor a workshop on "Greening Your Home" or "Greening Your Business." Arrange action alerts, lobby representatives, protest polluters, expose environmental racism, restore habitats. Act together with wider networking organizations. Multiply your efforts with others.
Father Thomas Berry has called "ecological restoration" the great work of our time. It is time for churches to get on with that work—and in ways that are visionary, adventuresome, prophetic, grace-filled, inviting, and celebratory of creation.
David Rhoads, editor of Earth & Words: Classic Sermons on Saving the Planet, supervises www.webofcreation.org, an interfaith site that provides ecological resources for faith-based communities. Andrea Orcutt is assistant director of the Web of Creation.