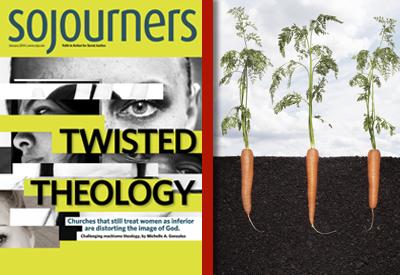 BALLS THUMPED against the walls, jump ropes scraped the asphalt, and shrieks filled the air: The kindergarten and first-grade students of Holy Ghost Catholic School in Albuquerque, N.M., were at recess on a chilly December day. The sun was shining and the kids bumbled around in their jackets, oblivious to the cold. Also oblivious were the rows of leafy greens in the two raised-bed gardens just outside the classroom windows. The sun, plastic covers, and just enough water (which the students figured out after a failed crop or two) made for a perfect little garden oasis in the midst of winter.
Seeing me headed toward the gardens, dozens of children made a beeline for the structures, simultaneously shouting "Miss! Can I see?" "Miss, I'll water them!" They helped me lift the cover to reveal a jungle of rainbow chard, kale, spinach, salad greens, a few radishes, and basil—a kaleidoscope of greens, golds, pinks, and yellows.
"Miss, can I have chard?" Mateo looked at me hopefully, chubby fingers pointing to the rainbow chard. "Sure!" I exclaimed, gently breaking off a leaf. "If you can name it, you can taste it!" Suddenly there were 15 hands in front of me, along with a litany of names: "The pink one!" "Chard! Chard!" "Can I have that spinach?!"
Not everyone was as enthusiastic. "Yuck," Lenaia said when I offered her a piece of spinach. "I don't want to eat it, but I'll water it."
These plastic rectangular boxes had been the source of so much new life at our school—in the shape of tiny seeds carefully planted by small hands, in the hope represented by the two leaves first to sprout from the dark soil, in the gentle spray of water from the hose and the smell of damp earth, in the curiosity and fascination awakened in the students as they tended their gardens.
TWO YEARS AGO our kindergarten-to-8th-grade Catholic school was awarded a grant by the Raskob Foundation to implement an environmental awareness program. Our goal was not only to act—build gardens, recycle, reduce, reuse—but to educate the students on the Catholic Church's wisdom on stewardship for creation, one of the nine principles of Catholic social teaching.
New grant in hand and eager for knowledge, I attended a local conference on the effects of climate change in the Southwest. Scientist after scientist laid out the details: Continuing low rainfall amounts, paired with unusually high temperatures, had left our region with the worst drought since recordkeeping began in 1895, resulting in withering crops, dying livestock, and dying pine forests in our mountains, which provided excellent fuel for the scores of forest fires that now burned out of control in the summer and fall. The scene was bleak and looking bleaker.
I sat limply, my fervor for implementing the environmental program at the school wilting like our chili crop that year. If Ifelt this way, how could I ever convey the facts and the changes we need to make to the 4- to 13-year-olds at our school? How could we educate children without making them feel defeated and hopeless?
I posed my dilemma to the panel. My question was greeted with blank stares. Crickets. Finally, one person spoke. "That's an existential question," he commented. "We do science—that's our job. We don't know the answer, either." Newly defeated, I sat down. Who would, or could, address the gravity of the issue of climate change on a spiritual level? It's one thing to have the necessary facts, but how do we act on them? Why should we, if there is no hope?
It took a few weeks before I put two and two together—I work with a Catholic school. As a faith community, we do existential questions.
Papal encyclicals have emphasized the interdependency of humanity and creation for a long time. Pope John Paul II directly addressed the growing ecological crisis as a moral issue. In his sermons, addresses, and writings, Pope Benedict XVI made plea after plea to the church and the world to act. Pope Francis has already spoken profusely on environmental concerns as part of a vital component of a lived Catholic faith. The bishops of the United States, Australia, Great Britain, Ireland, and Germany, orders of women and men religious worldwide, and international Catholic institutions such as Catholic Relief Services, CAFOD, and Caritas have addressed the issue directly and repeatedly through numerous statements and programs.
Fortified by these and other resources, our school's "Care for Creation" program began Phase I in the 2012-13 school year by implementing recycling programs. Local companies reduced fees for food waste and material (plastic, paper, aluminum, cardboard, etc.) recycling, creating new partnerships and mutual benefits. We encouraged our community to reuse instead of throwing away by purchasing stainless steel water bottles and reusable grocery bags. We bought bird feeders and new plants and flowers in order to bring God's creation closer to the students.
In addition, with separate grant monies from The Catholic Foundation, we purchased prefabricated raised-bed gardens (see sidebar). We chose them because they could be situated just outside classrooms and thus fully integrated into the campus and school life. Separate covers for winter and summer to allow year-round gardening, stands to make access easy for children and adults alike, and the option of a drip system were all important factors in our choice.
Kindergarten and first-grade students led the school in planting and caring for crops. Children followed the plant cycle from seed to harvest, watering daily, keeping a record of temperatures inside the covers, and testing plant types in different conditions. The trials and errors ensured countless learning opportunities. Recess now included garden watering and sampling, and once vegetable-phobic children delighted in being able to eat a fresh leaf of chard or spinach right out of the garden from seeds they planted. Salad parties became popular in first grade. The gardens even provided enough for children to take small baggies of greens home to share with their families.
Although last year's harvests were not enough to provide fresh greens to the local St. Vincent de Paul food pantry on campus, as we had hoped, the addition of three more gardens, plus more gardening know-how, should allow us to achieve this goal in the coming year.
Education in our Catholic faith was at the heart of all the action we had taken in the name of caring for creation. The gardens were each blessed, painted with scripture verses celebrating God's creation, and given a patron saint—San Ysidro (patron saint of gardeners) and St. Francis (patron saint of creation). We celebrated the Feast of St. Francis by hanging bird feeders and planting flowers and seeds; a rain barrel and the elementary school walls blossomed with pictures illustrating Bible verses and church teachings on creation. Older students researched environmental issues in light of church teachings, calculated their carbon footprints, and made commitments to reduce, reuse, and recycle. This two-pronged approach ensured that students were engaged in a constant cycle of education and action.
The focus of the first phase of our Care for Creation program was to teach our students about climate change from the perspective of their faith and give them tools to act upon these beliefs. In doing so, we realized even more: Our church's teaching is not compartmentalized—stewardship for creation, the right to life, human dignity, the rights of labor and workers, and so on, are not separate. The truth is that each is intimately connected to the other, and that when one principle is out of balance, the whole suffers. Thus we have learned to look at the environmental crisis as an issue connected to the entire expression of our faith and our lives.
As we've entered Phase II in the 2013-14 school year, we have tried to use this knowledge to deepen our commitment to real change by examining the entirety of our lifestyles and choices and how these choices affect all of creation. Using the Passionist Earth and Spirit Center's Lent 4.5 program, we have begun the year with the theme of Christian simplicity. How can we simplify our lives—buy less, consume less, even schedule fewer activities—in order to prioritize what really matters: the dignity of each human person and the sanctity of all life, including all of creation? The themes of consumerism, water, and energy will round out our year, at which point the Care for Creation program will become a permanent part of the school curriculum.
LOOKING BACK on the first climate change conference I attended, I am profoundly grateful for the treasure that I stumbled upon. The richness of Catholic social teaching has given us the tools necessary to confront such an overwhelming issue. Scientists have done a wonderful job of giving us the facts. Our religious tradition gives us the holistic perspective with which to understand and act upon those facts. The church's teachings have made the critical difference for our community between knowledge/hope/action and knowledge/despair/paralysis. Our faith has lent new perspective and meaning both to the problem we confront and its solutions.
The task is enormous, and it is true that these little steps our school has taken will not, in themselves, be enough to stop possible environmental catastrophe. But we have realized that as a community of faith we have something vital and unique to offer the conversation on climate change. Behind our actions is the understanding that our faith must be reflected in every aspect of our lives. The Catholic Church and other faith communities offer the perspective, hope, and solidarity needed to confront one of the greatest moral issues of our time.
Michaela Bruzzese, a Sojourners contributing writer, teaches theology at St. Pius X High School and coordinates the Care for Creation program at Holy Ghost Catholic School in Albuquerque, N.M.