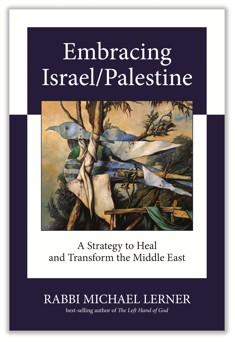 EVERY SO often an extraordinary book appears with potential to bring change—or at least advance justice by mitigating nationalism or prejudice. Rabbi Michael Lerner's Embracing Israel/Palestine: A Strategy to Heal and Transform the Middle East is such a book. The appeal is clear: Be both pro-Palestinian and pro-Israeli and pray for the best for each.
The book is a gut-wrencher as it describes the results of cyclical violence and reaction that fuels descent into paralyzing trauma and anger for both Arabs and Israelis.
Lerner, an advocate for Middle East justice and founder of Tikkun magazine, speaks truth about the human-made tragedy of the Israeli/Palestinian conflict. His transformative counsel about what people and nations can do to participate positively is desperately needed. Social justice advocates have been offered a candid and honest reprise of the tragic thinking and actions of oppressed people who should have known better than to visit the same on "the other."
Lerner's way toward peace is grounded in many years of living in and traveling to Israel/Palestine, loving the two protagonists equally, and constantly exploring his and others' souls. In spite of the victimizing and traumatizing of both Jews and Arabs, he remains hopeful. Embracing makes for a compelling and even inspiring read. I devoured most of it in two sittings, captivated by Lerner's vision.
His recurring theme is the danger of depending upon "nothing but force" as the cause of monumental misunderstanding and pain. Lerner bears clear witness to the root problem, declaring that "the struggle between Israel and the Arab states, like every other part of the story, can be told persuasively from each perspective." And each side suffers irreparably from unhealed victimhood. Reading the detailed history of each and the resulting fear-driven ghetto mentality serves to crush the spirit but for Lerner's hopeful appeal. He contends that God's mercy is sufficient. Options out of the long stalemate can be offered.
The European colonial powers do not escape his scathing analysis, nor do the principals' monumental mistakes. The Abrahamic family will not be brought back from the brink without an honest facing of painful historical details and the resulting anger, fear, and ignorance. More than half of the book is a mostly objective and accurate unpacking of the often-gruesome and xenophobic history of the region.
Except for a slip or two, Lerner does not unquestioningly accept the Israeli narrative. One such possible error is calling Israeli soldiers on a mission who were brutally lynched "innocent people who wandered into Ramallah." There are contrary reports on what happened.
Embracing calls repeatedly for compassion for both "sides." Lerner confronts without naiveté the great difficulties to be faced and offers realistic options to the present peace "process." If the same wrong paths are taken with the only difference being a more-vigorous commitment, it is unlikely the result will be different. Rabbi Lerner's witness is similar to the psalmist's declaration: "I am a friend to all who fear you, to all who follow your precepts. The earth is filled with your love, oh Lord. Teach [us] your decrees" (119:63).
Palestinians, Israelis, and their sympathizers and supporters can contribute to the possibility of transcendent breakthrough. He declares, "sometimes the only true 'realistic' position is precisely to be prophetic and utopian in both Palestinian and Zionist communities" where past errors, flawed leadership, and "downright traitor talk" must be confessed.
It is worth owning Embracing for its extensive appendix of Israeli and U.S. organizations and other resources for peace. Lerner offers those flagging in hope much needed reminders of faithfulness and a vision of what we can accomplish if we are freed from our imprisoning narratives. The result could be a multi-narrative, generous understanding similar to that compassion experienced in South Africa and Ireland with the potential for truth and reconciliation.
Lerner posits that this could lead to similar historical surprises and unexpected "miracles." So one hopes.
Tom Getman, a Sojourners board member, served with World Vision for 25 years, including five years as national director in Jerusalem.