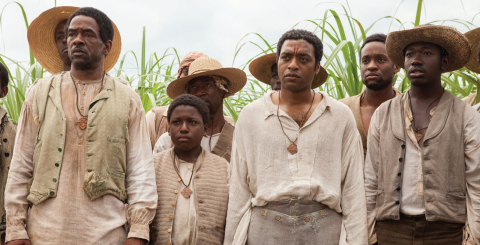 IN OCTOBER, Sojourners hosted a Washington, D.C. premiere for the faith community of the extraordinary film 12 Years a Slave. The compelling story about Solomon Northup—a free man from New York who was kidnapped and sold into slavery—is an accurate and well-produced drama, worth seeing for its cinematic merits, but primarily as a start to a conversation about race in America that is long overdue.
In her New York Times review titled "The Blood and Tears, Not the Magnolias," Manohla Dargis wrote that 12 Years a Slave "isn't the first movie about slavery in the United States—but it may be the one that finally makes it impossible for American cinema to continue to sell the ugly lies it's been hawking for more than a century." The film reveals how morally outrageous the slave system was, and it is very hard to watch.
The enslavement of millions of people of African descent by white Americans was always violent, and too intense for most white people to really accept the truth. Most white people, white Christians, and white churches tolerated slavery for 246 years. This historically horrendous evil existed because we tolerated it. That's why evil always continues to exist: because we tolerate it.
What do we tolerate today? We tolerated the gratuitous evil of slavery, and still tolerate the devaluing of black lives. We tolerate completely dysfunctional urban schools, but would we still do so if they were full of young white children? We tolerate a criminal justice system where the racial disparities between white and black arrests, convictions, and sentencing are abundantly clear, resulting in the mass incarceration of men of color. We tolerate murder rates for people of color that we would never tolerate for whites. We tolerate racial profiling of young black men, with results that we would never accept for our white teenage boys. And we tolerate deliberate and clear political efforts to diminish the votes of minority communities.
So who will lead in our racially polarized time? Who will help America navigate our changing demographics? Who will help a new generation create a diverse, multiracial society?
THE CHURCH HAS a prophetic role to play. Perhaps a community of faith that is intrinsically multiracial, and becoming more so, will lead in this area. The church in our country is Euro-American, African American, Latino, Asian American, Native American, and more.
This fall, Sojourners and more than 70 Christian leaders launched a pledge called "One Church, One Body." The pledge invites the community of faith to engage in three commitments—first, to help build a multiracial faith community; second, to help fix an unjust criminal justice system; and third, to protect voting rights for minority citizens.
When racism is tolerated, the reconciling work of Christ on the cross is contradicted. And when the church remains silent on the issue, we deny our calling to display the "manifold wisdom of God" through our unity and reconciliation. As we state in the pledge: "'In Christ there is no Jew or Gentile, slave or free, male or female' (Galatians 3:28) ... Therefore, a multiracial body of Christ is not only admirable—it is intrinsic, mandated, and expected by God."
The church is meant to be "a royal priesthood, a holy nation, God's special possession," so that we would "declare the praises of God who called [us] out of darkness into God's wonderful light. Once [we] were not a people, but now [we] are the people of God; once [we] had not received mercy, but now [we] have received mercy" (1 Peter 2:9-10). The Apostle Paul goes even further and describes how in Christ, we are one body (Ephesians 2:11-18).
It's not easy to face the deep wounds of racism in our country and in our church. It will require self-examination and repentance. But just as Christ reconciled us to God, let us show each other the peace and mercy we have received. The church must be at the forefront of racial reconciliation in this country. It is our calling.
Jim Wallis is editor-in-chief of Sojourners magazine.