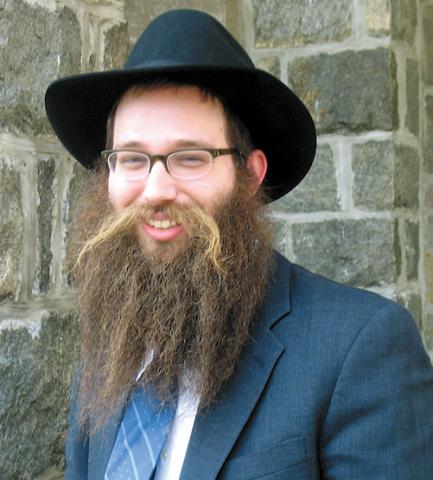 I MEET Yehoshua November in an empty classroom in Touro College in Brooklyn, N.Y., where he teaches. The chairs and desks are piled to one side, like a barricade. We sit in a clearing beside the clutter, talking about his place as the only Hasidic poet—he is a 34-year-old member of the Lubavitch sect—on the American literary landscape, an entity ruled largely by secular academics far removed from the realities and sensibilities of ultra-orthodox Jewish observance and mysticism.
"They are the rabbis of poetry," November laughs. He laughs so hard he doubles over in his chair. His laughter is as strange as it is infectious. Yet in all of God's Optimism, his book that was short-listed for the 2010 LA Times Book Prize, there is not a single laugh line. His poems are serious, if lightly held narratives, some parable-like, most down to earth with a longing for heaven.
"Poetry is their vision of spirituality, their own religion, and they don't want traditional religion brought in," he says.
Even November's long, reddish beard seems delighted at their rebellion against traditional religion. An antinomian Hasid and unashamed of it.
When I first read God's Optimism, the poem I kept going back to was "Baal Teshuvas at the Mikvah" (baal teshuvas are secular Jews who return to religious observance), a poem of solidarity with those intimate others who came to Hasidism through the tunnel of the profane, commonly marked by drug use and sexual looseness, for the sake of spiritual passion held within a net of restrictions.
Sometimes you see them
in the dressing area
of the ritual bath,
young bearded men unbuttoning
their white shirts,
slipping out of their black trousers,
until, standing entirely naked,
they are betrayed by the tattoos
of their past life ...
November follows them as they mingle with the "devout since birth" Hasidim. Underwater, he concludes, they look no different from the others, except that the others probably never made a sacrifice / as endearing to God.
The poet himself, neither a baal teshuva nor a born Hasid, was raised in a nomadic orthodox Jewish home. His father, a gynecologist, kept moving his three children around the country in search of the perfect Jewish school for them. I met his father once at November's house on Purim, a quasi-carnival holiday of redemption. He was in costume. Peyos (the sidelocks worn by some men and boys in the Orthodox community) were taped to the sides of his head. He had come dressed as his son.
In his strange double life, November finds commonality with the baal teshuvas.
"Hasidim would be the last audience for my poetry. They don't really get what I am trying to do in my work. They are concerned with Torah study and trying to raise their large families. [November himself has five children.] Artistic ambitions don't interest them."
But even among fellow poets, November sometimes feels out of place and wavers in his innate openness.
"At the Association of Writers and Writing Programs conference [this year], I felt kind of like an outsider. I passed the book fair stands manned by individuals with multiple piercings, brightly dyed hair, and ripped clothing. Everyone was welcoming but surprised to have a Hasidic man in the building."
November's interest in Hasidism began as an undergraduate at Binghamton University and crested at Pitt, where he studied with Ruth Stone in the MFA poetry program.
"I was drawn to its mysticism and its stories, its all-encompassing approach to Judaism of finding God in all things, at all times." For a time, after Pitt, he fell away from poetry completely, studied in a Hasidic yeshiva in New Jersey; he even thought of becoming a rabbi before being propelled back into poetry by a rabbi with whom he was studying. The rabbi recognized poetry as November's calling and inveighed against his betrayal of it.
I ask him about the poets he admires. They tend mostly to reside in spiritual trees, some traditional, some not. Leonard Cohen was an early influence dating back to his college days. November has no compunctions about being influenced by a pop culture figure.
"I liked how his poems had a sense of a sacred, the mythic, even when the subject was modern love."
Reading November's poem "Shadows," written for his wife, Ahuva, I am struck by how he is able, as a Hasid, to write about romantic longing with the same abandon as he does spiritual longing.
I watched you
the way men watch women
before they have loved them,
and I sent my shadow hungrily after you,
the way some send their shadows
when their bodies
cannot go.
November is self-effacing before two other traditionally Orthodox Jewish—though not Hasidic—poets on the literary scene, David Caplan ("David's work is much more elliptical and complex than mine.") and Eve Grubin ("Grubin's work is much more imaginative than mine."). November is reluctant to elaborate on his key role as a poet of Jewish spirituality, still a miniscule tendency in American poetry. I press him a bit, quickly realizing that for him good poetry of any kind is merely more light poured into the already lighted place of poetry itself.
"Poetry, for me," he says at one point, "is a space of truth, a space to assess one's life and what is meaningful to a person. I am not trying to write about the transcendent experience but the immanent experience."
Which is to say he writes from the point of confluence between the secular and the spiritual.
It is not surprising that November regards highly Adam Zagajewski of Poland, whose contemplative voice is broad enough to encompass the historic, the religious, and the personal in his work. The only history to be found in November's poetry are his subject's undated inner journeys, or as in the poem "Climbing," an outer journey that ends up within.
This morning,
in the small basement shul,
amidst several Chasidic students lost in                      
prayer,
I looked up from my siddur
to see a man in worker's clothes climb a                   
ladder
and enter through an open ceiling panel,
and I thought, Oh yes,
he is just another one
like all of us
trying desperately to ascend ...
November brings up Tony Hoagland, his former teacher and polar opposite: cynical, irreligious, at times bluntly sexual. Talking about Hoagland hoists from November a giggle that stitches together the sacred and the profane. I would hope one day to read a poem of his that bottles that sound. I must go back to Martin Buber's Tales of The Hasidim to see if there is a precedent for such laughter in his lineage. November's laughter is reminiscent of those itinerant Buddhist monks of old who saw the antics of men in all their forms as incorrigibly risible.
As a theist, November occupies a different world entirely. A world in which God dwells and moves in silence and mystery among people, just as the poet's own poems dwell and move in silence and mystery within him.
"God as [God] really is unknowable," says November. "Poets are attuned to that. Poets are aware of something beneath the silence, something beneath the ordinary."
Robert Hirschfield is a New York City-based freelance writer.