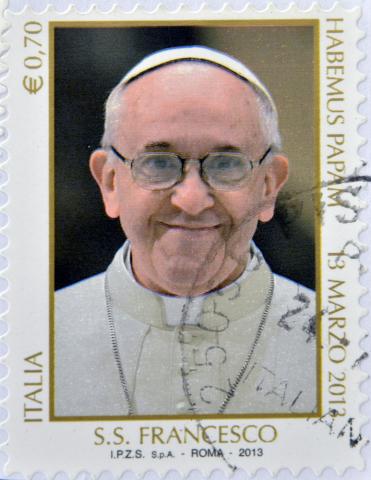 EARLIER THIS FALL, I had the good fortune to speak at St. Martin's University, a Benedictine school on a beautiful campus about 90 minutes south of Seattle. Our campus guide was Jennifer Fellinger, a woman who was raised Catholic and attended Xavier (a Jesuit university in Cincinnati), but had drifted a bit. She didn't feel pushed away; she'd just been caught up in the madness of family life and work, and faith had slipped away from her center.
And then Pope Francis spoke. Or rather, gave an interview that was published by Jesuit magazines across the world. Her voice cracked as she described how that interview had returned the light of her faith to the center of her life.
On the drive from Sea-Tac airport to Lacey, Wash., where St. Martin's is located, Fellinger quoted long segments of it from memory. Her favorite part was toward the end of the long interview when Pope Francis described Catholicism as a "journey faith" rather than a "lab faith." She loved the story the pope told about being sick in the hospital with lung disease, and having the doctor come by and clinically prescribe him a certain dose of medicine. The sister who was on duty tripled the dose because she had a visceral sense of how he felt, as she was around sick people all day. It was a great example of the wisdom of presence and the gentleness that comes with simply being with people. The pope had called this sister "daringly astute." Jennifer loved that. "This is what my Catholic faith is about, this is what I am striving for when I am faithful—to be daringly astute," she exclaimed.
It was enough to send me back to the interview, written up in America magazine and perfectly titled "A Big Heart Open to God." There is so much richness in those pages—richness that reminded me of reading the Muslim poet Rumi—that it feels strange to pull out only one segment. But if I had to, it would be the part where Pope Francis says that he feels his motto is Miserando atque Eligendo—"by having mercy and by choosing." And then he continues by saying, "I think the Latin gerund miserando is impossible to translate in both Italian and Spanish. I like to translate it with another gerund that does not exist: misericordiando." That made-up Latin word translates into English as "mercy-ing."
Just like that, the pope had gotten to the heart of Islam, my religion. In the Qur'an, God tells the Prophet Muhammad that he is made to be nothing but a special mercy upon all the worlds. The most common Muslim prayer is "In the name of God, the All-Merciful, the Ever-Merciful." The first lesson classical Muslim scholars taught their students was, "If you are merciful to those on Earth, the one who is in Heaven will be merciful to you."
The words of the pope returned these essentials from the Muslim tradition to my mind and, at least momentarily, brought them back to the center of my life. Because the truth is, I've been drifting a bit, too. I guess you can blame it on the jazz and war of working family life. The bottom line is, I'd be lying if I said I keep my faith at the center at all times. All of us, I imagine, need reminders of an essential but oft-forgotten truth: Religion can be inspiring.
For this Muslim, at this time, that reminder just happened to come in the form of words spoken by the leader of the Roman Catholic Church.
Eboo Patel, founder of the Interfaith Youth Core, writes about social justice from his perspective as a Muslim American of Indian heritage.
Image: Stamp of Pope Francis printed in Italy in 2013, Neftali / Shutterstock.com