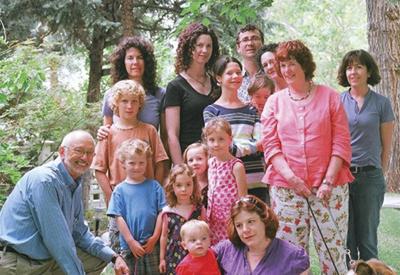 IT TAKES A village to raise a child. This proverb gained pressing relevance for me when my husband and I embarked on our journey of parenthood. Even though my husband was as involved with the care of our infant daughter as I was, it quickly became clear that we were not up to this adventure alone—at least not with our sanity intact. We needed help. We needed a village.
Luckily, our family in Santiago, Chile, along with wonderful babysitters, helped us through our firstborn's infancy and then the birth of her sister. But when we moved to Brooklyn four years ago, that all changed. Despite stellar neighbors and exceptional friends, we struggled with the physical and emotional challenges of parenting our now three young girls full-time. Since my husband travelled frequently for work, I was a single parent for days and sometimes weeks at a time.
Meanwhile, we had excellent relationships with our extended families, and a life equally distant from both sets of relatives seemed increasingly absurd. After three years of swimming upstream just to stay afloat emotionally, financially, and socially, we decided to move back to my home town of Albuquerque, New Mexico—in search of a village.
The decision to move was based on our desire to live near family. The decision to actually move in with my parents was driven primarily by finances: Our stay in Brooklyn on one nonprofit salary was subsidized by MasterCard and other creative financial arrangements that would horrify Suze Orman.
Living with my parents for a year would allow us to repay debts and save for our own place. Fortunately, my parents were not only supportive but encouraging of the proposal—long stays with them in the past had gone well, and while we knew that the multigenerational household would mean adjustments for all of us, we also looked forward to being together.
Our year was up last July. We're still here. The reasons are still financial, but only in part. We expected the real challenges of living in a multigenerational household. But we've all been surprised by the new richness we've found as a result of this experiment. Born of necessity, it just might be continued out of desire, intention, and gratitude.
OUR LIVING arrangement is actually part of a growing national trend. The most visible example is in the White House, where three generations of Robinson-Obamas live together. According to a 2010 Pew Research Center study, in 2008 49 million Americans lived in multigenerational housing (defined as "at least two adult generations or a grandparent and at least one other generation"). This is a 33 percent increase in the share of all Americans living in such households since 1980. Although this is partly due to a rise in immigration, the stagnant economy is also significant—between 2007 and 2008 alone, the number of Americans living in multigenerational housing grew by 2.6 million.
Though the trend is apparent for all ages, research shows that the elderly and the young are overrepresented. The physical decline of aging baby boomers and cuts to health and income benefits mean that some parents cannot care for themselves financially, physically, or both, and must move in with their children. Lack of jobs, credit card debt, and high student loan payments have forced new college graduates to "boomerang" back to parents whose house, income, or jobs are more secure. These same dynamics, plus the housing market implosion, mean that many people, once financially independent and now with children of their own, are also moving back in with mom and dad. Multigenerational living has increased in every racial demographic since 2006, though Latinos (22 percent), African Americans (23 percent), and Asian Americans (25 percent) are still more likely to live with multiple generations than are Caucasians (13 percent).
Many people who move in with relatives fully intend to move on once they are able. For others, including elderly parents, the stay will be longer and will require long-term planning to meet increasing needs.
Whatever the specific situation, many of us are living together (again). And many are not only making it work, but, like my family, finding unexpected benefits and blessings that may make intergenerational living a choice, even when finances allow other options.
In our household, for example, meals have taken on a sacramental quality, with the entire family sitting down together most evenings. When I'm not working, I start dinner and help the girls with homework while my mom (a family therapist) sees her last clients and then joins me in dinner prep. Eventually my sister, who lives one block away, comes home from work, my niece in tow, and also chips in. After homework, the girls feed the dogs and help their grandfather with gardening or the other cooks with dinner, until the coveted video time (kids) and wine time (adults)—30 or so minutes before dinner when we unwind together and catch up on the day's news. After dinner, the men do the dishes and parents get the kids to bed, often with the help of a grandparent, auntie, or older cousin.
The obvious benefits start with the financial savings. Utilities, food, rent or mortgage, and other household bills are much lower per person when shared. It is cheaper to buy and prepare food in bulk, and more hands mean more energy for household chores. Parallel to the financial benefits are environmental ones—resources and space are used more efficiently and effectively in a shared household.
Living with relatives also has emotional benefits, especially in the form of support for parents—and kids and grandparents, too. The pressures on families from work, school, and activities mean that even two parents (let alone one!) truly struggle with how to meet everyone's needs on a daily basis. On-site grandparents can spell parents from the constant physical and emotional energy needed to raise kids, and elderly parents get help with the house, transportation, and finances.
Beyond the tangible financial, ecological, and practical benefits, my family is especially grateful for the emotional blessings of multigenerational living. Since my childhood nuclear family lived far from both sets of relatives, I never knew the joyful chaos of birthday parties or holidays with grandparents, aunts and uncles, and cousins. To watch my daughters forming special and unique relationships with their grandparents is a privilege and a blessing for all involved. When my husband and I are busy or otherwise unavailable, my daughters seek out their grandparents for conversation, help, or just company. More than once, a grandparent or auntie has rescued me and my husband from our children, and vice versa, when one or all of us are out of patience and verging on a tantrum.
The emotional benefits extend both ways. The Pew study also showed that "Older adults who live alone are less healthy and they more often feel sad or depressed than their counterparts who live with a spouse or with others." This is the case, the study reports, "even after controlling for demographic factors such as gender, race, age, income, and education."
My mom concurs; in her words: "Because we share the same values, and because I know that I am loved and appreciated, I have more energy, support, and help thinking through issues than if I were alone." This is not insignificant in a culture in which loneliness is so pervasive that Mother Teresa once called it "the leprosy of the West."
ISSUES OF INDEPENDENCE and self-sufficiency loom large in the decision to live with family. To do so bucks a 50-year trend in which full financial and physical independence was heavily prized and sought after by both parents and children. A century ago, living with multiple generations or close to home (within five miles) was the norm for most American families. In the mid-20th century, however, greater economic prosperity and cultural shifts meant a change in attitudes in which children were encouraged to, and wanted to, leave home. In Under One Roof Again: All Grown Up and (Re)learning to Live Together Happily, author Susan Newman notes that "Parents were thought to have done a 'good job' if their high school and college graduates functioned and thrived hundreds, even thousands of miles away from them." But many people are rethinking the wisdom of choices that leave families scattered across large swaths of the country—especially when they enjoy being together.
Multigenerational living is not, of course, all fun and games, and is certainly not for everyone. The challenges are many and well-documented in books and online. For us and for many other families in the same situation, defining and respecting the boundaries of all the roles and relationships (couple, parent, grandparent) is a must. My husband and I are clear that we assume all responsibility for the kids and never expect my parents, sister, or niece to help out unless we secure their help beforehand. My parents have been careful to schedule alone time in the form of "date nights" a couple times a week, as well as monthly getaways. When my husband and I are not as diligent about our own need for couple and small-family time, we pay a price in our ability to communicate and in our identity as a couple.
Open communication is the second requirement for successful extended-family living. Talking about expectations, dividing responsibilities, and checking in on a regular basis about financial and other logistical agreements has minimized tensions for us.
Once together, however, surprises, changes, and challenges that come from living in close quarters with different people are inevitable, no matter how much preparation has taken place. As with other great life-changers—the birth of your first child, the death of a parent—preparation only goes so far, and the rest is jumping in with both feet, feeling your way through, and hoping for the best. And like those other great life changes, it will get messy—physically, mentally, and emotionally.
Which is where faith comes in.
Vickie Sloderbeck, like many people I spoke to for this article, relies on a tool box provided by her Christian faith to find answers to sticky situations and to understand the experience in general. Her household includes her mother, her and her husband, their two youngest children, and an older daughter and son-in-law with their three children. (Vickie and her daughter Faith co-author a blog on multigenerational living, homeschooling, and other topics at www.sidetrackedmoms.com.) Vickie notes that her concerns about her mother's aging, as well as her and her husband's, are alleviated by their household arrangement and the knowledge that whatever the future brings, "we are here together to share in whatever faces us." In addition, the elders in the family are able to play key roles in the spiritual development of their grandchildren, "in small, everyday moments that wouldn't occur if we still lived in separate places."
Religious beliefs can also help families negotiate tough living situations. Bill (real name withheld by request), whose son, daughter-in-law, and grandson moved in "temporarily" two years ago, has relied on his faith to interpret what has been a very challenging arrangement. Without either intentionality or open communication about living together, Bill feels that they are just enduring, rather than enjoying, the arrangement. His faith, however, allows him to persevere and to try to remain gracious: "If I didn't believe in a loving God, I would just think that it's hard, or their fault."
Christianity is not unique here, of course. All major religions cite the importance of family, community, honoring parents and elders, and the special need to care for the most vulnerable—the elderly, the sick, children, and those who are alone.
Whether one's multigenerational living situation is by choice or not, religious beliefs may help give both the vocabulary to describe the experience and the lens through which to interpret the highs and lows that come with living in close quarters. My understanding of Christian discipleship and its emphasis on community has greatly influenced my desire to make this situation work. Christianity, by definition, begins and ends with community. As my mom put it, "What more could one ask? Aren't we meant, as humans, to be in loving relationship with one another?"
Michaela Bruzzese is a clinical pastoral education student in hospital chaplaincy living in Albuquerque, New Mexico.