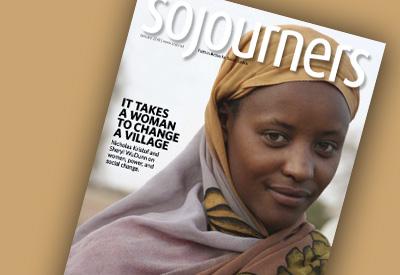 I had never talked ecology with a trash collector until I lived in Harrisburg, Pennsylvania. That's when I met Joe and Pablo, who came around every Tuesday morning to haul our trash to the city incinerator about two miles away. For several years, Joe and Pablo's visit was the highlight of our son's week. As soon as he'd hear the truck in the distance he'd rush to a door, any door, and demand to be carried outside. We became a predictable vision on their Tuesday morning route, a bleary-eyed mother holding a baby in blue pajamas, standing on our front porch or at the gate to the back alley.
Before long we moved from smiles and waves to snatches of conversation. Joe and Pablo were always happy to talk, and our conversations soon ranged from theology to raising kids to a disposable culture. They would shake their heads as they told me about a recent find, one of the many brand-new items they found in people's garbage—coffee tables, chairs, picture frames with the price tags still on. When they saw that I shared their critique of throw-away America, Joe and Pablo began bringing our son things they'd found along their route—lopsided teddy bears, a plastic tree with Winnie the Pooh characters popping crazily out from its trunk, monster trucks orphaned from their remote controls. I tried not to dwell on the toys' storied pasts in the trash cans of my neighbors, but also took warped pleasure in casually announcing to friends and family the ancestry of various toys scattered around our house.
I was pleased by Joe and Pablo's gesture, their obvious joy in sharing their loot with my son, and I was happy to be included in their conspiracy of recycling. I think they saw their scavenging as a calling of sorts, to be practiced alongside of making a living. I never asked them, but I wonder whether they ever thought of it as separating the wheat from the tares, a way to rescue the good before it was tossed into the flames.
I also never asked Joe and Pablo about the incinerator where they took our trash each Tuesday. In my mind, the biography of my trash ended when Joe hoisted it into the back of the truck and—if my son was lucky—pulled the lever that made the hydraulic blade bear down like a large hand closing a book. My son and I would wave at Joe and Pablo, watch as they drove off, and turn and go inside.
The life story of refuse never ends in the truck driven by kindly sanitation workers, of course; I knew that. But since I wasn't reading newspapers much in those early days of parenthood, or watching the news, or having conversations about much of anything beyond who hopped on Pop, I didn't know that there was anything more sinister about our trash's demise than the general story of overflowing landfills, a sinister enough story in itself. I didn't know that the incinerator where my trash was burned was located next to Hall Manor, the city's largest public housing project, or that the Pennsylvania Department of Environmental Protection had named Harrisburg an "environmental justice community," a distinction less favorable than it sounds. I knew in the abstract about environmental racism, that polluters tend to locate adjacent to or within communities of color; I just didn't know it was happening in the city I called home.
Nor did I know about my trash's sordid afterlife. As it was burned in the Harrisburg municipal waste incinerator, the oldest in the United States, my garbage and that of my neighbors released a curious spirit: dioxin, one of a class of contaminants known as "persistent organic pollutants." From 1994, when another municipal waste incinerator in Columbus, Ohio, was shut down, to 2003, when it was closed because of EPA violations, the Harrisburg incinerator was most likely the largest source of dioxin emissions in the U.S.
Like rain—in rain, actually—dioxin falls on the just and the unjust. Or rather, it falls on the grass and algae and lichens, and then is eaten by cows and fish and caribou, which are then eaten by the just and unjust.
Like one of the plagues, dioxins can cause cancer, reproductive problems, diabetes, and birth defects, and can affect the thyroid and immune system. In October 2000, when I was six months pregnant with our first child, the North American Commission for Environmental Cooperation released a study tracing the origins of dioxin found in the breast milk of Inuit women in Nunavut, Canada's newest and northernmost territory. As ecologist Sandra Steingraber writes, "There are no known sources of dioxin within Nunavut nor within 300 miles of its borders. And yet the breast milk of Inuit mothers who live there contains on average twice the amount of dioxin as Canadian mothers living in the south." Dioxins are carried in the jet stream to the northern reaches of the globe, where they become concentrated and where cold temperatures make them condense and fall.
Researchers in New York were able to trace the Nunavut dioxin to its sources. About three-quarters of the dioxin falling in Nunavut came from the United States: mostly from the Midwest and East, mostly from municipal waste incinerators, including Harrisburg's. At the eight sites in Nunavut that the study examines, the leading source of dioxin pollution at half of them was the Harrisburg incinerator.
All thos mornings that I stood with my son on our porch, watching Joe hoist our trash bags into his truck and looking forward to my first cup of coffee, I lived in blissful ignorance of my trash's eternal destiny. As I waved goodbye and went back in my house to finish my bowl of cereal and then nurse my firstborn, I was oblivious of the filaments that now connected me to an Inuit woman thousands of miles to my north, the wispy trails of burned matter that led from my door to hers.
So is innocence contingent upon lack of knowledge? Does awareness contaminate and ignorance absolve? Or does what we discard somehow worm its way back home, glomming onto our consciences whether we know it or not?
Perhaps those questions matter less than the facts: Toxins become more concentrated, not less, as they travel up the food chain. As Steingraber notes, a breast-feeding infant, not a man, is the picture that should be shown atop those food-chain charts from high school biology class. Perhaps those questions matter a great deal less than this other lesser-known chain: a woman in Nunavut, nursing her child, her breasts full of milk tainted by the trash of a woman in Harrisburg, nursing her child.
Perhaps the woman in Nunavut is sitting at her kitchen table on a Tuesday morning, her dark hair falling around her baby as he tugs at her breast, his feet pushing rhythmically against her arm until the milk lets down. Perhaps she is glad, like me, for the 10 minutes of silence that nursing buys her, the small, blank pieces of time that she can count on slipping from the envelope of each day. I see her closing her eyes, letting her thoughts blanch white as the snow outside. I watch her son, his feet now still and his jaw an efficient engine. I watch him drink deeply of what he knows only as comfort and nourishment.
Valerie Weaver-Zercher is a Sojourners contributing editor. She received a 2009 Pennsylvania Council for the Arts grant in creative nonfiction, and her work has been nominated for a Pushcart Prize.