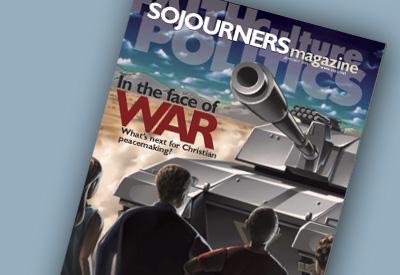 In the beginning was the first President Bush and the first war with Iraq, a conflict that forced many Americans to search for Kuwait on their globes and in their atlases. But it also put a fledgling organization called Christian Peacemaker Teams on the map. Now the United States is again at war in Iraq, and CPT is again offering witness to nonviolence. But big changes are happening at CPT. Gene Stoltzfus, the organization's only director, stepped down Aug. 31 after 17 years of guiding a prophetic but idealistic dream into a pioneer model of faith-based nonviolent action.
"I'm thankful I was able to come along at a time when there was a minority in our churches who felt deeply about this," he said. "I believe that the thirst and the hunger in the world for alternatives for problem solving is so wide and so deep that people are prepared to go beyond convention."
CPT's genesis came 20 years ago, when the U.S.-Soviet Cold War was playing out in growing conflicts throughout Central America. In a 1984 address at an international Mennonite gathering in France, Ron Sider, founder of Evangelicals for Social Action and author of Rich Christians in an Age of Hunger, called for mobilizing thousands of people who would risk death to position themselves between warring factions around the globe. "Unless we are ready to die developing new nonviolent attempts to reduce international conflict, we should confess that we never really meant the cross was an alternative to the sword," Sider said.
That call, directed especially at North American Mennonites, prompted a series of conversations over the next two years, leading to CPT's creation in 1986; Stoltzfus was hired as the first director the next year. "This was a role I was prepared for all my life," he said.
In 1963 Stoltzfus left seminary to serve with International Voluntary Service in Vietnam, an experience that cemented his pacifist beliefs. He returned to the United States in 1967 thinking, "If we were as well organized as the military in terms of having groups of people with important jobs to be done, we could stop this thing." He spent the next several years protesting the Vietnam War, then for two decades served in the United States and overseas with peace and service organizations including Mennonite Voluntary Service, Mennonite Central Committee, and American Friends Service Committee. When called to CPT, Stoltzfus and his wife, Dorothy Friesen, were directing Synapses, a now-defunct inter-faith justice organization.
After two years of organizing and planning, CPT, based in Chicago, eased into action, with the Church of the Brethren and the Quakers - who with the Mennonites comprise the "historic peace churches" - joining the effort. The start was small: several conferences, a vigil at a missile site in North Dakota, sending a person to work with a human-rights campaign in Palestine. Then came the Persian Gulf war. On Oct. 21, 1990, CPT sponsored "Oil-Free Sunday," encouraging church-goers to walk to worship services that day. The well-received event raised CPT's profile. "Literally hundreds and hundreds of churches participated in some way," Stoltzfus said. "What that showed was that relevant nonviolent expression can take off in the North American church."
It wasn't until 1993 that CPT created the first long-term team that is now the organization's hallmark, starting a two-year presence in Haiti. The second long-term project, in Hebron in the Israeli-occupied West Bank, started in 1995. "We thought we might be finished in six months, and we're still there," Stoltzfus said.
Teams of five to seven members are currently also in Colombia and Ontario, Canada, as well as in Baghdad. Local groups are also active in several states and provinces. Their work is varied, but fundamentally they try to "get in the way," as the organization's slogan proclaims. CPT maintains a presence in several Colombian communities to deter attacks by both left-wing guerrillas and right-wing paramilitaries. In northern Indiana, members have held war-tax protests, and in Iraq, they documented the abuse of detainees, helping break the Abu Ghraib prison scandal.
"We have never billed ourselves as a human rights group, but it's always there," Stoltzfus said. "In a place like Iraq, people are coming to see us all the time about their relatives who have disappeared."
CPT has a full-time corps of 32 people, plus about 125 reservists willing to commit several weeks a year to assignments. All have gone through extensive training in nonviolent action, spirituality of peacemaking, and communication skills. Although only one CPT member has ever died while in the field—killed in a car accident in Iraq last year—danger is not uncommon. Workers have received death threats and been assaulted, imprisoned, deported, and denied entry to countries. Two CPT members in Hebron were severely injured last fall in an attack by five masked Israeli settlers (see page 11). A statement adopted by the Hebron team states their willingness to suffer for their beliefs, echoing Sider's original call: "We believe that until people committed to nonviolence are willing to take the same risks for peace that soldiers are willing to take for war, people will always choose violence as the most viable solution to their problems."
While not the only organization doing nonviolent intervention, CPT is distinctive because it is faith-based, which has attracted interest beyond the peace churches. About a third of the full- and part-time workers are Catholics, Methodists, Lutheran, and others, while the CPT steering committee includes Baptists and Presbyterians. CPT also was the model for the World Council of Churches' Ecumenical Accompaniment Program in Palestine and Israel, begun in 2002.
"The primary tool in your toolbox is your faith in Jesus Christ as the pre-eminent peacemaker and nonviolent intervener; day in and day out on projects, our faith is what we draw upon individually and corporately," said steering committee chair Lee McKenna, who is appointed by the Baptist Peace Fellowship of North America.
CPT staff member Kryss Chupp, who has worked with Stoltzfus for two decades, said part of Stoltzfus' legacy is his "really, really deep belief that it's people of faith committed to social change that can truly make a difference."
Stoltzfus called CPT a "Christian experiment" based on the peace emphasis of the early church, St. Francis, and others. "We're just doing what history has placed on our shoulders to do," he said. CPT's religious identity - including using the word Christian in its name - has been a tremendous asset in its peace work because of its biblical foundations. "That's a message you can take to the Foursquare [Church], to the Greek Orthodox, to the Catholics," Stoltzfus said. And to Muslims, he added, "because the Koran teaches respect for Jesus and Jesus' followers."
Stoltzfus believes CPT's approach could generate much broader support - perhaps from as many as 20 million U.S. Christians. "They are looking for the kind of disciplined, organized, assertive peacemaking that creates space and models that genuinely lead to creative thinking and alternatives to military force," he said. That includes support from military personnel. "They recognize how crazy is the system they're caught in."
But CPT's appeal goes beyond North America. Colombians are members of the team in that country and an English group is trying to organize. Interest has also come from Japan and South Korea. "I would hope that 10 years down the road, not more than 30 percent of the CPTers would be from North America," Stoltzfus said. "Every set of eyes brings different perspectives to a situation."
"The problem of peace work is that it is usually not a vocation, it is an avocation," said Stoltzfus. "We want to [involve] competent, professional people. Peace work is going through this phase of growing. I think we have found something that works."
Such growth, of course, is possible because violence and injustice also continue to grow. Stoltzfus said he could paper the walls in his office with requests for assistance from around the world. He is disappointed that, because of limited personnel and finances, CPT could not respond to crises in places such as Afghanistan or Rwanda or better mobilize to respond to urban violence in the United States. "Somebody in CPT is probably asked twice a day, 'Why aren't you in Sudan?'" he said. "That list goes on. It's hard to sit here week after week and say no."
The work that CPT does undertake sometimes raises the perception that it is anti-American. CPT has opposed the Iraqi embargo, the current U.S. aid package to Colombia, and Israeli policies. But Stoltzfus said, "I don't try to get us mobilized in an anti-authority stance. That's not our goal. Government has its place in the world. But the United States is in a better spot if we have a less violent engagement with the world." He said he has sympathies for politicians who are trying to do their best, but he added, "I have to do my part, too."
Rich Preheim of Elkhart, Indiana, is a freelance writer who has covered religion, peace, and social justice for more than a dozen years. For more information about CPT's work, including short-term delegations, visit www.cpt.org.