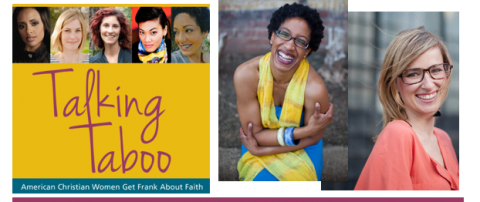 THE WOMEN IN Talking Taboo: American Christian Women Get Frank About Faith aren't just frank. They are courageous, clever, and wildly passionate.
This anthology, edited by Erin S. Lane and Enuma C. Okoro, asks 40 women under 40 to respond to the question, "What taboos remain in the church at the intersection of faith and gender?" The result is a collection of stories by women of faith (Baptist, Presbyterian, Mennonite, Catholic, Unitarian Universalist, and more) in a variety of roles (pastor, mother, writer, teacher, student, and more).
The women share times they have felt shamed, alienated, discouraged, or alone as women seeking a home in the church. From addressing domestic violence to lust to pregnancy to the role of a woman pastor's body, the stories are raw in the way first-person narrative calls upon honesty and vulnerability to trump perfect prose or style.
Anthologies often stick to one structural extreme: Either they are rigid and theme-driven, or loose and nomadic. Talking Taboo follows the latter. Lane's introduction promises no arc of narrative, no solid take-away message. The stories are here, she writes, because women are agreeing to "speak for ourselves."
The prompt "taboo" itself calls for a loose interpretation, for what is defined as taboo ultimately depends on both the writer's and the reader's cultural references and relation to faith. One reader may find Amy Julia Becker's struggle to understand headship within marriage familiar, but Patience Perry's call for faith-based menstruation rites shocking. Another reader may affirm Kate Ott's understanding of sexual pleasure as divine, yet wonder why Amy Frykholm feels more empowered when she conceals her body behind a monk's cloak.
Lane assures in her introduction that "the theme of the anthology is taboo, not hot topics." Perhaps she shies away from the label "hot topics" from fear that readers will respond to the essays out of voyeur-based fascination instead of compassion. Regardless, heavy, provocative themes of body and identity should not be downplayed. Okoro's essay on lusting after a married man addresses a long-hushed conversation over the emotional needs behind desire. Rebecca Clark's piece on being targeted, as a pastor, for her physical characteristics points to the church's continuing habit of judging women by their bodies instead of their intellect. Meghan Florian's essay on living as a fulfilled yet single woman reminds the church that a lack of spouse does not mean a lack of identity.
The stories cross lines of denomination, race, sexual orientation, and, for the most part, age. Though college student Elizabeth McManus is the sole representative of the otherwise lacking youngest generation of adult women, the editors have welcomed an impressive breadth of women's voices. Some have just started their journeys in combining faith and gender; others have been walking it for years. The stories roll and roam, unforgiving and unapologetic.
Yet Talking Taboo's meandering looseness and varied scale of "taboo" are its own strength. Despite the ambiguous prompt and the assortment of topics, a theme does surface: Women's voices have often been silenced and invalidated in the context of faith. These are stories of hurt and pain. These are stories of evident sexism and the controlling of women's bodies. These are stories that are still being told despite the generations of women that have worked to be seen as whole and holy in the church. The fact that this common thread winds through the stories despite their vast differences is the biggest grief of all.
But the anthology as a genre here speaks for itself. By placing the stories together, by keeping them loose and unbounded, the stories meld together as if to form the voice of one strong, loud woman. To read Talking Taboo is to have a long conversation with that woman. For some, her story may be familiar; for others, her voice and perspective may be new. Either way, the thing to do is to listen.
Rebecca Kraybill is editorial assistant for Sojourners.