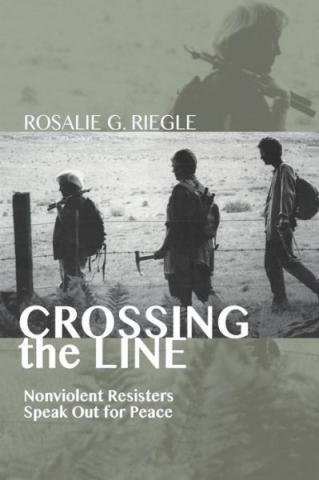 SHORTLY AFTER his 1983 appointment as archbishop of San Salvador during the Salvadoran civil war, Arturo Rivera y Damas traveled to the United States. Rivera succeeded Archbishop Óscar Romero, who was martyred for his outspoken condemnation of the war. I asked a Maryknoll sister—who lost three community members, killed by the Salvadoran death squads—to assess Rivera's comments to the U.S. media. "He does not have the gift of martyrdom," she said.
That comment gives perspective to the efforts of nonviolent peace activists in the U.S., many of whom have risked their freedom, usually for short stints, as a consequence of civil disobedience. In Crossing the Line: Nonviolent Resisters Speak Out for Peace, Rosalie G. Riegle chronicles the action-to-court-to-jail-and-prison journeys of some of the last century's most committed pacifists. While a few told harrowing stories, for the vast majority the consequences fell far short of martyrdom. This is not to belittle their efforts, but rather to beg the question: Why do so few Christians resist the violence and war-making of the U.S. government?
Riegle's well-done compilation of 65 oral histories might prompt more people to step into the fray. To date, hundreds of U.S. pacifists have served hundreds of years, mostly in federal prison, for crossing lines, burning draft cards and draft files, and hammering on the weapons of war. At press time, three Catholic pacifists known as the Transform Now Plowshares—Sister Megan Rice, Greg Boertje-Obed (interviewed in Riegle's book), and Michael Walli—await a January sentencing for federal felony charges stemming from cutting fences and hammering at the Y-12 National Security Complex in Oak Ridge, Tenn.
Riegle's book explores the experiences of war resisters from World War II through Cold War activism, opposition to Vietnam, the anti-nuclear and anti-intervention movements, and today's "war on terror." It is especially interesting to read the stories of the old timers, mostly men, who stood against the so-called "Good War," when war against Hitler's Germany and Japan was virtually unopposed.
Catholic Worker founder Dorothy Day was also active in resisting World War II and subsequent conflicts and militarism. Actress Judith Malina tells of spending time in the New York City "House of Detention" with Day. The two were arrested for refusing to take cover during an air raid drill.
"(W)e were strip searched like everyone else. It was extremely humiliating," says Malina. "When it happened, I was standing in the outer part of the office and I heard her cry out in pain."
Today, Day's legacy lives on in the work of many Catholic Workers, including her granddaughter, Martha Hennessy, who told Riegle: "We should be filling the streets, protesting the dreadful things that are being done with our tax dollars and supposedly in our name."
Lisa Hughes, who spent six months in prison in 2004 for "crossing the line" at the U.S. Army School of the Americas at Ft. Benning, Ga., spoke of an upside: "The most amazing thing ... is that people in prison rub shoulders across class lines, across racial lines. You're living under the same roof, sharing a room, eating the same food, showering in the same shower, so you can't help but see the common humanity. And I learned so much from them."
While a scattering of Riegle's interviews are with the young, the vast majority of subjects are middle-aged and older. Who will take up the baton of Christian resistance in the years ahead? Although nonviolent direct action has played a role in many U.S. justice and peace campaigns, in the second decade of the war on terror there seems to be a lull.
SOA Watch founder Roy Bourgeois, who has spent time in federal prison for his work against U.S. intervention in Latin America, still views prison time as redemptive. "When I was in El Salvador, I was very fearful, because they were killing and disappearing so many people. But here in the United States, what do we have to fear? I know some fear being arrested, and I remember feeling that fear. I've spent over four years in federal prisons around the country, and I've learned that prison is really nothing to be afraid of. It's a hard place to be. Difficult. But once you face that, you realize that you can turn the experience into something very positive."
Patrick O'Neill, a father of eight children, lives in Garner, N.C.