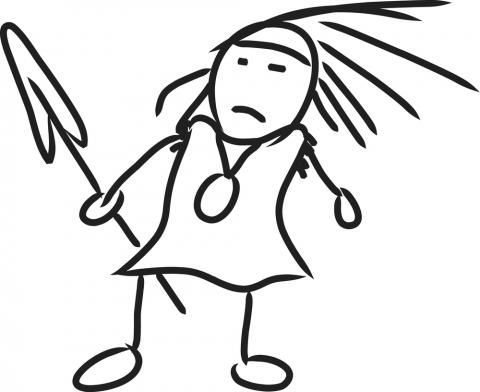 I'VE NEVER FELT as powerful and proud of my community as I was while walking down the middle of Franklin Avenue in Minneapolis on a cold evening in November with hundreds of other Native activists and allies. We were marching from the heart of the Minneapolis American Indian community to the Hubert H. Humphrey Metrodome to speak out against the Washington Redsk*ns mascot.
Hundreds of American Indians and allies rallied outside the Metrodome to demand that Dan Snyder, owner of the Washington professional football team, change the team's name and mascot in spite of Snyder's dissent. The owner's unwavering commitment to keeping the Redsk*ns name became evident when earlier this year he stated, "We'll never change the name. It's simple. NEVER. You can use caps."
Standing among supporters and friends, I looked on as the community joined together in drumming, dancing, and singing, with American Indian Movement co-founder Clyde Bellecourt serving as the rally's emcee. Several local elected leaders addressed the crowd, including U.S. Rep. Betty McCollum, co-chair of the Congressional Native American Caucus, and the mayor-elect of Minneapolis, Betsy Hodges, days after winning her election for mayor. The two joined an avalanche of elected leaders calling on Snyder and NFL Commissioner Roger Goodell to change the team's name.
More than 20 years prior, another protest had been held at the Metrodome for Super Bowl XXVI, a game between the Washington Redsk*ns and the Buffalo Bills. That protest included Clyde Bellecourt's brother, Vernon, leading the charge with Sen. Paul Wellstone, a friend and champion of the American Indian community. Two decades later, the conversation has changed and momentum is on our side. Even President Barack Obama joined the cause in saying, "I've got to say, if I were the owner of the team and I knew that there was a name of my team—even if it had a storied history—that was offending a sizeable group of people, I'd think about changing it."
For me, though I am hopeful, the change isn't coming quickly enough. As a Native American woman and mother, I am concerned about how my infant daughter will see herself represented and portrayed in popular culture and the media as she grows up. Multiple studies have shown that American Indian sports mascots and other negative stereotypes are detrimental to the self-esteem and development of Native American youth and exacerbate racial inequities. The continued use of the Washington Redsk*ns mascot sends my daughter, and other Native and non-Native youth, the message that somehow it's okay for her to be called a racial slur. In her formative years, she will continually see herself portrayed as less than human.
While much of the march and rally was empowering, there were several incidents of protesters meeting resistance in the form of racist remarks, war whoops, and threats of physical violence. Snyder and the Washington Redsk*ns franchise continue to claim that the name "honors" American Indian people. The behavior of some football fans that night is in direct conflict with that notion. When you deny people their humanity, it is easier to disrespect them and their culture.
I am not a mascot. My daughter is not a mascot. My people are not mascots. We are human beings. We are still here.
Peggy Flanagan is a member of the White Earth Nation of Ojibwe and serves on the Sojourners board of directors.
Image: Red Indian leader drawing, hodmakdi / Shutterstock.com