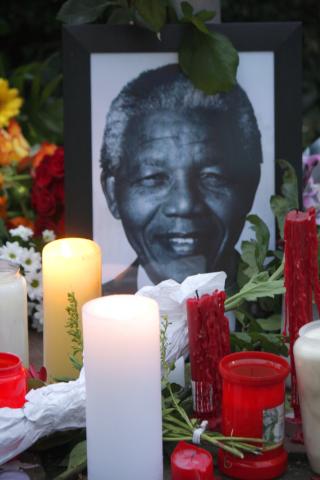 NELSON MANDELA was the most important political leader of the 20th century. While Roosevelt and Churchill helped protect the West and the world from Hitler's Nazism, Mandela heroically exemplified the movement against the colonialism and racism that oppressed the global South, shown so dramatically in South Africa's apartheid. And from a Christian point of view, he combined justice and reconciliation like no other political leader of his time, shaped by the spiritual formation of 27 years in prison.
Shortly after Mandela was released from prison, he came to New York to meet with a small group of Americans who had been involved in the anti-apartheid struggle, and I was blessed to join them. From the start, I felt in Mandela a moral authority I have never experienced with any political leader.
Attending Mandela's inauguration in 1994 was a highlight of my life. We were picked up at the airport by friends, a couple who had both been in prison and tortured, but now she was about to become a member of the new South African parliament. We saw a group of the infamous South African security police. Having been interrogated by these thugs before, I immediately said, "Let's get out of here!" To which they replied, "Don't worry, Jim, they're ours now."
At the ceremony, joined by my South African friends, we watched Nelson Mandela announce his vision for a new rainbow nation. More than 100,000 people (and a billion or so more via TV) listened with tears in their eyes and great hope in their hearts.
Near the end of the ceremony, we heard noise in the sky and saw many helicopters, followed by jets, flying in our direction. For a moment, the crowd became anxious at the coming of the South African Air Force. No, they wouldn't do this; could they do this now? But then the planes released streams in the colors and pattern of the new South African flag. The white pilots were honoring their new president. Having been in South Africa in the worst of times, this complete transformation of history occurring right before my eyes forever taught me that history really can be changed.
On Dec. 11, I was blessed again to offer an opening prayer at the memorial service for Nelson Mandela at the Washington National Cathedral. Here is what I prayed.
ALL MERCIFUL AND loving God, we give thanks for the witness of your faithful people in all generations. Especially today, we give thanks for your son and faithful servant, Nelson Mandela: for all that he is remembered for, for all that he was to those who loved him in South Africa, to us who loved him here, to all who loved him around the world, and for everything in his life that reflected your mercy and love. We give you thanks for how he taught us and the world your ways of justice and forgiveness, for how he turned righteous anger into the power of reconciliation.
We thank you, Lord, that you were with him every day he was in prison, showing him the path to freedom, for how he became free even before his captors released him. His long road is the one we now ask you for strength to walk.
We thank you, God, that for him sickness and sorrow are no more and that he is at rest with you. We believe that you have welcomed him as an honored guest at your table.
Today we also pray for ourselves, that we may throw off the sin, anger, despair, and cynicism that so easily beset us and that we may run the race that is set before us, with we Christians looking to Jesus, the author and finisher of our faith. We thank you, God, that our dear brother Nelson, our father Madiba, was such a strong runner, always running ahead to the places we need to go: to freedom, to fairness, to human dignity, to the true justice that makes for peace. Help us to run like him and to run after him.
And we thank you, God, that we remember Nelson Mandela in this Christian season of Advent, a time of radical and expectant hope. As he waited for 27 years in prison, expectantly and always hopeful for freedom to come to his country and people, strengthen us with his indomitable spirit to wait with expectant hope for all the things we long for today in our lives and in this world.
Thank you, Lord, for how Nelson Mandela taught us the meaning of the scripture that says, "Faith is the substance of things hoped for, the evidence of things not seen." And thank you for teaching us a theology of hope through our brothers and sisters in South Africa. Thank you for how Mandela showed us that hope means believing in spite of the evidence, and then watching the evidence change. Inspire that evidence-changing hope in us today.
I am the resurrection and the life, says the Lord. Those who believe in me will live, even though they die; and whoever lives by believing in me will never die. Today we commit ashes to ashes and dust to dust, but Nelson Mandela and his spirit will never die, but live on in us forever.
Amen.
Jim Wallis is editor-in-chief of Sojourners magazine.
Image: Mourning for Nelson Mandela at the South African embassy in Berlin, 360b / Shutterstock.com