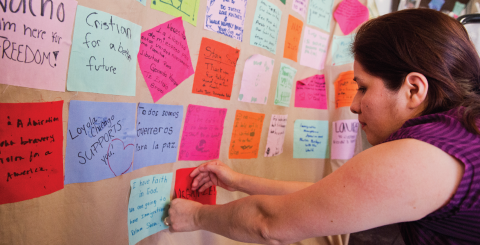 IT WAS LIKE the end of the movie Lincoln. In an instant, one whole side of the House of Representatives turned, looked up at the five core fasters from the Fast for Families and erupted in overwhelmingly spirited applause. The applause reverberated throughout the chamber for what seemed like an eternity, though it was really only minutes. Ah, but what grand minutes. I wept. My body, standing there in the gallery, could not contain it.
The Fast for Families: A Call for Immigration Reform and Citizenship was launched on Nov. 12 with core fasters abstaining from all food and drinking only water. Based in a tent on the National Mall, only a few hundred yards from the Capitol building, the fast was sponsored by nearly 40 church and labor organizations and garnered support from more than 4,000 solidarity fasters across the U.S. and around the world. Our goal: To move the hearts and compassion of members of Congress to pass immigration reform with a path to citizenship.
In the Capitol building on Dec. 2, during the hour before the startling ovation, Eliseo Medina (the leader of the fast, which had reached the end of its 21st day on that Monday evening), D.J. Yoon (executive director of NAKASEC, a Korean-American advocacy agency), Cristian Avila (from Mi Familia Vota), and I received House member after member who'd come to visit us in the gallery to say "thank you for your sacrifice." All the faces and names you usually see flashed across the screen commenting on the events of the day on cable television shows—they came to us, standing in the flesh, shaking our hands, grateful and concerned for our health.
One member said to us, "What you're doing takes so much courage." We had heard that a lot over the previous week. President and Michelle Obama, Vice President Biden, Rep. Jeff Denham, even Peter Yarrow from Peter, Paul, and Mary had talked about our courage. But each day that I got out of bed, one day further into my fast, one day further from food, one day weaker, I didn't feel courageous. It's not that I felt fear—not at all. It's just that the Fast for Families wasn't about courage for me. It was about calling and faith.
I felt called to fast, first for two days as a "solidarity faster." Then, less than a day into my fast, I sensed God saying, "Keep going. Don't stop until I tell you to." I wept when I heard the call.
Two years before, I had fasted during the days of the Muslim month of Ramadan, as an act of solidarity with the Islamic community. It was an incredibly spiritual time, but I gained 20 pounds after the fast. I've struggled with my weight for most of my life. The day I started the Fast for Families, I was the heaviest I'd ever been. I did not want to risk the yo-yo effect that long-term fasting could have on my body. Sure, you lose weight, but then it usually comes back—and then some. So I wept and didn't tell anyone that I felt called to keep going. I decided to wait for confirmation.
The next day—the second day of the fast—the fasters sat around the circle in the fasters' tent and shared our stories with each other and a visitor. As members of the circle shared stories of the family members they had lost to our broken immigration system, through death in the desert or deportation, the voice came back: "Keep going. Don't stop until I tell you to."
I confessed to the group what I had been hearing from God, and from that point it was settled in my mind and spirit. I was called, and I would follow—in faith.
NOW, ALMOST HALF of the members of the House were standing on the floor, looking up at us, applauding in a way I didn't know was possible. We stood weeping. We received their recognition for 21 days of faith.
The next day four of us passed our fast to eight others who stepped in to pick up the baton and carry it forward. In all, we didn't eat for 22 days, but we did feast. We feasted on each other's stories. We feasted on 22 days of communion, without food, and received the blessings of faith.
Lisa Sharon Harper is senior director of mobilizing at Sojourners.