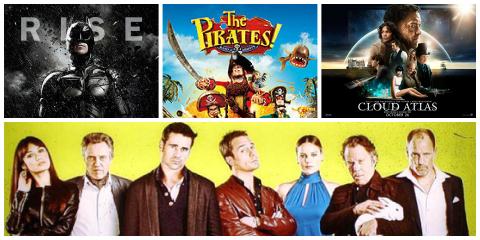 THE BEST experiences I had at the cinema last year were nostalgic—re-releases of The Life and Death of Colonel Blimp and Lawrence of Arabia were uncanny reflections on the cost of war to soldiers and some roots of contemporary Middle East strife. Here's my list of the best films released in 2012:
10. A tie:The Pirates! Band of Misfits, a gloriously rich, smart comedy for all ages, full of life and self-deprecating humor, and Life of Pi, which envelopes its audience with visual wonders and spiritual questions.
9. Wes Anderson's delightful treatment of childhood first love amid dysfunctional adults, and a film not afraid of the shadow side of growing up, Moonrise Kingdom.
8. The Cabin in the Woods, a gruesome horror comedy that not only enacts and portrays, but understands the lie of redemptive violence.
7. The sprawling, operatic imagining of love-transcending-all that is Cloud Atlas, which made me feel the way Star Wars might—if it were written for adults.
6. The Dark Knight Rises, the conclusion to a truly epic film series that imagined heroism as self-giving rather than merely slaughtering every bad guy in sight.
5. A disturbing, unpleasant, and utterly compelling vision of religious searching and abuse, relational longing and exploitation, holistic change and psychic torture, The Master.
4. Looper, the most fully realized and coherent future sci-fi world since Blade Runner, and over-the-top entertainment invoking both The Wizard of Oz and just war theory.
3. For sheer enjoyability, life-affirming magic, political questioning, and prophetic insights, look no further than the work of mad genius called Holy Motors, in which a man engages with what it is to be human, critiques our culture's addiction to relating through screens and bytes, and wonders aloud about violence as a way of life.
2. The Perks of Being a Wallflower, the most truthful high school film I've seen, with totally believable performances, honest facing of adolescent pain, and the best way of turning an old, cliched piece of music back into something totally fresh.
1. For me the freshest film of 2012 is Seven Psychopaths, a self-referencing, Tarantino-trouncing, imagination-expanding story about storytelling itself. Seven Psychopaths manages to reach back into imperial history and imagine a credible alternative to fight-or-flight myths that is both inspirational and full of moral strength. It understands the power of telling stories, and how, this year and next, it is storytellers who will command the attention, fund the public imagination, and change the world for the better or worse.
Gareth Higgins is a Sojourners contributing editor and executive director of the Wild Goose Festival. Originally from Northern Ireland, he lives in Asheville, North Carolina.