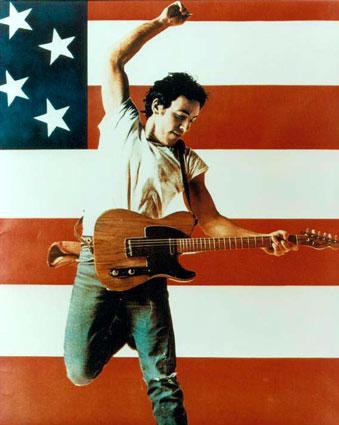 IT WAS THE first week of November 2012, and Bruce Springsteen was busy helping nail down a few swing states for President Obama. In the process, he expressed more enthusiasm than I could ever muster for the man who put Tim "The Fox" Geithner in charge of our financial hen house. But political quibbles aside, I remain convinced that what Springsteen actually does for a living is more important to the life of our country than the work of any living politician, and I saw living proof that very same week.
On the Saturday night before Election Day, Springsteen and his E Street Band dropped into Louisville, Ky. Of course, my wife, Polly, and I had to go, and we had to take our 12-year-old son, Joseph, who has become the fourth Springsteen-obsessed member of our family. It was my fifth time to see the show, and ever since I've been thinking of the poem in which Allen Ginsberg asked America, "When will you be worthy of your million Trotskyites?" Paraphrasing Ginsberg, I ask today, "America, when will you be worthy of your E Street Band?"
To me, going to see the E Street Band has become something like going to see a natural wonder, like Yellowstone or Mammoth Cave or, more to the point, the California redwood forests: Like the redwoods, it's growing older. The bark gets rougher by the decade, and some branches break off and fall to the earth. But Springsteen's great tree of American music is still growing in stature and substance. The band has become a cultural institution that spans races, genders, and generations and fittingly represents the sacred American musical tradition that has grown from the work songs, ring shouts, and spirituals of the slaves.
Over time, that tradition has mingled with the folk and country of Southern poor whites and cross-pollinated with other sounds that came up from Mexico and the Caribbean and over from Europe. Today, most of this tradition is onstage at an E Street Band show. The core rock band is now joined by horns and a choir. Those rock and soul staples are occasionally supplemented by accordion, Stevie Van Zandt's Italian mandolin, and an extra percussionist who sometimes breaks out an Irish marching drum.
And speaking of rock and soul staples, "lovemaking [and] booty-shaking," as Springsteen puts it, are still high on the E Street Band's agenda, but the band's sense of purpose has also broadened and deepened with time. In the early years, the band's signature song was "Born to Run," a young man's dream of love and freedom. In the middle period, "Born in the U.S.A." put the band firmly on the side of those exploited, abused, and ignored by America's economic powers-that-be. In 1999, after most of a decade apart, Springsteen reunited with his band, and the signature song for the E Street Band in this century is "Land of Hope and Dreams." That song, which incorporates snatches of Curtis Mayfield's pop-gospel classic "People Get Ready," does the trick that Martin Luther King Jr.'s best speeches did, of conflating the gospel promise—here symbolized by the train that carries "saints and sinners ... losers and winners"—with the American dream.
The "hope and dreams" in Springsteen's song are those of the immigrant, the refugee, and the runaway slave for a place where all are welcomed and none are left behind. And for three hours on a Saturday night, I came to believe that America could be that land again. Three days later, my fellow citizens went to the polls and rejected plutocracy. So maybe I can still hope, against all hope, that at least my children may one day live in a country that is worthy of its E Street Band.
Danny Duncan Collum teaches writing at Kentucky State University in Frankfort. He is the author of the novel White Boy.