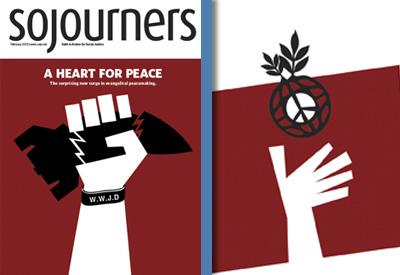 A VARIETY OF EVANGELICAL PEACEMAKING efforts have sprung up in recent years, from the Two Futures Project, which seeks a world without nuclear weapons, to the World Evangelical Alliance's Peace and Reconciliation Initiative, which seeks to redress the fact that "in our zeal for evangelism, we have often overlooked the biblical mandate to pursue peace."
This fall, evangelicals from a range of viewpoints gathered at Georgetown University in Washington, D.C., exploring what a distinctive evangelical contribution to peacemaking might look like. The essays below, unless otherwise noted, are taken from the first Evangelicals for Peace conference, a "summit on Christian moral responsibility in the 21st century." Organizers hope to publish a book with the entire collection of talks.—The Editors
-----
'All the Easy Jobs Have Been Done'
Standing on a rich tradition of peace and transformation

by Geoff Tunnicliffe
WHY IS PEACEMAKING an important topic for evangelicals? As a global community of 600 million Christians, our churches are confronted daily with the impact of illegal weapons. Our hospitals treat the victims of violence. Our church leaders counsel the traumatized. All forms of conflict negatively impact our development programs. Our aid agencies seek to care for and rehabilitate child soldiers. Our inner-city communities are confronted with the outcomes of gang warfare.
For all of us who say we are followers of Jesus, as we observe or experience the brokenness of our world, it should break our hearts. If we feel the pain so deeply, I can't imagine what our loving God feels. The One who is called the Prince of Peace. The One who laid down his life, so that we could be reconciled to God and each other.
The World Evangelical Alliance's engagement in peacemaking stands on the rich traditions of evangelicals who have devoted themselves to being instruments of social change and transformation. We want to say loudly that we evangelicals want to be on the forefront of peacebuilding. All the easy jobs have been done. It's just the tough ones that are left. It requires clear vision to face these challenges.
We as evangelicals are committed to working together with those in and outside our community for the good of all. May God empower us through the work of his Spirit to be his ambassadors of peace and reconciliation.
Geoff Tunnicliffe is secretary general of the World Evangelical Alliance.
-----
Following the Prince of Peace
The six spheres of evangelical peacemaking
by Rick Love
WHAT WOULD A biblical, comprehensive, proactive peace witness look like? The challenge for us is to begin with peace with God. What does that mean practically? It means peace with ourselves, peace within the church, peace with our neighbor, and ultimately peace with our enemies. The reality is, life is not a nice sequence like this, or a continuum, but this is where Jesus wants to move all of us. If we are going to be an evangelical movement that stresses a biblical, comprehensive, and proactive peace, then we need to train our people in all these dimensions.
Here are six spheres of how we could do this as evangelicals. The first sphere is personal peace ("Let the peace of Christ rule in your hearts"). I think that should be the foundation for evangelical peacemakers. Then it moves to interpersonal (Go and be reconciled in our homes and our churches). Then there's social peacemaking ("Take the log out of your own eye"). Next there is urban. As Jeremiah wrote, "Seek the peace of the city." How can we, as evangelicals, seek the common good, seek the peace of the city? And then it moves to national and, ultimately, international peacemaking. Each of these spheres builds on another, and shows the complexities that we face today. I believe that evangelicals around the world need to be engaged in each of these spheres. We want to help followers of the Prince of Peace be a more effective force for peace in our world today.
Rick Love, organizer of the Evangelicals for Peace conference, is president of Peace Catalyst International.
-----
Believing in Redemption
The way Jesus responded to terror is a lesson to all of us
by Lisa Sharon Harper
JESUS STARED INTO the faces of people who considered him their enemy, and he turned his other cheek. He allowed himself to be whipped. He allowed a terrorist state to use his death as a horrifying warning to any who dare follow him from this point on: Declaring allegiance to Jesus will be deemed a direct challenge to the deity of Caesar and to the ultimate authority of occupying Rome. Do so upon pain of death.
Why didn't Jesus fight? After all, that's what the people wanted. They had been waiting for a Messiah to overthrow Caesar by force and take back the Promised Land. Why did he choose the route of silent, nonviolent resistance with Pilate, rather than lashing out or arguing his case? Why did Jesus turn the other cheek and exercise meekness, which means disciplined power, in the face of terror?
I believe it was because when he looked into the eyes of the chief priests or their slaves or the Roman soldiers, or even Caesar himself, he saw the image of God. How could Jesus strike down the image of God? He came to redeem and restore the image of God on earth, to set the slaves, and the soldiers, and the priests free from the violent reign of humans. He came that Caesar himself might be brought back to life by the dominion of God—a dominion characterized by disciplined power, servant leadership, truth-telling, just dealing, reconciliation and reparation, and, above all else, love. Jesus did not fight because he believed in redemption. n
Lisa Sharon Harper is director of mobilizing at Sojourners. Her presentation at the Evangelicals for Peace conference was adapted from her book Left, Right, and Christ: Evangelical Faith in Politics (with D.C. Innes, Russell Media, 2011).
-----
Become Doers of Peace
Jesus does not allow us simply to spiritualize peacemaking

by Tyler Wigg-Stevenson
UNFORTUNATELY, WHEN Christians disdain peace, it is a clear triumph of cultural religion over biblical fidelity, because peace is at the core of what it means to follow Jesus. Jesus is the "Prince of Peace" (Isaiah 9:6). The good news that he died for sinners is itself the "gospel of peace" (Ephesians 6:15), because the purpose of the cross was to "[make] peace through his blood" (Colossians 1:20). His peace is to "rule" among us, "since as members of one body you were called to peace" (Colossians 3:15). And, though Paul begins his letters to the churches by pairing "grace and peace," I wonder if most of us hear far more about grace than peace from our churches' pulpits. Despite the clear biblical witness, many Christians resist peace.
Peace is more than the absence or cessation of war. But neither does Jesus allow us simply to spiritualize peace. Though the peace of Christ is internal, it does not remain internal. Otherwise, how can we make sense of his exaltation in the Beatitudes of the highly active work of the "peacemaker," which literally combines the Greek words for "peace" and "to make or create" (Matthew 5:9)? Jesus does not bless the peace-feelers or the peace-talkers, but the peace-doers.
Tyler Wigg-Stevenson is founding director of the Two Futures Project, a movement of Christians for the abolition of nuclear weapons. This is adapted with permission from his forthcoming book, The World is Not Ours to Save (© 2013, InterVarsity Press, PO Box 1400, Downers Grove, IL 60515; www.ivpress.com).
-----
Sharing the Bed
Pastors and peacemaking in a globalized world

by Bob Roberts Jr.
THE WORLD IS open like never before, but sadly we are becoming our own worst enemies. The biggest obstacle to us engaging the world with our faith is us. Though we have been contemporizing the church in the West, we still have an old worldview of faith and how it engages the world.
For the most part, we evangelicals have had our "religious" response to peace and foreign affairs, but it isn't enough. Without the Holy Spirit and personal relationships with people from challenging countries, we will be just another group banding together wanting peace. Wanting peace is not enough; we must promote it, and we promote it through relationships.
The reality is we cannot truly discuss theology without legitimate relationships, unless all we want is academia. The greatest thing a pastor can do is to mobilize and equip his or her church to engage the world. The greatest power of a pastor is to connect his or her people with people of other faiths.
What we desperately need is a global perspective. Whether it's the economy, oil, foreign affairs, environment, or statecraft, we Americans sadly see through a purely American or local lens. This is my biggest concern for my country: We don't realize how we are contributing to the tension in the world; we think it's other people, and often it's us. We're hogging the bed without realizing others are about to fall off. n
Bob Roberts Jr. is founder and senior pastor of NorthWood Church in Keller, Texas.
-----
Sparking "Aha" Moments
Social media can transport us to places that we couldn't otherwise go
by Jennifer Crumpton
IT'S ESSENTIAL THAT we exert our evangelical voices—for peace, respect, religious understanding, cooperation, reconciliation—into the popular political and social discourse that's going on about foreign policy in war and conflict. We have to really understand that we live in two dimensions now. We have our real- time, academic, pastoral activism world, but then we also have another realm in which we can touch people in the world that we have never been able to touch before. We can have a voice in places that we have never been able to have a voice before, with people that we would never otherwise meet.
We really cannot underestimate the power of social media to spark "aha" moments. When we think in terms of iconic change over time—the big moments in our national history and the history of the world—all of those moments start with tiny little moments: little conversations, little dialogues, little quotes from a summit that you're sitting at. Conversations that otherwise wouldn't have happened—those are what create iconic change, where the world will never be the same.
Social media is kind of like the Holy Spirit. It can transport us to places that we couldn't otherwise go. It can help us interact with people that we wouldn't have otherwise, in ways that we wouldn't have even dreamed of. So let's go with it. With social media, we all have a pulpit. A lot of the time, we want to come down from the pulpits and get into the streets, and social media is a way to get into a lot of streets that we couldn't otherwise travel down.
Jennifer Crumpton, a pastoral associate at Park Avenue Christian Church in Manhattan, is the founding editor of "Uncommon Voices," the blog of the New Evangelical Partnership for the Common Good.
-----
On Not Fighting with the Enemy's Weapons
When her brother was killed by terrorists, she had a choice to make
by Lisa Gibson
IN 1988, MY brother Ken was killed in the terrorist bombing of Pan Am Flight 103 over Lockerbie, Scotland. Ken was 20 years old at the time and was serving in the Army in Berlin, Germany.
I was only 18 years old when my brother was killed. The question that God placed on my heart, after all the dust settled, was simply this: "How might I be a part of seeing this tragedy redeemed and see some good come out of it?"
Now, after more than 20 years, I know what it is to wage the battle in the physical and the spiritual realms. For years I was simply indifferent. I didn't know any Muslims, and that was the way I wanted to keep it. As a Christian, I knew it was wrong to hate and that I was called to forgive. But as I read the Bible, I was challenged because I learned it was more than not hating my enemy—it was about loving them. At the heart of terrorism is hate and fear. The only way to effectively fight the battle is to walk in the opposite spirit. Too many Christians are trying to fight the battle with the enemy's weapons. Where there is hate, we must respond in love. Where there is fear, we must respond in faith.
Rather than succumbing to bitterness or simple indifference, I chose to respond in love. With the realization that love is an action, I began to look for opportunities to reach out in love to my enemies.
Lisa Gibson is founder and executive director of the Peace and Prosperity Alliance and author of Life In Death: A Journey From Terrorism To Triumph.
-----
Religion Matters
In foreign policy, ignoring the motivating influence of religious faith is a sure recipe for failure
by Douglas M. Johnston
IF I HAD to convey a single message to U.S. foreign policy practitioners, it would be that religion matters. For good or for ill, religion is increasingly important in our world. What's more, the nature of religion in many places is changing; it is becoming more dynamic, more activist, and more political. While the majority of religious movements are peaceful, some errant ideologies are at work justifying and encouraging violence. These ideologies must be countered, and countered effectively. Military force can never fully protect us from the type of terrorist assaults that have taken place over the past decade. Ideologies must be countered with ideas, and ideologies steeped in religion need to be challenged on religious grounds.
These days, in almost any foreign policy situation, ignoring the motivating influence of religious faith is a sure recipe for failure. Because so many terrorists, like those that struck the United States on 9/11, derive their legitimacy from extremist interpretations of their religion, the most effective counter is to empower the more tolerant, mainstream beliefs of that religion, especially among those communities most at risk of succumbing to violent propaganda. Although radical Islam is at the forefront of most religious conversations today, the lessons to be learned from combating extremism in an Islamic context apply equally well to any conflict having a religious dimension to it.
Douglas M. Johnston is president and founder of the International Center for Religion & Diplomacy.
-----
Following the Healer of Healers
How evangelicals can be catalysts for peace in the Holy Land

by Sami Awad
HOW CAN EVANGELICALS be a catalyst for peace in the Holy Land? The focus must be on what Jesus wants us to do, not on what wewant to do—we must see how Jesus wants us to move forward in this. What is the language that he wants us to speak to those that are suffering, and to those who are committing the suffering as well? It's very easy for us to dehumanize those who cause suffering. We always need to ask the question: Is this the style of Jesus? Is this how Jesus would talk to the oppressor?
For anything to move forward in the Holy Land, a relationship of trust and respect must be established between the peoples. Peace is not just negotiated agreements between politicians. Peace is the process of building trust and respect between the peoples of the land. To be able to see each other with new eyes. To be able to really understand who the "other" is. To appreciate them—their culture, their heritage, the narrative that they bring to the table. Trust and respect are the foundations.
We are called to love our enemies. No matter what we think or feel, no matter how much anger we have in us, we are called to love our enemies. And for me, my biggest challenge has been to understand exactly who my enemy is, in order for me to love them. As a Palestinian, as a Christian, the most transformative experience for me has been going to places like Auschwitz and Birkenau and understanding who my enemy is. To understand the Holocaust, to understand the suffering, the pain, and the fear that exists within the Jewish community. The only thing that you can do after that experience is to love them more, to have real compassion for them and real understanding of where they came from and where they are now—and what is needed for us, as Christians, to follow the healer of all healers.
Sami Awad is founder and executive director of Holy Land Trust in Bethlehem, Palestine.