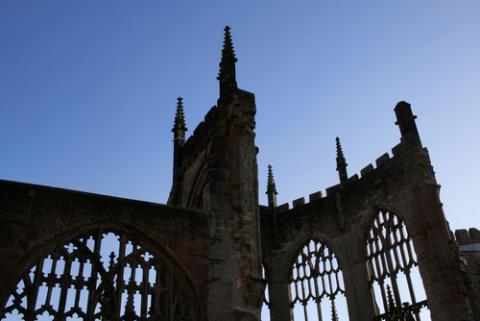 Deep with one savior's death, how many more?
In observance of which, the Dresden burghers
as usual held Shrove Tuesday circuses
around Our Lady's Church, the Frauenkirche,
eating pancakes before their fast for Easter.
At midnight, Allies drew ash from their firestorm
on a hundred-thousand heads. Remember,
the Good War's firesticks on Dresden's timbers
in revenge for Coventry, where in embers
Ash Wednesday passion plays were once performed,
the old guilds raising monstrance of the Host
from their painted wagons. Remember Churchill
letting Germans bomb Coventry's Cathedral
to protect the broken code, letting death fall
on leafy English streets like flash-bombed ghosts
in Dresden, Tokyo. Remember, we must
beg forgiveness like the medieval poor
for sin. How many miracles of war
must we work, burning flesh to spirit, before
remembering we are dust returned to dust.

Judith Werner lives in Brooklyn Heights, New York.
Image: Destroyed Coventry Cathedral, Lance Bellers / Shutterstock.com