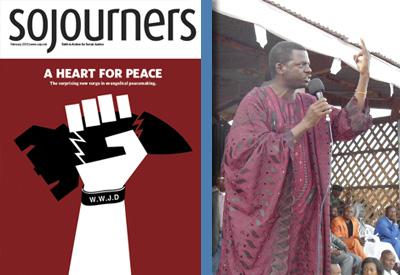 EACH DAY REV. JAMES BYENSI seeks the face of God in one of the world's deadliest places, an environment where rape has been used as a weapon, children have had their innocence stolen, and the church of Jesus Christ is called to stand in the gap.
He lives in Bunia, a town on the eastern edge of the Democratic Republic of Congo (DRC). And while only the largest events of the DRC's conflict—such as the M23 militia's takeover of Goma, a city 300 miles south of Bunia—make world headlines, every day Byensi engages his community and country as an active agent of peace. For example, recently he helped deter a cycle of violence from escalating in his hometown. "Even as I write, I have just received a call from the mayor to join him in talking to a group of people who are protesting against the killing of their brother last night," Byensi told Sojourners in October in one of several email interviews. "The killers were one of the rebel groups operating in the area surrounding Bunia." While advocacy against violence is a cause close to Byensi's heart, the protest itself threatened to become part of the problem: "Protest in this area is always violent and followed by looting or even rape," he explained. The result of that meeting was that Byensi and the mayor together "devised the way to address the people and cool them down," which included the mayor's office helping the bereaved citizens with burial expenses.
That is the kind of advocacy and justice work Byensi does on a daily basis as a leadership and conflict-management consultant and trainer, and through the nonprofit he founded, the Rebuilders Ministry.
Such work is urgently needed in the DRC. Since 1996, civil wars have plagued the central African country, claiming more than 6 million innocent lives, Byensi said. Currently, in eastern Congo where he is located, there are more than 34 armed groups fighting, he explained, including the M23 movement, Allied Democratic Forces, the ethnically based Front for Patriotic Resistance of Ituri, Mayi Mayi groups, and the infamous Lord's Resistance Army. "In the DRC, we have so many militia groups," Byensi says, which act as "structured bandits, looting people and the country."
Some of Byensi's own family members have been victims of the ongoing horrific violence, including his mother. "I must admit that it is not easy. Having lost 16 relatives in this past war and having to care for 11 orphans with my meager salary is a great challenge," Byensi said. "I live in constant fear and pressure."
He hasn't let the challenges stop him. Byensi is an advising member of a mediation team working with the government to convince the main rebel chief in the Ituri District to stop his activities and join the regular armed forces of the country. "This is a very complex process because of the interference we are getting from both the national and international bodies that don't like peace to return to the region," he said.
He's referring in part to Rwanda and Uganda, which have been described by United Nations experts as supporting different rebel groups in the DRC. (Both countries have denied the accusations.)
Quite simply, Byensi's justice and advocacy work is often a matter of life and death for him and those around him. "Our activities, especially fighting corruption and discouraging rebellion, are always very risky, since people take them personally," he said.
Last year, for example, death threats were made against Byensi because he denounced, in church and in the presence of some political leaders, the embezzlement of funds intended for the construction of town roads as well as unfulfilled promises for electricity and water supply.
"For weeks I had to live in hiding," he said. Still Byensi, who is newly married, perseveres: "My coping strategy is prayer and courage, facing challenges one step at a time, and total dependence on God for provision and wisdom."
That is not easy in the DRC, the second largest country in Africa, with a population of more than 71 million people. The former Belgian colony has had a tumultuous history, including colonial victimization and the monstrous civil unrest that continues today.
"We are faced with multiple challenges," said Byensi of his homeland. HIV infection is propagated by armed forces as well as civilians, and there is an increase of cases and a lack of drugs. The nation faces 85 percent unemployment, according to Byensi, and a lack of basic structures such as roads, hospitals, and good schools. Also, as he said, corruption is endemic; the courts deliver "justice" for the rich and powerful at the expense of the poor and weak, often prompting the poor to take matters into their own hands.
And, as is all too common in conflict-torn countries, sexual violence is used as a weapon of war to humiliate and discourage the population; at least 200 women are raped every month in Byensi's region of the country alone. A 2011 study published by The American Journal of Public Health estimated that nearly 2 million women have been raped in the DRC and that women are victimized at a rate of nearly one every minute.
Earlier this year Byensi organized a two-day training session with pastors in Bunia to address sexual violence. "Our main speaker was the district chief magistrate, who took the opportunity to teach pastors about the new country laws on sexual violence," Byensi said. The DRC passed a law in 2006 introducing amendments to its penal code that provide protection against sexual violence. The law outlaws such things as rape, sexual slavery, sexual mutilation, and sexual relations with children under 18.
Byensi also is currently accompanying a pastor whose 10-year-old daughter has been sexually abused by a 25-year-old man. "We denounce what is not right."
BYENSI CALLS ON the United States to do what is right by the Democratic Republic of Congo. "The U.S. can help by making our government accountable, but also by discouraging neighboring countries from interfering with Congo's affairs," he said. "The American church and other entities can partner with us in these efforts we are making. We invite them to pray for us, visit with us, as well as support us in whatever capacity they can."
Byensi proclaims in his ministry the sovereignty of God—which he can do so well, he says, because he knows it personally. The 37-year-old Congo native, who grew up in a village with no electricity or running water, came to believe in Jesus when he was 12. In 1998, he felt called to ministry. For a time, he pursued preaching part-time while also running a food business he had started; his goal was to make enough money to attend law school. Then his business collapsed. "God had already warned me three times to stop my business and join full-time ministry, which I refused," Byensi said. "After the incident, I had no choice but to surrender to the Lord's will, which I have never regretted."
Over the years he has served as a youth pastor, an associate pastor, and a senior pastor. Today Byensi, who holds a bachelor's degree in theology and a master's degree in leadership studies from the Nairobi International School of Theology, serves as missions director for the Evangelical Church in Central Africa, where he oversees more than 1,400 churches. (The denomination, currently celebrating its centennial, is an outgrowth of the Africa Inland Mission, a nondenominational missionary organization started in the U.S. in the 1890s.) Byensi said he is involved in preaching, teaching, counseling, and training thousands of people on an interdenominational level, nationally and internationally.
Rebuilders Ministry, the nonprofit he founded, was started in Nairobi, Kenya, where Byensi was doing his theological training. Rebuilders engages in a variety of activities, including organizing interdenominational leadership conferences, seminars, and trainings with church and political leaders, women, and youth.
"The Rebuilders was born to respond to multiple leadership, peace, and social challenges faced by the DRC after its decade of unceasing wars," he said. "Since its launch in December 2006, the Rebuilders has had tremendous impact through the church and the community we serve."
BYENSI'S REBUILDERS business card quotes, in French (the DRC's official language), Nehemiah 2:17: "Come, let us rebuild ... so that we may no longer suffer disgrace." Among the organization's goals are to challenge leaders and build up their capacities, reach out to vulnerable women and children, rebuild destroyed infrastructures, and equip a new generation of leaders for the Democratic Republic of Congo.
Rebuilders' successes at a grassroots level include joining with Byensi's church to sponsor school fees for 35 children in primary or high school, and paying tuition for two university students. The ministry has sponsored construction of two buildings to house street children; of the 65 street children with whom Rebuilders has worked, 35 have been reunited with their families. The ministry has helped 70 at-risk women become trained in sewing, knitting, and crocheting, and has a revolving microloan program that's currently helping 20 elderly women earn their livelihoods with small businesses. Rebuilders has also helped reconstruct 24 churches that were damaged or destroyed by the DRC's armed conflict.
The organization also works through public peace and evangelistic meetings, food distribution, and conflict mediation. The ministry's vision is to see the Democratic Republic of Congo thrive spiritually, socially, economically, and politically, he said.
"We focus our efforts on teaching and training in the area of leadership and good governance; we plead with the local government and justice [officials] whenever there is a need; we advise both the church and local leadership," Byensi said. Also, "we do a lot of lobbying with national and international non-governmental organizations to assist; and we fight against rape, corruption, and injustice through public statements and meeting concerned authorities."
As he navigates the many difficulties of peacemaking and working to make a difference in the DRC, Byensi holds fast to a treasured Bible passage. "In the midst of numerous challenges I face daily, I need a positive confession day by day," he said. "My favorite scripture is Philippians 4:13: 'I can do everything through the one who strengthens me.'"
Toya Richards owns Grace Multimedia, LLC, in Louisville, Ky., and is a M.Div. student at Louisville Presbyterian Theological Seminary.