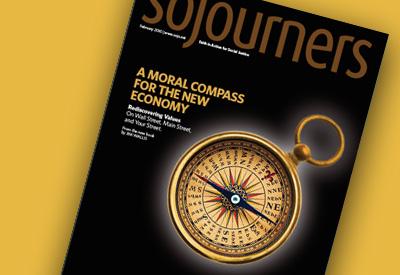 The Jewish social justice movement in the U.S. has never been more vibrant than it is today—and that's saying a lot, since Judaism is a religion of doing, not dogma. Generations of rabbis have taken their guidance from Isaiah, who suggested that Jews' religious duty is fulfilled when we "observe what is right and do what is just" (Isaiah 56:1).
How we Jews "do what is just," however, has changed dramatically in the last 50 years, and even more so in the past five. Jewish social justice, having turned outward in the 1960s, has become a grassroots, faith-based movement in the 21st century.
Jews and Judaism
This Thanksgiving, my cousin's partner, overhearing me talk about my daughter's Bat Mitzvah, asked me: "So, is Judaism a religion or an ethnic identity?" The answer is: both. It's impossible to understand Jewish social justice without understanding this dual identity.
As a persecuted people, Jews have been wary of their interactions with the larger world. Jews in America have had a clan sensibility, feeling a need to protect each other and stick together. For that reason, for most of the 20th century, almost all Jewish institutions joined into national organizations. Congregations joined together into national denominations—Reform, Conservative, and Orthodox; youth groups met under the aegis of B'nai Brith Youth; donations were collected locally but flowed into a federated system; and social outreach was organized by a system of Jewish Community Relations Councils.
When it comes to changing the world, organized Judaism in general has focused its outreach on what can be called "direct action" or "social action": soup kitchens, homeless shelters, clothing drives. Direct action allows Jews to fulfill the mitzvah or commandment of helping the needy, but does not invoke any political obligations. Direct action does not attempt to fix a system, but only to improve the lot of individuals. "Social justice," on the other hand, is the largely political effort to change the system. If direct action is about giving someone a meal for a day, social justice is about creating a country in which no one is hungry.
Jews in the early 20th century who felt limited by organized Judaism's emphasis on direct action tended to join the socialist or communist movements and declare themselves secular Jews. The Jewish labor movement of the 1920s, for example, was entirely secular. By the 1960s, Jews felt secure enough in America to not even need the umbrella of a secular Jewish movement, and simply joined groups outside the organized Jewish world. Most of the Jews joining the civil rights movement in the 1950s and 1960s did so as secular Jews, and the same is true today of the many Jews who have joined left-wing movements such as Code Pink. In short, they did Jewish social justice work as ethnic Jews rather than as religious Jews.
Heschel's Influence
The impetus for a faith-based Jewish social justice movement can be traced directly to one man: Rabbi Abraham Joshua Heschel. Having fled Nazi Germany, Heschel felt Jews could not stand by without challenging national governments. He developed a theology of social justice, using as his model Moses, who did not back down from demanding that Pharaoh free his people from slavery. Heschel befriended Martin Luther King Jr., seeing civil rights as the most important justice work of his day. He declared during the march from Selma that "our feet are praying." Heschel also was a critic of the Vietnam War and worked for economic justice at home.
Heschel has influenced all Jewish justice work since his time. Rabbi David Saperstein started an innovative program within the Reform Judaism Movement called the Religious Action Center, which remains the most significant movement-based nexus of social justice work. Mazon: A Jewish Response to Hunger, modeled on the Jewish National Fund (which sends money to Israel), also started in the 1960s. These mainstream programs, however, were the exceptions.
Most of Heschel's followers had political perspectives that frightened the organized Jewish community. Organized Judaism did not want to get involved in the Vietnam War; they did not want to challenge Ronald Reagan's trickle-down economic theory, even though more than 90 percent of Jews were and are Democrats; and on foreign affairs, organized Judaism turned a blind eye to the suffering of the Palestinian people, believing that Israel was the only sure safe haven for Jews in a world full of danger.
One response by Heschel's disciples was to challenge organized Judaism directly by creating their own national organizations. The most prominent and influential of these were Rabbi Michael Lerner's Tikkun and Rabbi Arthur Waskow's Shalom Center. Tikkun, in particular, often describes itself as the progressive parallel to the institutional Jewish world (whether that is the right-wing lobby AIPAC or the right-wing magazine Commentary).
Waskow and Lerner themselves are undoubtedly Heschel's most influential disciples, having had a significant and lasting impact on the theology of Jewish social justice—their many books have become guides to faith-based work in the Jewish community.
Paradigm Shift
Through the 1980s and 1990s, the idea of a national progressive Jewish alternative to organized Judaism held sway. Then the Jewish world changed. The 1990s witnessed the coming of age of a new cohort of Jews who were three generations removed from the Holocaust. No longer shadowed by fears of annihilation, living in a country where anti-Semitism was on the decline, these new Jews believed that escaping the past was not a sufficient basis for imagining a future.
Nor was Israel the idealized egalitarian democratic-socialist land of communal labor depicted in the 1960s and 1970s. New historians such as Benny Morris (who has since gone conservative) reminded Jews that Israel was founded on the backs of Palestinians. Anyone who travelled to Israel in the 1990s and ventured into the West Bank or Gaza could see the poverty in which Palestinians lived and the injustices to which they were subject.
Alienated by Israeli politics, young Jews either once again left Judaism for a far-left secularism or sought a new reason to embrace their Jewish roots. For many of these young Jews, faith-based social justice proved a significant draw. They interned at the RAC, attended Tikkun conferences urging a two-state solution in Israel, and began looking for Jewish ways to address hunger and homelessness. Following again in the footsteps of Heschel, they wanted to find a way to tie their activism to their religion—to be one person, to be a "Jewish activist," instead of a secular activist who also identified as a Jew. Their search was for an authentic identity, a way to express Judaism and activism at once.
For this cohort, the organizations established by Heschel's first set of followers would seem a perfect fit. However, secular culture had also undergone a significant shift in the 1990s. The world had "flattened," as Thomas Friedman had written, no longer divided into leaders and followers, but into a playing field of equals. The digital age had dawned, bringing with it new tools uniquely suited for grassroots political organizing. Rather than be satisfied with receiving marching orders from a charismatic leader, or steadily climbing an organizational ladder before making change, this new generation wanted to become grassroots activists. They wanted to make change now, and had the tools to do it.
1960s vs. 1990s Organizing
One of the best examples of the disconnect between the first and second cohorts of Jewish social justice activists can be taken from the world of Jewish environmentalism. The Coalition on the Environment and Jewish Life (COEJL) was "created and charged with catalyzing a distinctively Jewish programmatic and policy response to the environmental crisis." As a policy-based organization, COEJL was designed to inform Jewish leadership about environmental change and to offer pre-made programs for institutions. It was designed to fit into the organized Jewish world.
At the same time, Rabbi Waskow added to his vision for peace work an emphasis on what he called "global scorching." Waskow began lobbying for a global climate bill, while calling on Jewish leaders to adopt global climate change as a key element of the organized community's social justice work. To that end, he has created a Green Menorah Covenant that he encourages local congregations to sign, and has created new rituals and services focused on "climate healing."
College students interned at COEJL and participated in Waskow's rituals, but they wanted more direct involvement in change work. So, in 1999, a group of young people founded Hazon ("vision"), creating a Cross-USA bike ride to raise awareness of environmental issues in the Jewish community. A decade after its founding, Hazon has added a system of Jewish CSAs—farms providing local, organic, and kosher food; family education programs about sustainability in Jewish day schools; an annual food conference; and a set of annual fellowships.
Hazon is becoming an "institution" on its own, with paid staff and programs. Yet it is a new kind of institution for the Jewish world, as it has neither a clear niche within organized Judaism nor a primary goal to become a national organization that will challenge and change the Jewish world. Hazon's leaders are essentially uninterested in the organized Jewish world. That is something very new for American Judaism.
Local, Grassroots, and Interfaith
The new Jewish social justice groups are rooted in the local and the grassroots, and are almost all interested in interfaith work. Their model is an organization that also began in the '60s, but has not really come into prominence until recently: the Jewish Council on Urban Affairs (JCUA).
The JCUA was founded by Rabbi Robert Marx to do interfaith justice work in Chicago. He modeled it on Christian organizations, working closely with the Interreligious Council on Urban Affairs in Chicago and particularly with the Community Renewal Society/United Church of Christ. When asked about JCUA's relationship to the organized Jewish community in Chicago, executive director Jane Ramsey says, "The JCRC (Jewish Community Relations Council) in Chicago has been focused pretty closely on issues of concern to the Jewish community, like Soviet Jewry. Our agendas don't overlap." Instead, JCUA works primarily with the interfaith community in Chicago, which cares deeply about immigration reform and other issues.
In the past decade, a crop of groups like JCUA have sprung up in Jewish population centers. Each of these groups is faith-based, and firmly rooted in their local communities. In New York, Jews for Racial and Economic Justice has focused on supporting domestic workers. In California, the Progressive Jewish Alliance is running an anti-sweatshop campaign, an anti-death penalty campaign, and a gay-marriage initiative. In Washington, D.C., Jews United for Justice supports day laborers and D.C. voting rights. In Boston, an unusually proactive and community-centered JCRC is joined by the Jewish Organizing Initiative.
Rachel Biale, a regional director for the Progressive Jewish Alliance, explains that PJA is modeled on grassroots organizations. "We try to have a democratic process of engaging our members in surfacing the key issues of concern to them," Biale says. "Our aim is to connect Jews to the critical social justice issues of the day and to the life of the cities in which they live."
Some of these groups have worked with the organized Jewish community in their areas. In Boston, the JCRC has focused on outreach to the wider community with programs such as the Greater Boston Jewish Coalition for Literacy, although most of the group's programs are geared to the Jewish community.
Biale explains how PJA works with the organized Jewish community in the Bay Area: "We do not want to be seen as a group on the margin. We work closely with synagogues all over the Bay Area, but we have a foot outside the models of Jewish organizing that are part of the Jewish community. We feel that service [the heart of the organized community model] doesn't always address the core of the problem."
What leaders of these new Jewish justice organizations will never say on the record is that the core of the problem with creating a faith-based Jewish social justice movement remains the defensiveness and even paranoia of the organized Jewish community. In San Francisco, for example, an interfaith organizing project focused on obtaining health care for all Californians has had trouble attracting support from synagogues; the first to join was the LGBT synagogue Congregation Sha'ar Zahav, followed a year later by Sherith Israel. Meanwhile, more than 40 churches have signed up, including the Archdiocese of San Francisco. Boston, with its history of activism, had more success: There, synagogues joined with the Greater Boston Interfaith Organization to push through Massachusetts' widely praised health reform.
Organized Judaism is still afraid of political entanglements, especially involving Israel/Palestine. In San Francisco, the leader of the Jewish federation, Daniel Sokatch, quit after fighting with his board over his support of frank discussions about Israel. Even though all of the U.S. Jewish justice groups believe the Israel/Palestine struggle is a key Jewish social justice issue, none of them have made it a centerpiece of their work. The reason is that Israel is such an emotional trigger in the Jewish community that having a position on that struggle will eclipse anything else an organization attempts to accomplish. Jewish activists have decided it makes more sense to create progressive national organizations that only focus on the Israel/Palestine situation (see sidebar), leaving local organizations to retain their focus on local social justice issues.
The largest question facing the new Jewish social justice movement is how they should approach national domestic issues. Since their goal is to change policy, they are quickly realizing that some of their work—on immigration reform, for instance, or health care—may need to be done at the national level. Organized Judaism has that kind of national network in place, but except for the Religious Action Center in the Reform movement, does not have the will to do the work.
Jewish justice organizations have talked about ways they could link their networks to support larger actions while preserving their independence to act in concert with the needs of their local activists. The way forward is not yet clear, but that, given the history of Jewish justice work, may be a hopeful sign.
Jo Ellen Green Kaiser
is the editor-in-chief of
Zeek: A Jewish Journal of Thought and Culture
(www.zeek.net) and is a co-editor of
Righteous Indignation: A Jewish Call to Justice
(Jewish Lights, 2008). She is former senior editor of
Tikkun
magazine.
-----

J Street Shakes Things Up
There's a new 'pro-Israel, pro-peace' force on Capitol Hill.
It has been around for less than two years. But "J Street," which bills itself as a "pro-Israel and pro-peace" organization, has already made a big splash in Washington.
Why the fuss? Because, for the first time ever, a pro-Israel Jewish organization convened in Washington, D.C., not in support of the Israeli government's policies but in opposition to them. Additionally, it will raise money to support friendly politicians and to defeat Middle East hawks.
J Street opposes the occupation and supports a Palestinian state. It wants the U.S. government to push hard for an immediate settlement freeze as a prelude to full-scale negotiations. It believes that supporting Israel means not obstructing efforts to achieve a viable Palestinian state, but promoting them.
J Street has already made itself a force in Washington. Its first annual convention in October 2009 attracted 1,500 supporters from around the country. Gen. James Jones, President Obama's national security adviser, addressed the crowd and said that he stood with J Street. One hundred and forty-eight members of Congress endorsed the conference, while 44 came to the dinner on the last night. The media was in attendance in full force and coverage was extensive and positive.
But the big question is what happens next. Now that it is clearly on the map, will J Street retreat to a safer position or hold firm? After all, it is being denounced by both the traditional Israel lobby and by the government of Israel (the Israeli ambassador boycotted the event, unlike the Jordanian ambassador, who came and delivered an address).
So what is on J Street's agenda now?
It wants to support President Obama in his pursuit of Israeli-Palestinian peace. It wants to support Obama's push for a settlement freeze and his determination to mediate between Israelis and Palestinians, rather than just be the Israeli government's "yes man."
But it cannot effectively do that unless Obama has the will to take the actions J Street wants to support. After all, supporting Obama's policies doesn't mean anything if Obama's policies are weak or inconsistent. Unfortunately, right now Obama seems unwilling to push hard for his own policies.
That is why J Street's next task is to get a clear message to the president that there is a growing American constituency that is determined to be as effective in supporting politicians who promote peace as the old lobby has been in working against them. And that means that J Street has to raise the funds to protect pro-peace incumbents and candidates with as much skill as the other side employs in raising funds to reward its friends and defeat its enemies.
J Street understands that. It is idealistic, but it is not mushy-headed. It will do whatever it takes to prevail. That is why opponents of Israeli-Palestinian peace are so worried—and why the rest of us should celebrate its success.

MJ Rosenberg, former director of policy analysis for the Israel Policy Forum, is senior fellow at the Media Matters Action Network.