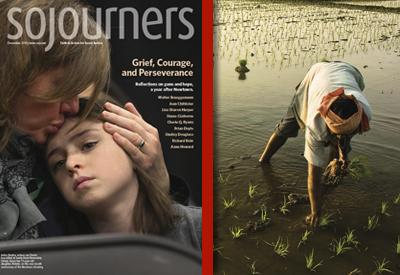 "WE WANT FARMERS to rediscover the sacredness of farming," says Rev. Daniel Premkumar. Premkumar's respect for farmers and farming grew from his experience of serving for nearly 40 years as a Lutheran parish priest in Andhra Pradesh, the "rice bowl" of India. "We have forgotten that the people who grow our food play a critical role in the care of creation," he says. "That is why we are creating a farmers' Bible."
We sat in his office at the Synod of the Church of South India, the largest Protestant church in the country, in Chennai. The church includes 10,000 Protestant congregations (Presbyterian, Congregational, Reformed, Anglican, and Methodist) across South India. Rev. Premkumar is now director of diaconal concerns for the church, and he is advancing the concept of agri-ministry, which views agriculture as a form of ministry and upholds the need for church ministry to directly address the concerns of farmers. He created the Agricultural Workers Fellowship (AWF) in 2011. A small AWF workshop where theologians and farmers came together to discuss agricultural perspectives on biblical passages led to the idea of a book offering a reading of the Bible from the farmers' perspective. They hope this book and a farm workers' devotional guide will be finished by 2014.
The initiative to spur the church to explicitly integrate faith and agriculture comes at a time when food and farming in India—and globally—is at a critical juncture. Will India follow the United States in relying on genetically modified crops, monoculture, inorganic and unsustainable farming practices, and the corporatization of agriculture? Or will it restore farming as a livelihood, emphasizing safe food and healthy soil and water?
Agriculture has been the backbone of the Indic civilization's economy and social engagement and her people's faith experience for the past 5,000 years. According to Raj Supe, co-founder of the Foundation for the Contemplation of Nature, "farming as a sacred activity has been a central belief of Hinduism right from the very beginning. That's the reason Vedic learning was done in forest universities, ashrams are laid out on green acres, and Indian temples have their own orchards." The sacredness of farming was also present in India's Christian community, probably from the time, tradition holds, that St. Thomas began evangelizing in Kerala, India.
Older church members recall an era when Christians held farming in higher esteem. However, India's industrialization and urbanization—and the impact of the U.S.-influenced "Green Revolution," with its emphasis on pesticide-heavy, mechanized approaches to agriculture—contributed to farming losing its cultural and religious significance.
The growing cultural rift between food, cultivation, the environment, and the sacred are also a denial of the reality of many congregation members' daily lives. Today almost 70 percent of Indians still live in rural areas. Although agriculture contributes less than 20 percent to the nation's GDP, it continues to provide livelihoods for the majority—close to 60 percent—of the people.
"Too many people no longer appreciate farming," says Premkumar. "They think comfortable city jobs are better than being on the land. Even farmers themselves do not recognize the value of the work they do in the eyes of God."
This has substantial consequences for environmental and human health. The loss of farmers' dignity goes hand-in-hand with corporations taking control of food production and care of the earth. U.S. companies Monsanto and DuPont have been pushing genetically modified (GM) crops. India ranks fifth in the world for acreage devoted to GM crops, with 6.2 million hectares. (The United States is first.) Pesticides are used at rates far higher than is acceptable in Europe or the U.S. As eating patterns change, India has surpassed the U.S. as the "diabetes capital" of the world. Natural habitats are being lost at alarming rates. Agricultural biodiversity has decreased significantly, a detriment to overall environmental health. Traditional cultivation practices are quickly fading from farmers' memories. Burdened by patterns of heavy indebtedness, small-scale farmers face substantial stress in a career that can be uncertain at the best of times. According to a major study in the U.K. medical journal The Lancet, there were 19,000 farmer suicides in India in 2010 alone. Even when farming pays more than urban jobs, many young people choose the urban jobs because of perceived comfort and social status.
Churches in India—as in the U.S.—have often been silent bystanders to this process.
The Church of South India's new "farmers' Bible" offers an opportunity for the church to be more actively engaged in food, farming, and the well-being of farmers. It will integrate biblical passages, advice on organic farming, information on dealing with suicidal tendencies, and healthy nutritional tips. The book will be informed by a team of pastors, theologians, farmers, and experts in agricultural biodiversity, climate change, and organic agriculture.
Theologian George Zachariah at United Theological College in Bangalore, while not a member of the Church of South India, is an active "guest" in the process. He feels this project is significant, especially for the Dalits ("untouchables" in the caste system) who make up 70 percent of the Christian population in southern India.
"Landless agricultural workers, who are mostly Dalits, have no other option but to work the land," says Zachariah. "As the prophet says, they cultivate, but they do not eat. The new Bible is not going to change the destiny of these people. But it will certainly create a different understanding in the minds of Christians who will seriously engage with it. We will try to categorically affirm that the biblical vocation of human beings is to be farmers: to serve the earth, to till, and to keep (Genesis 2:15). Hopefully, that will create better understanding about the crisis of agriculture and poor peasants."
"This endeavor honors farmers," says Premkumar. "As much as we are looking forward to gaining suggestions from experts, we also want to emphasize the farmers' expertise. We have had and will have farmers involved through the whole process."
This is not Premkumar's first experience with a specialized take on the Bible. In response to a young man's death from AIDS, he compiled Ronnie's Bible, with Bible passages, reflections from the perspective of a person with HIV, and nutritional and health advice.
AS A RESULT OF the Agricultural Workers Fellowship, villagers are already reading the Bible with a farmer's perspective. From the high mountains of the Western Ghats to the plains of Andrah Pradesh, small groups of farmers are getting together to share about the Bible and their vocation. They highlight that the Bible begins with the creation of water and land, essentials of farming. Jesus declares that "My father is a vine-grower" (John 15:1), which suggests the importance of farming.
Rev. D.G.A. Thomas, who has been an active part of these gatherings in Tamil Nadu, India, says that the farmers gain tremendous support from these gatherings. "Farmers tell me that they had not appreciated their own work as being part of their Christian faith as much as they do now," Thomas says. "But it is not just farmers. Other people, including shopkeepers and teachers, come to have a greater appreciation of farmers too, and they start treating farmers better in the community. That's important for us."
In Thomas' diocese, 70 to 80 percent of the population works in agriculture. Of the 550 churches in his diocese, 250 have daily services. The Workers Fellowship is reintegrating communal prayer into these daily services and into farming patterns. He notes that "before mechanization, there used to be morning services for farmers—at 5 a.m., 6 a.m., they would say a service to bless their work that day. But now, people come to church only on Sundays. Worship becomes separate from the rest of their life. [With the new fellowship] some of our parishes are offering early morning blessings of the farm work."
The new farmers' groups, including groups for women and youth, are gaining popularity. They seek to fully embed the church into the farming life, and vice versa. Active members of the fellowship are working on liturgies, Bible lessons, worship services, and folk songs that celebrate farming; training centers for youth and women; and celebrations around the harvest and other important times. They hope to bring pastors fresh from seminary into these communities for at least a week to learn about farming as an aspect of Christianity. They would like to see advocacy groups campaigning for agriculture policies more favorable to small farmers, rejuvenated water bodies in the village, and renewable energy on farms. Their vision of the Agricultural Workers Fellowship proposes that the Pentecost spirit is ready to "descend on the farm world of today ... speaking out the groans of the women farm workers who receive lesser wages than their male counterparts and to echo the lament of the landless."
Premkumar also sees the interfaith potential of this work. He points out that "in the fields, Hindus and Christians often work together. We need to get out of the churches and go into the fields and be with the farmers and the laborers."
The Church of South India's initiative occurs as Hindu and other religious leaders are increasingly returning to the importance of sustainable agriculture. Hinduism Today describes one respected venture in natural farming that has a Hindu temple on site, and another farm run by Ashok V. Sanghavi, a Jain, that hosts the local Jain society for worship. Says Sanghavi, "A farmer is performing his dharma when he engages in agriculture, not just making a profit. Through agriculture we serve the animal kingdom, we serve humankind, and we serve the environment."
IN INDIAN POLICY and intellectual circles, sustainable agriculture is growing in importance, especially in the midst of climate change. Increasingly, state governments are incorporating organic farming and sustainable agriculture techniques in their policies. Dr. Vandana Shiva, one of the country's leading spokespeople for non-GM seeds and sustainable agriculture, believes that Indian agriculture could become completely organic within the next two decades. However, as demonstrated by the current fight over the Biotechnology Regulatory Authority of India Bill—which would shift from a cautious approach to GM crops to promoting them—there is still a long way to go to reclaim the sacredness of farming.
"It hasn't been easy," Premkumar says. "For decades, the church has gone along with society and ignored farming. Now we want to bring dignity to farmers, to agricultural workers, and to the land itself. We are pushing organic farming as much as possible. There needs to be a lot more training on organic farming and crops that are good for drought, such as traditional varieties of millets. The church is often unaware of the importance of these issues in the lives of the people."
Reclaiming the sacredness of farming helps restore right relationship between humans, the earth, and God. Doing so challenges multiple dimensions of unsustainability, from the corporatization of farming to distorted visions of the "good life."
For the ordinary farmers involved in this initiative, one thing has already changed: They know their work is sacred. They are starting their work with prayer, blessing their seeds, and in their own way charting a path to reclaim the sacredness of cultivating the holy land in which they grow our food.
Sara J. Wolcott, a consultant on sustainability and spirituality, is a seminary student at Union Theological Seminary in New York. She has worked with the Institute for Development Studies at the University of Sussex and in India.