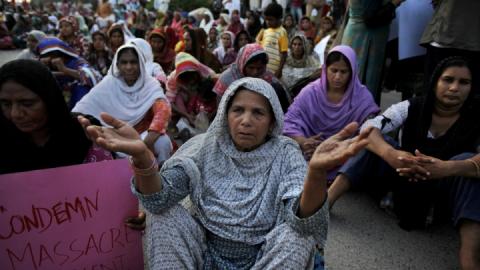 MY HEART WAS broken when I got the news on a Sunday in September: All Saints Church in Peshawar, Pakistan, had been attacked by two suicide bombers just after the Sunday service, as worshippers filtered out of the sanctuary. Eighty-five people were killed, including 34 women, seven children, and two Muslim police officers there to provide security. Later reports said the bombers were Sunni extremists.
In 1976, I was honored to start Youth for Christ in Peshawar. There were few Christians in this area near the Afghan border; Peshawar was not and is not a big town. Undoubtedly, some of the adults in and around the church when it was bombed were people I had met decades earlier.
News of the bombing confounded my memory of Peshawar 38 years ago. Religious plurality then was not perfect, but it was in great contrast to today. Christians, though few, served the Lord with some freedom. Youth for Christ held open-air rallies in the park, amplified by public-address speakers, with young people singing Christian songs with Bible messages to be heard by anyone within earshot. No security was needed, and truth be told both Muslim and Christian youth were in the audience and the choir.
The start of the second Gulf war in 2003, and subsequent military actions, changed everything. Reports say the church bombing in Peshawar was in retaliation for U.S. drone strikes that killed innocent men, women, and children, along with suspected terrorists, in that part of Pakistan. Peshawar is strategically located on the border with Afghanistan, not far from the famous Khyber Pass and only about 125 miles from where Osama bin Laden was killed.
Christians are a minority in Peshawar. However, they excel now, as they did when I was there, in providing the most professional and compassionate medical treatment in the region. Pakistani Christians in Peshawar continue to have the best hospital and regional clinics in the area, serving the majority Muslim population as well as all minorities.
The Church of Pakistan (formed in 1970 as a union of Anglicans, Presbyterians, United Methodists, and Lutherans) and its diocese of Peshawar support two mission hospitals, located in Bannu and Peshawar, two mother-and-child centers located in the nearby towns of Risalpur and Dera Ismail Khan, one center for the mentally and physically challenged in Peshawar, and a hospital in the city of Tank that serves the nearby tribal area of Waziristan.
Most of the young people that made up Youth for Christ in the 1970s were the children of employees of these medical institutions, or those children's friends from school. They were bright, well-educated, enthusiastic followers of Jesus. No doubt some of them or their families died or were injured in this September's cowardly attack.
Prime Minister Nawaz Sharif said of the attackers, "Terrorists have no religion, and targeting innocent people is against the teaching of Islam and all religions." In subsequent weeks, additional bombings targeted Peshawar's market and a health clinic preparing for polio vaccinations.
May God bless our brothers and sisters in Pakistan who, despite the loss of children, mothers, fathers, and grandparents, continue to serve all in the name of Jesus. Blessed are the peacemakers in Peshawar—we love you, suffer with you, and salute you for your faithfulness. Lord, allow us to learn from their example.
Leonard Rodgers is facilitator for the Middle East and North Africa at Global Initiatives, Inc. He previously worked for Venture Middle East, Evangelicals for Middle East Understanding, World Vision, and Youth for Christ.