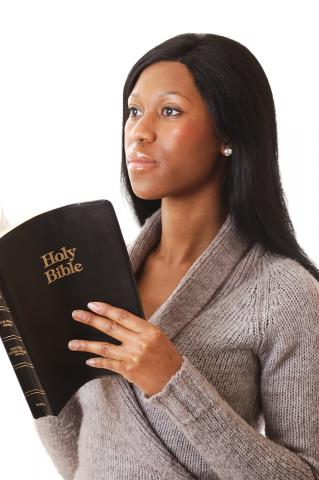 IT IS EASY, and a lot more comfortable, to identify and name dysfunction outside your family. It's an entirely different endeavor, however, to label inappropriate behavior in your own home.
That's the situation I find myself in as a lifelong member of the black Baptist tradition—one that, by and large, refuses to ordain women ministers and call them into the pastorate. I can no longer keep silent. My spirit won't let me be quiet about a system where injustice is nurtured.
Women are the backbone of African- American Baptist congregational life, yet they traditionally have been blocked from ordained ministry. I've watched this for years in Kentucky where I was born, raised, and currently live; experienced it in other places where I have resided; and heard the same story from Baptist female colleagues in ministry around the country. The same is also true in many white Baptist congregations, such as those affiliated with the Southern Baptist tradition. But I'm speaking here about the world I know personally.
Ironically, some of these black congregations and pastors who are unwilling to honor God's call on the lives of women seeking ordination are the same ones who are quick to name a plethora of injustices perpetrated against black people as a race, and to demand quick resolution.
Doors for women called to preach the gospel of Jesus Christ have opened a little in recent decades. More women are being licensed, the precursor to ordination in the Baptist structure. But the process usually stops there, and women are left patiently waiting to be blessed into the fold. These "ladies in waiting" are allowed to lead ministries, teach, and occasionally preach, but rarely permitted to go beyond that.
The stated reasons for excluding women include a particular scriptural interpretation that disallows women as church leaders, and a history and practice that simply has never seen women ordained. Some pastors claim that Baptist polity dictates that one is only ordained when called to a pastorate. Yet they fail to point out the frustrating irony of a situation in which women may be called by God but are excluded from the pulpit-filling process.
Although a handful of black Baptist women have been allowed into the club after adequate grooming, in general women are simply not welcomed into the candidate process for head pastor positions. The entire situation, in my view, is unacceptable, particularly when one considers the fact that black Baptist women are answering the call to the gospel ministry in droves, and entering seminary as a result.
What, then, needs to happen? The first step is to name the elephant in the room. Those of us who live inside the tradition, and even those outside, must call out the dysfunctional behavior and explore the "how and why" of the matter.
Second, churches and pastors must be Christ-like agents of change and transformation in this area. Pastors comfortable preaching about the boldness of the apostles must put action to their words and buck a system that prevents an entire group of people from fully living into the call God has on their lives.
I am grateful that my congregation, of which I am a fairly new member, has a history of ordaining women ministers—driven, in part, by its independent spirit. I am scheduled to be ordained in December. Yet I remain troubled by the throngs of other Baptist congregations and pastors in my community, my state, and my country who refuse to do more to support called women in their midst.
I am no longer comfortable remaining silent on this issue. I eagerly await news that change is taking place. Let it be so!
Toya Richards Jackson is a licensed Baptist minister from Louisville, Ky. She holds a Master of Divinity degree from Louisville Presbyterian Theological Seminary and is the owner of Grace Multimedia, LLC.
Image: Woman with a Bible, Dennis Owusu-Ansah / Shutterstock.com