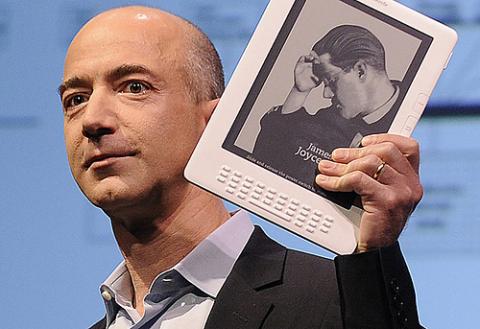 "I think it would be fun to run a newspaper."
THE QUOTE IS from Charles Foster Kane, the character based on William Randolph Hearst in Orson Welles' 1941 classic Citizen Kane. But it could have been Amazon kingpin Jeff Bezos this August when he bought The Washington Post. What can you get for the man who has everything? Maybe he'd like a newspaper to play with, preferably one with global political clout.
Unlike Charles Foster Kane or Rupert Murdoch, Bezos seems disinclined to monkey with the content of the Post's coverage. His business interests may require certain government policy directions—i.e. free trade and no unions—but on those questions the Post is already with him. They differ on net neutrality (the concept that providers of internet access should not be able to discriminate against or give preference to specific internet service or content providers), so that will be one to watch. But Bezos comes to the Post saying he essentially agrees with the paper's politics. In fact the Post's reputation as a credible voice for corporate centrism seems to be a large part of what Bezos wants for his $250 million.
This may explain why Bezos, a titan of the rising digital world, would weigh himself down with an ancient "legacy" institution. It's an old American story. When you get rich enough (Bezos' fortune is estimated at $27 billion), you don't want more money, you want power and respect. The same process played out with the robber barons in the last century. It's just that today the evolution happens much faster. It took three generations for the Rockefellers to go from oil tycoons to philanthropists and politicians; contemporary barons such as Bezos and Bill Gates have made the switch within a couple of decades.
In addition, Bezos' business history makes him a logical candidate to guide a news company's inevitable transition out of the dead-tree era. Remember, Amazon's sales and marketing are all digital, but the company is still grounded in the analog world. It has a global network of warehouses and trucks organized to deliver physical products to your doorstep and its own print-on-demand operation to generate some of those products. At the same time that Amazon is staking its corporate future on the Kindle tablet and digital content, it is continuing to build warehouses and print books. That's the "both-and" strategy that a big newspaper like the Postneeds, and it requires Bezos' deep pockets to pull it off.
In his first extensive comments about the future of the Post, made in early September, Bezos baffled some prophets of the digital age when he insisted that the Post has a future in selling a daily digital bundle of information and analysis, analogous to the bundle it now delivers wrapped in a plastic bag or a rubber band. The consensus among internet soothsayers sees the news business of the future running more like iTunes, selling singles (i.e. individual articles) rather than albums (a carefully compiled, complementary collection of stories).
The difference in vision isn't really all that mysterious. iTunes is the smart phone model for the future of news, but Bezos is selling Kindles. I think Bezos sincerely does want to preserve the experience of sitting down and reading a high quality, professionally edited newspaper, but he also wants you to have that experience on one of his devices, not Apple's. And for the Kindle to beat the iPad, it needs to offer a better package of content—from news to streaming music and movies.
It's nice to think that corporate giants may get into a bidding war over journalists and artists, but don't kid yourself. There will never be any ideas in Bezos' bundle that would seriously challenge the future of the corporate world order.
Danny Duncan Collum teaches writing at Kentucky State University in Frankfort. He is the author of the novel White Boy.