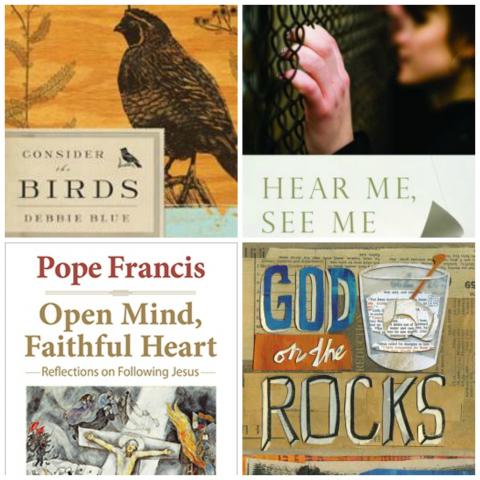 THE DAYS shorten and the scriptures get wild and woolly and Advent begins. Meanwhile, the secular holiday season builds in a frenzy of car commercials (does anyone really get a car for Christmas?), sale flyers, and often-forced cheer. Here are a few books—memoirs, spiritual writings, and art—that can be interesting, grounding, and inspiring companions for a complicated time of year. (They also are much easier to wrap than a car.)
LIFE STORIES

Good God, Lousy World, and Me: The Improbable Journey of a Human Rights Activist from Unbelief to Faith, by Holly Burkhalter. Convergent Books. Decades in political and human rights work convinced Holly Burkhalter that there couldn't be a loving God—until she became a believer at age 52.
Hear Me, See Me: Incarcerated Women Write, edited by Marybeth Christie Redmond and Sarah W. Bartlett. Orbis. I was in prison, and you listened to my story. Moving works from inside a Vermont prison.
God on the Rocks: Distilling Religion, Savoring Faith, by Phil Madeira. Jericho Books. Nashville songwriter, producer, and musician Phil Madeira offers lyrical, wry observations on faith and life, from his evangelical roots to musing on a God who "knows she's a mystery."
My Bright Abyss: Meditation of a Modern Believer, by Christian Wiman. Farrar, Straus and Giroux. Wiman, a poet and the editor of Poetry magazine, tells of his harrowing illness and a return to faith.
The Geography of Memory: A Pilgrimage Through Alzheimer's, by Jeanne Murray Walker. Center Street. A moving, honest, and often surprisingly hopeful account of a writer and her sister accompanying their mother as she experiences dementia.
SPIRITUALITY

Return to Our Senses: Reimagining How We Pray, by Christine Sine. Mustard Seed Associates. Creative ways to refresh your prayer life and find delight and God's presence in your daily surroundings.
The Showings of Julian of Norwich: A New Translation, by Mirabai Starr. Hampton Roads. A fresh rendering of a 14th-century mystic's vision of God's tender love.
Consider the Birds: A Provocative Guide to Birds of the Bible, by Debbie Blue. Abingdon. These biblical meditations with wings offer rich spiritual, as well as ornithological, insights.
The President's Devotional, by Joshua Dubois. HarperOne. Daily scripture, musings, and prayers that transcend politics.
A Prayer Journal, by Flannery O'Connor; edited by W.A. Sessions. Farrar, Straus and Giroux. Recently discovered journal entries by the great Catholic fiction writer when she was in grad school, showing both her trademark wit and youthful vulnerability.
Open Mind, Faithful Heart: Reflections on Following Jesus, by Pope Francis. Herder & Herder. Writings that reveal then-Archbishop Jorge Mario Bergoglio's passion for pastoral ministry and Jesus.
FRESH VISIONS

Sister Wendy on the Art of Christmas, by Sister Wendy Beckett. Franciscan Media. A hermit and art expert shares her keen, gentle vision.
Coffee with Jesus, by David Wilkie. IVP Books. Meet the clip-art Savior who has your number.
Controversy and Hope: The Civil Rights Photographs of James Karales, by Julian Cox with Rebekah Jacob and Monica Karales. University of South Carolina Press. These powerful historic images are at turns intimate and iconic.