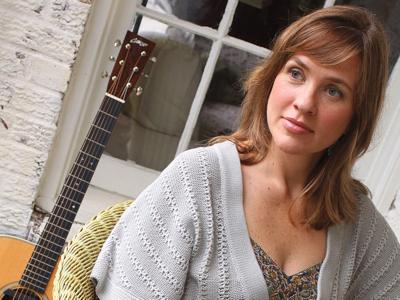 SINGER-SONGWRITER Caroline Herring was completely naked when she truly found God.
Straight out of college, she spent three months as a missionary in China. "I was so ill-equipped," she says now, over tea just before a show in Knoxville, Tenn. "The program was respectable—we weren't Bible smugglers, but obviously we had an agenda."
One of her students—a woman who had journeyed seven hours to attend English classes Herring was teaching with her fellow missionaries—took a liking to her and asked if she would leave the comfort of her air-conditioned room (with a private toilet) to join her students at the dirty, crowded bath-house, outfitted with several spigots in the ceiling. Herring believes it was a way to welcome her into their fold.
"And I felt like I was a part of humanity for the first time in my life," Herring says, her face suddenly luminous. "My preconceived notions about the Trinity just slipped away. It was too much to comprehend, but I knew that the Holy Spirit was moving amongst us because we were people together, being kind to one another."
Herring, now 42, says the experience changed her life. She left China a different, humbled person, with whole new ideas about what God, religion, and service were.
"I knew for sure that I had a lot more to figure out about my own place in the world before I had the audacity to spread the word of Christ across the globe," she says.
Several years later she wrote a haunting song called "China" that recounts the experience. "The father and the son left but the holy dove stayed / maybe clouds parted and the curtain was torn / but I was naked as the day / the day I was born," the song goes. It appears on her 2010 EP, Silver Apples of the Moon.
After returning from overseas, Herring attended graduate school at the University of Mississippi in Oxford in Southern studies. Her epiphany in China had caused her to see the world in a new way and perhaps solidified her feelings of frustration about the racial inequality she had witnessed her entire life. She says her initial desire during her graduate studies was to find "a white person who claimed Christianity and had also fought against legal segregation." At that point in her life, she didn't know a single person who fit the description.
"I grew up in a highly segregated society, and it caught my eye at a young age and bothered me greatly," she says, speaking specifically of her hometown, Canton, Miss. "I've wanted to right those wrongs ever since I first realized it. It hit me that the world was a damaged place, especially where I lived."
Herring says her station in life has always made her feel guilty. "I grew up in a society where, because of my color and class, I was totally privileged, from my mother's prenatal care to my education to my opportunities." She sets down her cup of tea, glances out the large storefront window, visibly upset. "And a block away people lived in utter squalor. You could accept it or willfully ignore it. I don't know why so many people willfully ignore it."
Herring had to find a way to stand up for what she believed in, and she eventually realized that music was her outlet. After completing her graduate degree, she gradually fell into music and released her first album, Twilight, in 2001. After a stint in Austin, Texas, where her music really found its footing, she now makes her home in Atlanta with two small children and her husband, Joseph Crespino, a respected historian and author.
Signature Sounds Recordings has just released her sixth full-length album, Camilla, a harrowing collection of songs that has garnered rave reviews from places such as USA Today, Paste magazine, and The Independent in the United Kingdom, where her fan base is growing steadily after appearances on the BBC and in other venues.
This album arguably establishes her as the social justice singer-songwriter of her generation. She has been compared to folks like Lucinda Williams, Joan Baez, and even Mozart for her finely crafted compositions. Of that amazing trio she is most like Baez in her dedication to telling the stories of the people and tackling religious and social issues. The major difference, however, is that while Baez occasionally wrote her own songs, she was best known as a songcatcher. Caroline's tightly written compositions are her trademark.
Her songs are not only moving and powerful; they are also brave—perhaps most noticeably with her modern murder ballad, "Paper Gown," which recounts the story of Susan Smith, a 23-year-old mother who drowned her own children in 1994 and blamed the crime on an African-American man who didn't exist. Yet Herring portrays Smith in a complex, compassionate way, walking the fine line of not defending her, but still giving her grace. "Her stepfather was one of the heads of the Christian Coalition, and he molested her from age 15 until weeks before she murdered her boys," Herring says. "So she combines the worst of the worst in issues of women, race, Christianity. But, she's a human being and all human beings have a story, and they deserve to be heard."
Each of Herring's songs is an intricate portrait of the human experience, often illuminating folks whose stories have been lost due to race, class, or gender. Although this theme is woven throughout all of her work, it comes to the most perfect fruition on Camilla.
On that album there are songs like the title track, about Marion King, a black woman who was beaten unconscious by police officers in Camilla, Ga., in 1962 while standing outside a jailhouse where she was trying to visit a friend's daughter. King was almost six months pregnant and had her three small children with her. She miscarried because of her injuries.
"She deserved a song," Herring says. "Her story matters."
There is also "Black Mountain Lullaby," which recounts the true story of Jeremy Davidson, a 3-year-old boy who was killed by a runaway thousand-pound boulder dislodged from a mountaintop removal site in Appalachia, Va., in 2004. His story wasn't national news, perhaps because of his class. The song is told from the point of view of the child's mother.
But all is not despair on Camilla or in Herring's music. There is also the mesmerizing "Maiden Voyage," which recounts Herring's own story of taking her then-4-year-old daughter to President Obama's inauguration despite the masses of people and the frigid weather. "I knew it was important for her to witness history like that," Herring says. But the song is even more layered than that, speaking to issues of immigration and privilege. "Summer Song" shows that often the truest path to God is through nature, a theme that also shows up in "Until You Go," a treatise on the beauty and dignity of death that contains some of her best lyrics ("Here in the wilderness/I feel a tenderness"). There's also "White Dress," the empowering tale of 24-year-old Mae Francis Moultrie, the only African-American female on the original Freedom Ride bus in 1961, who survived a vicious bus fire-bombing and was given water by a young white girl; the driving banjo of "Fireflies," a look at joy in the face of adversity; an amazing and obscure 1840 hymn called "Flee as a Bird"; and much more.
Throughout her career Herring's songs have always fought back quietly, although she is careful to point out that she doesn't see herself as "a crusader" with an overt mission. Yet standing up for those whose voices are often suppressed is what Herring does again and again in her music, whether it be her cover of the gay anthem "True Colors" (which will soon be featured in the documentary The Campaign, a film about California's controversial Proposition 8) or her compositions that paint vivid pictures without beating the listener over the head with their stories of gender inequality, racism, and other potent issues.
Within each song there is hope, defiance, dignity, grace—the true markers of a songwriter whose oeuvre could serve as the soundtrack for the social justice movement.
Along the way, Herring says that music has continually worked for her as a way to worship and to serve others. She is an active member of her church and strives to be a part of the social justice movement in a variety of ways. She's proud to have worked with the Open Door Community, a residential group in the Catholic Worker tradition that fights for equality and justice in areas of race, class, and sexuality, focusing in particular on the homeless and the imprisoned. Herring recently performed for those living at the Open Door and was very moved by their commitment. She is anxious to do more with them in the future.
Herring knows that she can be of most use through her music.
"My main goal is to be a truth-teller in my songs," she says, taking one final swig of Earl Grey before slinging her guitar over her shoulder and walking in her sure-footed way to her venue in downtown Knoxville for a sound check. "That's what I'm supposed to be doing, and I feel like God is pleased when that's what I'm doing, and that's a good feeling. I enjoy doing my part."

Silas House is the bestselling author of five novels, most recently Same Sun Here (co-written with Neela Vaswani). He serves as the National Endowment for the Humanities Chair at Berea College.