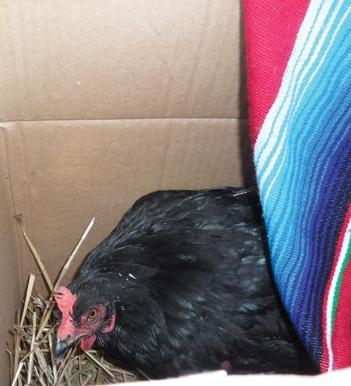 HILDEGARD BLEW in on a late summer storm. Sleek and ebony, eyes a bright chatoyant gold. Between the Supercans and downed tree limbs, she was scratching up worms, plucking at bugs. In this nation's capital of a little more than 600,000 souls, a loose hen was highly unusual—but there she was, in all her Gallus gallus domesticus glory.
Of course, she didn't arrive with the name Hildegard. And certainly not Hildegard von Chicken, after a favorite Rhineland mystic. That came later. After she'd been interviewed and photographed for the DCist news blog; after she'd become a destination point for recently migrated hipsters; and after a woman running for local office asked if she could take Hildegard on the campaign stump to make her candidacy "more memorable."
Hildegard received her name after a chance encounter with La Señora at the 11th street bus stop. "I rescued a chicken," I told her. "What color?" she shot back.
La Señora is in her 70s and from Paraguay. She is knowledgeable about many things. "Black ... with a green undersheen," I said. "This is very good. You have most likely rescued it from a religious ritual where it would be sacrificed for evil intentions." "Wow!" I replied. "What should I do?" La Señora stared at me a moment: "You must pray the rosary with the chicken. Hold her and pray the rosary."

THIS WAS THE series of curious events that led to my being perched on porch steps on a hill in the imperial city of Washington, D.C., holding my grandmother's rosary and praying with a chicken, whose name I decided should be Hildegard, "Sybil of 11th Street," because she was consulted by so many of high and low estate.
Looking at the rooftops, with a warm hen under my arm, I remembered Jesus' heart-rending plea over another empire-ridden city and its powerful leaders: "Jerusalem, Jerusalem, killer of prophets, abuser of the messengers of God! How often I've longed to gather your children, gather your children like a hen, her brood safe under her wings—but you refused and turned away!"(Luke 13:34).
This prayer and curse comes in the context of reports that Pontius Pilate had sent in troops to violently suppress a group of Galilean protesters, effectively mingling "their blood with their sacrifices" (13:1). Jesus juxtaposes this with another recent news flash: the collapse of a tower near the pool of Siloam that crushed 18 people who had come to bathe in its fresh "living" water (13:4). Jesus calls out to the crowd: "In either case, do you think these people died because they were more sinful than you? No! But they died suddenly—in Galilee and Jerusalem—before they could make their peace with God. Unless you turn your life around now, you'll end up just like them."
This is Jesus "setting his face" toward Jerusalem. Mixing preparation for his own death with imagery of a mother hen protecting her newborn chicks from all threats, ready to risk her life for their salvation. "This is no time for a child to be born / With the earth betrayed by war and hate," writes Madeleine L'Engle in her poem "The Risk of Birth."

NOW IT IS late in the year. Chicken-bearing summer storms are past. Advent is coming. Soon we will hear about the "refiner's fire," "fuller's soap" (Malachi 3:2), and a prophet who "shall execute justice and righteousness in the land" (Jeremiah 33:15). Hildegard has moved to a rural West Virginia retreat center, where she too must beware of that "fox" Herod. And I'm still brooding over the souls of my city, thinking about drone strikes, prophets, and "the things that make for peace." Wondering if I'm ready.
L'Engle concludes her poem with the only question worth pondering: "When is the time for love to be born? / The inn is full on the planet earth, / And by a comet the sky is torn— / Yet Love still takes the risk of birth."

Rose Marie Berger, author of Who Killed Donte Manning? (available at store.sojo.net), is a Catholic peace activist and a Sojourners associate editor.