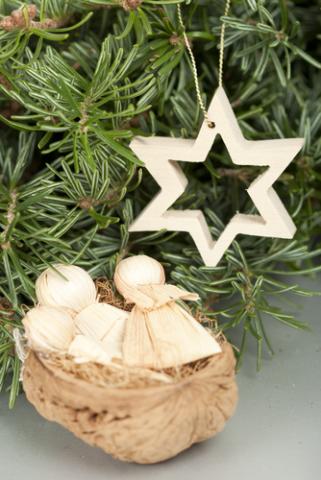 "TAKE OFF THE garment of your sorrow and affliction, O Jerusalem, and put on forever the beauty of the glory from God. Put on the robe of the righteousness that comes from God; put on your head the diadem of the glory of the Everlasting" (Baruch 5:1-2). We might occasionally hear in church a prayer that makes passing use of the phrase "the beauty of holiness," but it can't be claimed that we are helped very often to feel that the contagious goodness of God is absolutely lovely, alluring, and attractive. We are called to be beautiful human beings. Christians who are deeply serious about social justice, who carry the burden of the world's brokenness in their hearts, who are committed to political dissent, probably need this reminder most of all. We can hardly be agents of change if our faces are disfigured by disgust and anger.
Advent may be an especially important time to listen carefully for the Word who summons us to be walking sacraments of God's radiant beauty. Paul will speak to us about having joy in one another and clothing ourselves in love. We are meant to fill our imaginations in these weeks with the sight of Mary in the radiance of her final days of pregnancy. Doesn't her beauty lend all the more power to her proclamation, "[God my savior] has brought down the powerful from their thrones, and lifted up the lowly; has filled the hungry with good things, and the rich sent away empty" (Luke 1:52-53)?

Martin L. Smith, an Episcopal priest, is an author, preacher, and retreat leader. His newest book is Go in Peace: The Art of Hearing Confessions, with Julia Gatta.

[ DECEMBER 2 ]
Shaken Powers
Jeremiah 33:14-16; Psalm 25:1-10; 1 Thessalonians 3:9-13; Luke 21:25-36
ADVENT BEGINS WITH dire warnings about the inevitability of chaos and conflict where there is estrangement from the Creator and creation. Nothing is secure from disintegration: "The powers of the heavens will be shaken" (Luke 21:26). Some contemporaries may turn away from the scriptures, dismissing them as myth, but it is not so easy to escape from apocalypse. Scientists wear the prophets' mantle now, warning about the shaking of the powers of the heavens as they delineate the ominous changes that global warming and human depredations have already set in motion, affecting the weather, the oceans, the very fabric of planetary life. Now science tells us that time is running out, that our "generation will not pass away until all these things have taken place" (Matthew 24:34).
Our response is unblinking attention to what is happening and its causes, and a determination to take our stand "before the Chosen One" (Luke 21:36)—a coded expression for commitment to the cause of the Humble One who incarnates God's stand with the powerless of the earth. The choices we make and the actions we take are made in the presence of, and on the side of, the Human One who expresses God's hope for our world. Now the future of the earth depends on it.

[ DECEMBER 9 ]
The Desert Highway
Baruch 5:1-9; Luke 1:68-79; Philippians 1:3-11; Luke 3:1-6
WHEN FRIENDS ABROAD ask what I recommend seeing on a trip to America, I make a pitch for our deserts. Those who have followed my advice by exploring, for example, the Escalante wilderness in Utah are invariably thrilled. Deserts have enormous power to refocus our sense of what it means to pursue the vocation of living. Struggling to make one's way on foot through unmarked wilderness can bring to light profound feelings of disorientation, of being hemmed in by impasses. On my desert hikes, even with compasses and maps, we were constantly deceived by appearances as we found our way blocked by unsuspected canyons and precipices. I resonate then with the scriptural image that re-emerges in Advent—the proclamation of a divinely constructed highway through the desert. Baruch proclaims, "For God has ordered that every high mountain and the everlasting hills be made low and the valleys filled up, to make level ground, so that Israel may walk safely in the glory of God" (5:7). And in the ringing account in Luke of John the Baptist's proclamation, we hear him quote from Isaiah about the creation of a highway that overcomes every conceivable obstacle for the saving arrival of God.
Luke goes to great lengths to situate this proclamation in its regional and geo-political context, and the metaphor of God's desert highway is about our actual situation of political and social impasse. Those who long for a world of fairness, compassion, sharing, and justice are always told that the obstacles to these goals are insurmountable, so we must settle for less. The essence of prophecy is the courageous exposure of the fictive character of these supposed obstacles to justice. There is a way forward to the reign of God. Grace breaks through impasses of every kind.

[ DECEMBER 16 ]
The Practicalities of Repentance
Zephaniah 3:14-20; Isaiah 12:2-6; Philippians 4:4-7; Luke 3:7-18
WE ARE INDEBTED to Luke for developing the theme of the practicality of the call to repentance. The crowd, then the tax collectors, then the soldiers in turn ask John, "What then should we do?" John's prediction of the Coming One, and the judgment that will sift wheat from chaff, does not leave his listeners writhing in remorse or buried in introspection. All realize they can make some practical changes without delay. Every one of John's prescriptions is doable: Those with full closets can give clothes to the destitute. Tax collectors can stop falsifying their accounts for profit. Soldiers can live within their means and renounce bullying. These steps are not the whole story, but they are exercises that loosen the grip of that deadly excuse most of us make: "Everybody does it." Repenting exercises our capacity for self-differentiation, extrication from social conformity. It limbers us up for responding to the summons that "the one who is more powerful" (Mark 1:7) than John will make in announcing that the reign of God is here.
Paul's exhortation in his letter to the Philippians is also about the praxis of faith in the Lord. Rejoicing is a practice, tilting all our experience toward God in prayer, making the experiment of praise and gratitude in whatever the circumstances. And prayer is a totally practical way of prying off the grip of anxiety. Repeated acts of handing our needs over to God free us from the burden of preoccupation. "Do not worry about anything, but in everything by prayer and supplication with thanksgiving let your requests be made known to God" (Philippians 4:6).
[ DECEMBER 23 ]
A Body Prepared For Me
Micah 5:2-5a; Psalm 80:1-7; Hebrews 10:5-10; Luke 1:39-55
WITH CHRISTMAS ALMOST upon us, the scriptures invite us to revel in the mystery of our embodiment, an embodiment that God chose to share with us in an irrevocable act of humility and intimacy that staggers our imaginations. We are invited to identify with Mary in her pregnancy, experiencing her unborn child kicking in her womb. And the glorious passage from the letter to the Hebrews stuns us with its daring insight into the motivation of the Godhead to join us in our bodily life in all its terrible vulnerability.
God is finally through with sacrifice, with the blood of countless animals poured out in centuries of cultic slaughter. Finished. "Sacrifices and offerings you have not desired, but a body you have prepared for me ... See, I have come to do your will" (Hebrews 10:5, 9). The writer prepares us for our Christmas worship by reminding us that our being made holy is the outcome of this humble and self-emptying embodiment by Christ, and the ultimate price paid for sharing our life in absolute innocence and vulnerability. "And it is by God's will that we have been sanctified through the offering of the body of Jesus Christ once for all" (Hebrews 10:10).
[ DECEMBER 30 ]
Clothe Yourselves with Love
1 Samuel 2:18-20, 26; Psalm 148; Colossians 3:12-17; Luke 2:41-52
METAPHORS SPRING TO life when we return to our senses; the scriptures come alive as we appreciate the way they deploy two fundamental images rooted in our bodily experience. The first is the symbol of clothing. We are told in the brief reading about Samuel's life as a boy at the shrine at Shiloh that, absurdly young though he may be, he has a right to wear an ephod, a liturgical garment that displays his sacred identity as one chosen by God. Clothes signal who we are, and the reading from Colossians plays on our need to be deliberate in displaying to the world our sense of self. God's chosen ones "clothe [themselves] with compassion, kindness, humility, meekness, and patience" (Colossians 3:12). Without these we are blank and naked. Therefore, "clothe yourselves with love, which binds everything together in perfect harmony" (3:14).
Meditation on the clothing of the body leads to reflection on the primal image of the heart. If clothing displays identity to the world, the heart is the inner center, which is the crucible of meaning. Unless meaning is forged deep within ourselves, we are hollow, and our displays to the world are merely borrowed costumes. So the teacher urges, "let the peace of Christ rule in your hearts, to which indeed you were called in the one body" (3:15). Our true identity in Christ must be forged within ourselves, interiorizing Christ's reality in meditation: "Let the word of Christ dwell in you richly" (3:16).
In Luke's story about the 12-year-old Jesus asserting his own vocation as an interpreter of God's word within the temple itself, Mary is portrayed as an exemplar of the believer who allows Jesus to revolutionize our understanding in a deep inner process of reflection. "His mother treasured all these things in her heart" (Luke 2:51).

"Preaching the Word," Sojourners' online resource for sermon preparation and Bible study, is available at sojo.net/preaching-the-word.
Image: Star ornament and corn leaf cradle, andreea-cristina / Shutterstock.com