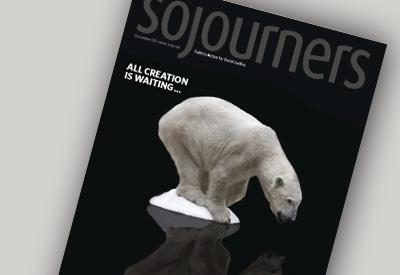 Four years have passed since NASA scientist James Hansen sounded this warning: "Multiple lines of evidence indicate that the Earth's climate is nearing ... a point of no return, beyond which it will be impossible to avoid climate change with far-ranging undesirable consequences."
Increasingly, the chorus coming from the scientific community is harder and harder to drown out—the brutal facts are that we are running out of time. In January 2007, the Bulletin of the Atomic Scientists moved its Doomsday Clock two minutes closer to midnight—it now stands at five minutes to midnight—not only because of the ongoing threat of the world's nuclear arsenal, but also the growing threat to all of life posed by climate change.
The pace of climate change is turning out to be much faster than expected. We seem to be witnessing a perfect storm of triggers. Emissions have gone up faster than expected, leading to more warming. The warming causes the release of carbon from the arctic permafrost, which speeds up the warming, which causes more release from permafrost. As the oceans warm up, the great ice sheets are melting faster, which causes the earth to absorb rather than reflect more of the sun's energy. This reinforces the warming trend. And on top of all this, the increase in wildfires and the destruction of the tropical rainforests releases the carbon stored in millions of trees.
The human and ecological costs of a warming planet stagger the mind. A 2007 Intergovernmental Panel on Climate Change report predicts that 20 to 30 percent of all known species are at increased risk for extinction if the average global temperature rises by more than 2 degrees Celsius from pre-industrial levels. The world's poor will suffer disproportionate effects including loss of critical water and food supplies in Africa and Asia. We are running out of time to avoid a climate catastrophe.
Today, environmentalists do not corner the market on apocalyptic warnings of global collapse. Now the economy competes with climate change and environmental collapse for top billing in our global scare-fest. Job losses, disappearing retirement savings, home foreclosures, and a shattered trust in virtually every financial institution stalk our land like the grim reaper. It's too bad we can't buy stock in fear, because its value would be going through the roof!
The question for the faith community is, do we have anything to say to a world that is literally being scared out of its wits?
Often the response of environmentalists, even religious ones, is to fuel the fire and hope that fear will prove to be a better motivator than moral arguments for reducing our carbon footprint and changing public policy. If we can't reason people into making the necessary changes to avert climate catastrophe, maybe we can scare people into them.
There's no denying that fear can be a powerful motivator. We are hard-wired by evolution to respond to the fear impulse. Fear works to lead us into war; it works to condone torture—but at what cost? And is fear ultimately effective in moving us toward our goal of creating a world in which there is enough for all creation?
Relying on fear as our primary ally in galvanizing action on climate change is a dangerous game to play. In human beings, fear can lead to scapegoating, punishing, shaming, and judging. Fear fosters isolation, conflict, and despair. Fear may cause us to take action to protect ourselves and those we love, but it rarely leads to enlightened collective action for the common good.
Fear and love are often mutually exclusive. "There is no fear in love," according to 1 John, "but perfect love casts out fear; for fear has to do with punishment, and whoever fears has not reached perfection in love." And here's the rub: If, as Christians believe, the very nature of God is perfect love, and perfect love casts out all fear, then it follows that fear is not of God. And thus we had better be very careful about calling forth the dark energy of fear to combat the specter of climate change.
So what is the alternative? To paraphrase the apostle Paul, is it not the distinctive role of the faith community to show the world a more excellent way?
A few years ago, Michael Shellenberger and Ted Nordhaus decried the special-interest politics and overly technical analyses used by environmentalists. They wrote: "Martin Luther King Jr.'s 'I have a dream' speech is famous because it put forward an inspiring, positive vision that carried a critique of the current moment within it. Imagine how history would have turned out had King given an 'I have a nightmare' speech instead ... The world's most effective leaders ... distinguish themselves by inspiring hope against fear, love against injustice, and power against powerlessness."
"Environmentalists," they continued, "need to tap into the creative worlds of myth-making, even religion, not to better sell narrow and technical policy proposals but rather to figure out who we are and who we need to be."
The way forward, I would propose, is to rediscover and resituate the two great commandments of Jesus in an ecological context—a context that widens our moral community to include the entire God-soaked circle of life.
Jesus links these two commandments together, as the summation of the entire law and prophets, for the very substance of the love of God is given shape and form as we love our neighbor as ourselves. But, with the lawyer in the gospel of Luke, it's time to ask for a bit of clarification on this point. What we need desperately to understand is who our neighbor is and how we are to love God in our neighbor. Jesus' answer to these questions was radical—blowing wide open the assumptions about who should fall within our circle of concern. For Jesus, our neighbor was the outcast, the scapegoat, the stranger, the sinner, the criminal, the homeless and hungry poor, and even the enemy. To fulfill the spirit of Jesus' commandments today, even the species boundary must be crossed.
"A Christian spirituality insists that we work out right relations with God and neighbor," wrote Sallie McFague in Super, Natural Christians. "It should include right relations with creation as well ... Nature is certainly among the poor and oppressed in our time. Our right relations with nature should therefore be guided by Jesus' praxis."
This ecological Christian understanding of neighbor-love cannot fall prey to the temptations that ensnare some environmentalists, who seek to preserve "nature" without regard to the needs of the human beings who live in it. In fact, a Christian environmentalism will focus on the places where the neediest human beings and the neediest parts of nature meet. And we will do so in partnership with, not in condescension to, those whom we seek to serve.
"Part of adopting an attitude of love when we do our work on climate change," wrote Noelle Damico of the Coalition of Immokalee Workers, "means taking the time it takes to work together with the organized poor who have been most affected by issues of climate change ... It means taking our cue from what our sisters and brothers who have been made poor are doing, how they are resisting, and how we can pair up our power and our efforts with theirs."
The holy work of the mystic and the holy work of the activist is thus the same. It is the work of love—love for God, love for each creature that dwells in the heart of God, love that trembles with compassion at suffering and swells with anger over injustice.
The brilliance of this spiritual path to which we are called is that the energy to love our neighbor and to strive to repair our world arises naturally within us when we are connected to our divine Source.
Here we see why love is superior to fear. Fear motivates us for a moment, but when the immediate perception of the threat is passed, it subsides. Love is inexhaustible, flowing from the very heart of God. Fear can lead to paralysis and despair as often as it leads to action. Love gives us the strength to continue to fight for what we love, and to make great personal sacrifices for the sake of our beloved. Fear may cause us to relocate our family away from a coastline threatened by rising seas, but love calls us to address the causes of climate change and to provide support for those most vulnerable to its impact, so that every family is protected.
This is our vision—a beloved creation of raucous diversity and extravagant beauty, a web of life knit together by the Spirit of God who infuses every cell. It is a deeply religious vision, and yet it can easily be translated into the language of the public sphere. Doing justice, promoting equity, ensuring freedom, and conserving nature are the social dimensions of loving our neighbor as ourselves.
As we go about this holy work, we are sustained by the loving presence of the God who is closer than our breath. If we grow weary, we can take comfort in Jesus' promise, "Where two or three are gathered in my name, I am there among you."
Janet L. Parker is a Christian ethicist and serves as pastor for parish life at Rock Spring Congregational United Church of Christ in Arlington, Virginia. This article is adapted from her March 2009 keynote address at the Ecumenical Advocacy Days conference in Washington, D.C.