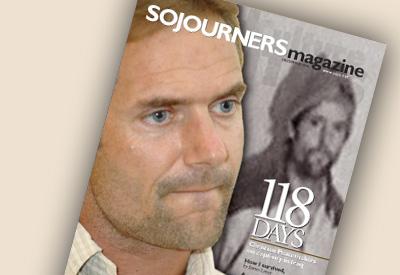 The faces of our Iraqi partners showed pain and worry in April 2006 when we asked them whether Christian Peacemaker Teams should continue to work in Iraq after Jim, Harmeet, Norman, and Tom had been taken captive and Tom had been killed. CPT's long-term presence in Iraq began in October 2002, six months before the beginning of the U.S.-led invasion in March 2003. Did our presence as internationals now bring too great a risk to the Iraqis around us?
"We believe you are very useful here, but you must leave Baghdad," they told us. "We don't want another of you to die." Many suggested the team relocate temporarily to another part of the country where Iraqis working with us would not have the added danger.
When the team returned to the U.S. for healing and debriefing after the trauma of our colleagues' four months of captivity, we wrestled with the voices that called us to caution and to not risk another possible tragedy. We also took seriously our commitment as Christian Peacemakers to "devote the same discipline and self-sacrifice to nonviolent peacemaking that armies devote to war," as stated in our pledge. Following Jesus means expecting hardship and suffering, even the possibility of death. With much soul-searching we decided that it was still important—maybe even more important—for an international peacemaking organization to be present in Iraq.
In September of that year, after two months of exploratory work, CPT established a temporary base in northern Iraq. We hope to continue to accompany individuals and local peace and human rights movements. For example, we met with an Iraq-based NGO that works to combat violence against women. It is an umbrella organization that provides training and resources to eight local women's groups. Projects in this network include sheltering women fleeing violence, providing legal and medical care for women prisoners, and helping women who are internally displaced persons. We will continue to assist the Muslim Peacemaker Teams in training and nonviolence networking and continue our work advocating for the rights of prisoners and providing on-the-ground reports about what Iraqis experience in the middle of war.
We must be wisely careful, while not allowing fear and suspicion to dominate. We must be open to all kinds of people and work with a degree of uncertainty. We must allow space for God to enter and transform situations that seem, in our limited understanding, impossible.
Peggy Gish, author of Iraq: A Journey of Hope and Peace (Herald Press, 2004), was serving with Christian Peacemaker Teams in Iraq when this article appeared.