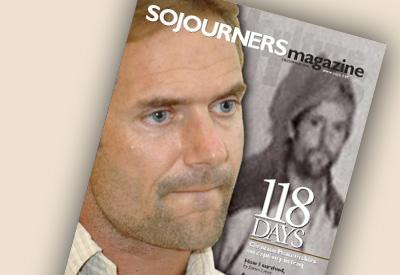 I have always been uncomfortable with the designation "peacemaker." "Makers" usually have an intimate relationship with their craft. How do I even begin to talk about the abstract notion of peace? We were just four men sitting in a room.
During our protracted captivity, Tom instigated a multifaith discussion forum as a way for us to cope psychologically. We would recall a proverb or quote and spend some time discussing its meanings and implications.
"I remember Tom for his outstanding humanity," wrote fellow captive Norman Kember. "We often heard explosions in the city and he would pray for the victims and their families. He reminded us that our deprivations in captivity were paralleled by those in the lives of many in Iraq and the wider world. In captivity he volunteered to take on the greater discomforts." The last of his discomforts was relinquishing his life.
We abhorred the thought of any payment of ransom money, taken from the impoverished in one part of the world to kill the impoverished in another. We failed the tortured Iraqi man incarcerated with us whose cries, whimpers, and terror we were only able to commit to memory.
Jim spent much time with one of our more volatile captors trying to convince him not to become a suicide bomber. He encouraged him most evenings while massaging his tense back, telling him he would make a good father.
Tom built relationships that created a sense of duty within him. He did not merely "hope for a day," but he exercised free will—in fact, good will. In that 10-by-12-foot prison, under the constant threat of death, fettered for 23 hours a day and deprived of food, Norman, Jim, and Tom took on the responsibility for the well-being of our captors, themselves human beings under occupation. The captor we called "Uncle" responded naturally with tenderness beyond the mandate of his role when he presented us with a rose in a teacup.
If one considers the many-windowed house as a metaphor for peace, then its windows, "of dissimilar shape and size," as Henry James puts it, "hang … all together, over the human scene," providing pacifist insights of a political, historic, economic, cultural, environmental, philosophical, or religious nature.
Peacemakers, who are bound by brick-and-mortar conceptions of peace, inhabit not an enclosed façade but instead a gateway that offers not only a view to the human scene, but also allows responsible dialogue with it. This open, accessible, and overarching perspective of peace crafts—out of each of us—the will to seek the means to act.
Harmeet Singh Sooden, who was held captive in Iraq for 118 days, is a post-graduate student in English literature at the University of Auckland (New Zealand). This article is excerpted from a speech he gave for the university's 2006 Peace Day chapel service.